Martine McCutcheon choked back tears on today's Loose Women as she spoke about what a "blessing" her son Rafferty had been in her life.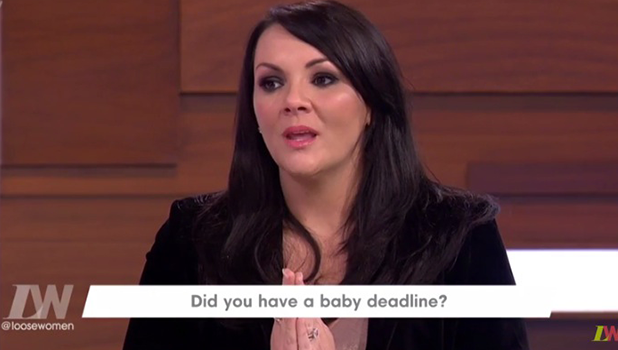 The former
EastEnders
actress, 40, told the panel she'd been unsure if she could ever have a child, and had pleaded with God to allow her the joy of at least one baby.
"I definitely got to the stage where I really wanted a baby. I knew I had ME and was quite weak and would have found it difficult to carry through a pregnancy. The more I knew I couldn't, the more I wanted it," said Martine.
"It's once the decision is taken away from you, you think realise maybe you're taking it for granted."
"I'll never forget sitting in bed – I feel a bit choked up talking about it – and speaking to God," she recalled.
"I said, 'Listen God, I know I don't talk to you very often but I would love to have just one and know what it's like to be a mum. And after that, if I have any more, great, brilliant, I would be so blessed. But just one. That's the deal.'
"Luckily, after a period of time I got a bit stronger, became healthier and managed to carry a baby and had him. There is no other love like it. I held him in my arms and all my worries that used to be so important disappeared. I just looked at his little face and thought, 'This is what it's all about.' So many questions were answered for me when that happened."
Martine and husband Jack welcomed son Rafferty last year.
Martine shared her story during a panel discussion about Cheryl and Liam Payne, who are widely believed to be expecting their first child. Although neither has confirmed the rumours, Cheryl was pictured on Monday night sporting what appears to be a baby bump. Her people are not commenting.
Like this? Don't miss out! Make sure you're following Reveal across Twitter @RevealMag / Facebook @Revealmagazine / Instagram @revealmagofficial