ITV aired a special crossover live on air between This Morning and the I'm A Celebrity stars in the jungle over in Australia.
Yup, Holly and Phil got to speak directly to camp and us viewers saw it all play out on screen. Exciting, right?!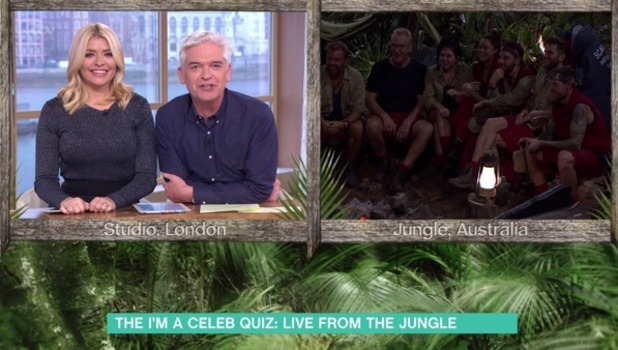 The point of the two shows linking up was to carry out a special quiz for camp, in order for the celebrities to win themselves a few treats.
It was the first time ever the two shows have crossed over and Holly and Phil explained that they would be hosting a quiz for the celebrities. They asked a series of questions relating to things that have happened in the jungle and on the outside world since the celebs have been in camp.
If the campmates got it right, they earned themselves a treat. If they got it wrong, they had to sit and watch Holly and Phil eat said treat right in front of them. Too cruel!
SPOILER ALERT
: Here's how they got on...
Adam had the chance to win beans and cheese on toast, if he guessed which of his brothers had said they wanted to "throw him under a bus" and make him do "every trial."
We all know that was Scott, thanks to his appearance on I'm A Celebrity: Extra Camp
, but Adam had chosen his older brother Ryan and guessed incorrectly.
As Holly and Phil tucked in, the camp screamed out, with Martin Roberts remarking: "We are seeing you two in a completely different light!"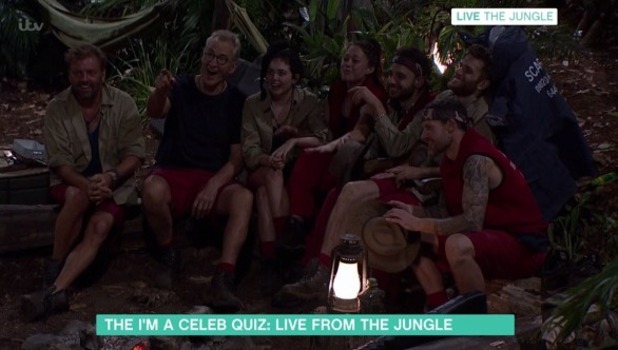 Larry Lamb had to perform a 'muscle dance' to 'Macho Man' to win himself Elderflower juice and olives, while Scarlett won herself a mini pizza and garlic sauce. She was shown a picture of herself pulling a face during her eating trial and correctly guessed she had been tucking into fermented egg at the time.
Wayne Bridge could have won himself southern fried chicken and chips, but failed to recognise his scream from that of Adam's - meaning Holly and Phil once more got to devour their plates.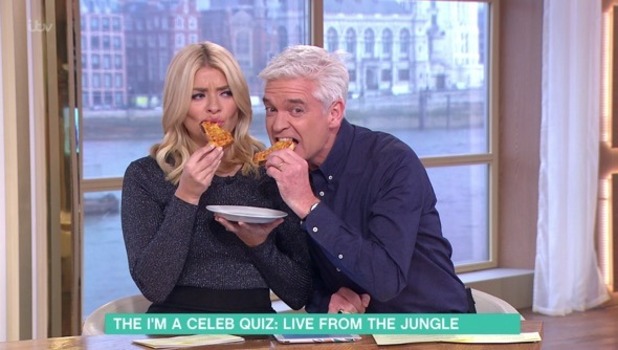 And the sight of Holly eating chicken seemed to leave Joel a little hot under the collar. He said: "That is the sexiest thing I've ever seen!"
Joel then found out about Ferne McCann having a soft spot for him,
as he had to guess whether she or Holly had said they fancied him. Joel correctly guessed Ferne winning himself a Pork Pie, but Holly reassured him she thinks he is "gorgeous" too.
Sam, meanwhile, landed a plate of sushi after correctly guessing Emma Bunton had said she loved her rendition of 'Stop' during the Tomb of Torment trial.
And last but not least, Martin got his hands on melted Camembert cheese and fresh bread - the lucky thing. He had to correctly guess the type of tree shown in a picture, after revealing he is a self-confessed tree hugger.
Oh, Martin!
I'm A Celebrity airs nightly on ITV.
Like this? Don't miss out! Make sure you're following Reveal across Twitter @RevealMag / Facebook @Revealmagazine / Instagram @revealmagofficial