X Factor contestant Matt Terry dishes the goss to Reveal and reveals his shock at becoming a heartthrob.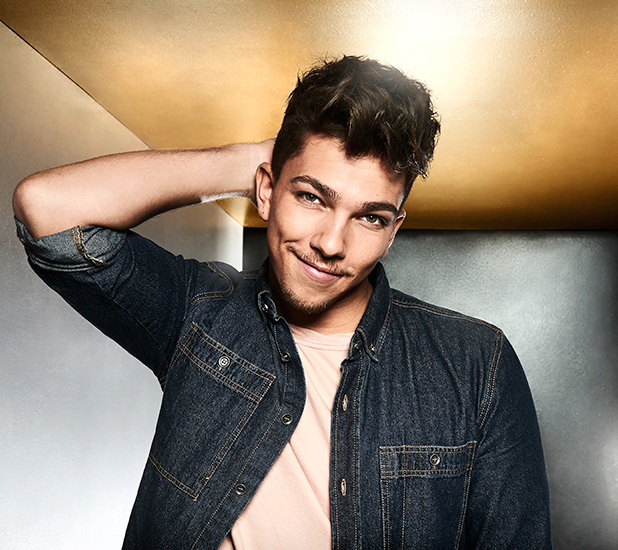 Even though we love watching
The X Factor
from the comfort of our own homes, it's no comparison to being right in the thick of it. So when the
X Factor
team invited us to the studios where all the action takes place, we, naturally, jumped at the chance.
And who's the first person we catch a glimpse of when we arrived at Wembley Fountain Studios last week? The lovely – and gorgeous -
Matt Terry
.
Unwinding from his rehearsal, ahead of the Saturday night live show, we spot the handsome 23-year-old posing for selfies with a table of mesmerised female fans, who were in the studios filming for another ITV show.
After all the hysteria, Matt takes a breather and sits down for a chat with us. 'It's been a jam-packed day, but I wouldn't want to be doing anything else, ' he smiles.
Week after week, his emotional performances have blown away the judges on the long-running talent show, making him the bookies' favourite to win this year's series.
While the singer – who openly admits he fancies his mentor Nicole Scherzinger - confesses he'd like to 'switch up' his musical choice, in a bid to up his game, he insists he won't be stripping off to gain votes.
'I won't go topless or naked. As fun as it would be, I just want to make sure all the focus is on the voice,' he reveals.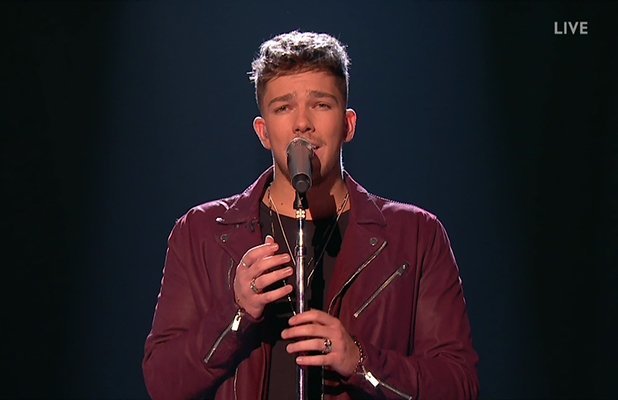 As the final shows fast approach, we find out what else he has up his sleeve to take him all the way…
Hi Matt! How are rehearsals going?
'So, so good. I'm enjoying it so much!'
How do you plan on upping your game to take the winning spot?
'I want to change it up a little. I've been doing songs that are quite outdated, old school stuff; I want to try something new.'
Who would be your ideal kind of girl?
'I like a sweet personality, someone that has a lot of conversation because I just don't stop talking – I stop for a chat with everyone and always say 'hello' – so I just want someone that can join in and have a lot of fun.'
If Nicole was single would you pluck up the courage to ask her out?
(Going red) 'I would die! I don't think I could ever. I wouldn't be brave enough to even ask her out or look at her with that thought. My best pick-up line for Nicole would probably be something like, 'You're really out of my league and I'm really sorry I've just said that, bye.''
You and Gifty Louise got close while she was on the show. Was there anything going on between the two of you?
'Not at all. I think no matter who I talk to, I have a romance with them. Gifty and I were such good friends, really close, but we're all close in the house. I think Gifty's such a beautiful girl, but no romance there.'
What would be your ideal date night?
'Definitely go out for something to eat. I love Italian food, so maybe something along those lines and then do something fun to break the ice a little bit. So an activity, nothing like skydiving on the first date, but just something fun where you can get to know the person. I love heights and all that stuff though!'
You've got a lot of female attention, how have you dealt with it?
'Sometimes it's really shocking. Like the other day we were at the house just watching TV and all of a sudden we just heard a car horn go. And inside the car was a group of girls who were swinging their underwear, saying, 'We want Matt!' Sometimes I have to ask myself, 'Is this really happening?' but I feel like you just have to go with it and have fun.'
The X Factor continues Saturday and Sunday at 8pm on ITV.
*
This interview originally appeared in Reveal magazine, issue 47
.
Like this? Don't miss out! Make sure you're following Reveal across Twitter @RevealMag / Facebook @Revealmagazine / Instagram @revealmagofficial