Love Island's Kady McDermott and Scott Thomas are off to Australia to support Adam ahead of the I'm A Celebrity… Get Me Out Of Here! finale.
And judging by Kady's Instagram, they are travelling in style!
Kady, 21, shared a picture on Tuesday morning (29 November) showing her reclining in what is definitely NOT an economy seat on Etihad Airways. Lucky thing!
Scott, 28, shared a similar photo to his own Instagram alongside the caption: "Life is so mad right now! Off down under to OZ to see my twin bro bring home that crown hopefully! Feeling blessed."
His twin,
Emmerdale
actor Adam, is still in the running to be crowned King of the Jungle when the current series of
I'm A Celebrity
draws to an end soon.
As well as sharing a photo of his plush airplane seat, Scott also revealed he'd got a surprise from the Eithad Airways crew in the form of a Team Adam branded breakfast! Wow!
He told fans: "So just casually sat in the Business Lounge as you do waiting for our flight to Oz! Then the Eithad hostesses just randomly bring this out! Wow blown away! I know Adam would be buzzing!! Can't wait to see him! #KingAdam #TeamThomas."
Scott and Kady have been actively supporting Adam on social media throughout the series, as has Scott and Adam's brother,
Coronation Street
actor Ryan Thomas.
Before heading to the airport, Scott and Kady uploaded a video to their YouTube channel sharing their thoughts on
I'm A Celebrity
. Those thoughts included the fact that neither of them would be that great in the jungle!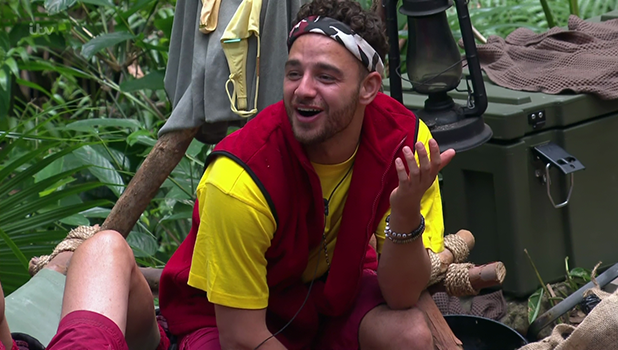 "I would be horrendous," admitted Kady. "If I don't eat or sleep properly I'm the grouchiest person ever. If I was eating rice and beans or sleeping in a hammock, I would be awful in the jungle. I would row with everyone and be so grumpy!"
But she added: "I would do the jungle 100 per cent as it's a once in a lifetime opportunity but I'd be the one who everyone nominates for trials."
Scott, meanwhile, said: "I think I could do the jungle but I'm so scared of heights." Kady, however, disagreed! "I think you'd be awful! You're petrified of the dark! You're scared of heights, you don't like spiders…"
Watch below!