Could Spice Girls really be taking on Eurovision?!
Twitter has been sent into overdrive after Spice Girls' new single, 'Song For Her', has been leaked online (you can listen to it
here
).
Fans have been eagerly waiting for the return of our favourite 90s girlband and Geri Horner (nee Halliwell),
Emma Bunton
and Mel B have been teasing us all all with their "back in the studio" snaps.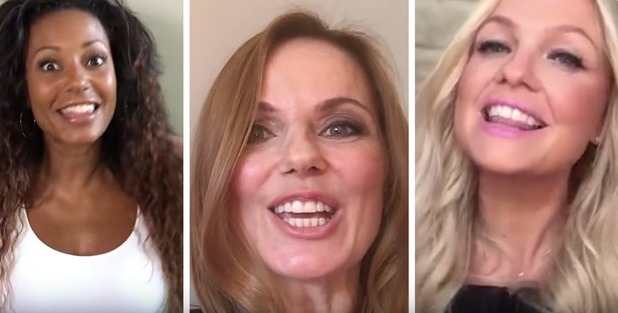 The girls (
minus Mel C and Victoria Beckham - sob
) are bringing back the Spice Girls and they're doing so with a track that's all about the girl power. Well, duh. We wouldn't expect anything less.
However, their new tune has got EVERYONE talking, especially when it comes to Eurovision. Many fans are convinced that GEM (Geri, Emma and Mel) could be the UK's next entry with 'Song For Her'.
Some are claiming their track sounds like a total Eurovision entry (although not everyone is convinced that is a good thing...) and it's been pointed out that the song 'fades out' at three minutes - which would make it eligible for Eurovision.
Spice Girls at Eurovision? We're not going to lie, we'd be down. Any chance to see those girls back up on stage, rocking knee high platform boots and flashing the peace sign, we'd take it!
Here's hoping Geri digs out her union jack dress, Emma wears her hair in pigtails and Mel B is sporting a little leopard print.
Here's how Twitter reacted...
Those all for a Spice Girls Eurovision takeover:
The Spice Girls made a new song.... GET IT UK?! Eu-Ro-Vi-Sion! #Eurovision

— Maikel (@Maikeeel) November 23, 2016
Imagine if this leaked #GEM #SpiceGirls song became the #UK #Eurovision entry! https://t.co/6sbkcMEWn0

— robmacca (@robmacca) November 23, 2016
The new #GEM #SpiceGirls single sounds *so* Eurovision and it comes in at around three minutes so could totally qualify...

— Jacob (@OhHeyJacob) November 22, 2016
Those who aren't completely against the Eurovision link:
The new Spice Girls song sounds like early 00s Eurovision and I don't hate it

— Liam (@LiamLambrini) November 22, 2016
Those who think the Spice Girls are way too good for Eurovision:
NO NO NO! Im sorry but in no formation should Spice Girls and Eurovision entry be in the same bloody sentence! NO! Leave it to Katie Price!

— Chris Stroud (@Chris_Stroud) November 23, 2016
And those who just aren't that keen on Spice Girls new hit:
The new Spice Girls/GEM song is very Eurovision & I'm slightly disappointed in it. There's no oomph to it. Come on girls, don't let us down!

— ✗ NIEEYORE ✗ (@coldpillows) November 23, 2016
that new #spicegirls #gem song is awful sounds like a eurovision entry :/

— Chris (@csd_1987) November 22, 2016
Hmmm, where do you stand?
Like this? Don't miss out! Make sure you're following Reveal across Twitter @RevealMag / Facebook @Revealmagazine / Instagram @revealmagofficial