She's a busy TV presenter and charity campaigner - but first and foremost a mum - so, Katie Piper just couldn't resist a collaboration with parenting favourite, My Babiie.
Having just launched a range of push chairs, travel systems and so much more,
Reveal
caught up with the gorgeous star who gave us the lowdown on her latest venture.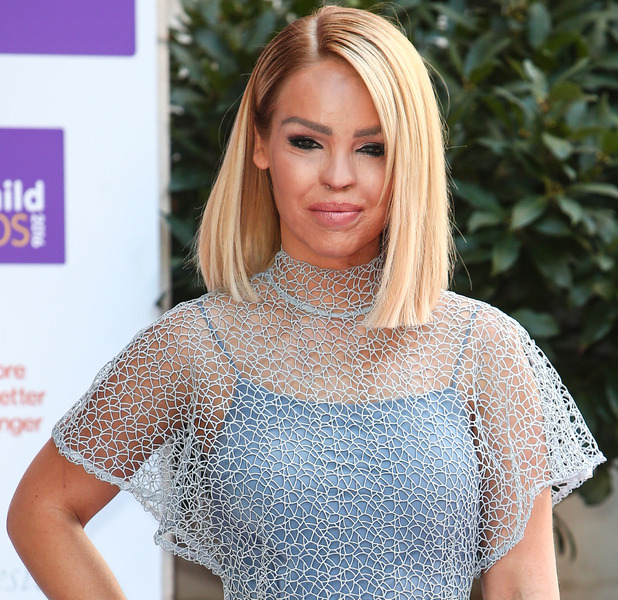 Hi Katie! Teaming up with My Babiie is quite a different move for you - how did it come about?
It was quite natural actually because I'd bought one of the buggies and I tweeted about it one day! Loads of my followers are mums so I thought it would be great to share it with them, and that's when the company got in touch. I used it as an opportunity to discuss things I did and didn't like about my own journey as a mum, and if I'm being honest, I was one of those crazy parents that went out and bought
everything
and then realised I didn't need it all!
My Babiie were great because they gave me freedom to design and make moodboards and be heavily involved in the whole process. These are the products I wish I had had when I had gone shopping. A lot of the travel systems and prams are all blue, black, navy and grey but there was nothing that expressed my personality.
Did you have much involvement in the design process, then?
I actually designed the buggies with my clothes in mind! Each one is inspired by colours and shades I really like wearing because I think it's really important not to loose yourself when you become a parent. I didn't want a buggy with Fireman Sam on because I don't wear dresses with Fireman Sam on [laughs] but because I'd been a mum and tried and tested it all on myself and Belle I didn't compromise on the safety aspect.
What do you love most about the range?
I've burst into tears so many times because I haven't been able to fold up buggies and fit them in the boot, but it's not like that with this collection. I made them small, foldable and practical as well as stylish. We even have pockets for your iPhone and shopping carts for your bags! You can pay up to £1,000 for a travel system but our full travel set is £299.99. The quality is incredible and it blows me away. Mums have got to be realistic about what they can afford but they still want to look good – so it's nice to have ticked the boxes.
How have you put your stamp on the collection?
This is the first time I've ever done something like this but they let me bring my ethos and my mantras on board. It's reminiscent of the way I live my life through my charity and all of the books I write. The whole idea about calling it Believe Buggies goes back to that idea of having self esteem and belief in yourself as an individual as well as a parent. When you've got those two things, you've got confidence and when you have that, you can do absolutely anything.
Even the most confident woman who might be running a team at work could have a child and loose her confidence. The spell of doubt can creep in, but I wanted to keep the faith and that's what my collection conveys. The logo was born out of the same ethos - a butterfly for the girls and a swallow for the boys. That journey of the chrysalis growing into a butterfly. Having that freedom and knowing you're OK to do this!
You're really active on social media and so are your followers! Are you nervous or excited for the feedback? This is new territory for you.
I'm so excited for feedback and I'm really active on social media, yeah! I'm sharing everything with my followers from dinner recipes from hospital appointments so this is another part of that journey. I'm sure I'll get lots of photos of people using the pieces. It's an amazing way to connect, because you haven't met the person but you get to know them through pictures and their likes and dislikes.
You're really honest and open about hospital appointments and you recently has surgery on your eye - how are you feeling now?
Not too bad! I was filming yesterday and it's the first time I'd worn make-up on it. It's a little bit tender and red still, but it's healing and I haven't had any infections or anything, so that's good - no one wants that before Christmas!
Talking of the festive season! What's a typical Christmas like in your household?
Oh gosh! Well, this year, we have 22 people round for sit down lunch - yep, 22 - and it's going to be so hectic and very loud! We like all of the old school traditions and we love to have fun. I'm not walking around tidying up or telling people not to leave wrapping paper on the floor. There's lots of family and lots of chaos.
What's your favourite Christmas song?
I love the old songs they have in the Pound Shop [laughs]. Do They Know It's Christmas – it really reminds me of my childhood.
What's the one thing you look forward to eating on Christmas day?
Probably homemade, really crispy Yorkshire puddings.
What do you want for Christmas this year?
We're not massive on buying each other big presents, especially now we've got Belle – but we love buying
her
things! I do like drinking champagne at Christmas. Because we have everyone round for food, some of the guests will bring bottles of wine and what I call posh champagne that you'd never buy yourself!
What's the worst present anyone has ever given you?
When someone else tries to buy you clothes! Because the worst thing about that is you have to wear that in front of them throughout the year! You can't just re-gift it, or if you do, they always ask, "Where's my jumper?" and you're like, "Ooh, I don't quite know!" [laughs]. "It's so lovely, I'm saving it!"
And how about the best present?
The best present – it wasn't actually a Christmas present, It was having my daughter. It's the best thing that my husband ever gave me.
Cute! How will you be making this Christmas special for Belle?
We're going to get my dad to dress up as Father Christmas and Belle's cousins are coming to spend it with us, too, and they're quite young. My dad's going to come bearing gifts so hopefully she'll really like that and not freak out! [Laughs].
Katie Piper's 'Believe by My Babiie' baby product range is available to pre-order now at www.mybabiie.com