Katie Price celebrated her return to the limelight on Thursday night by hitting a string of exclusive clubs across London.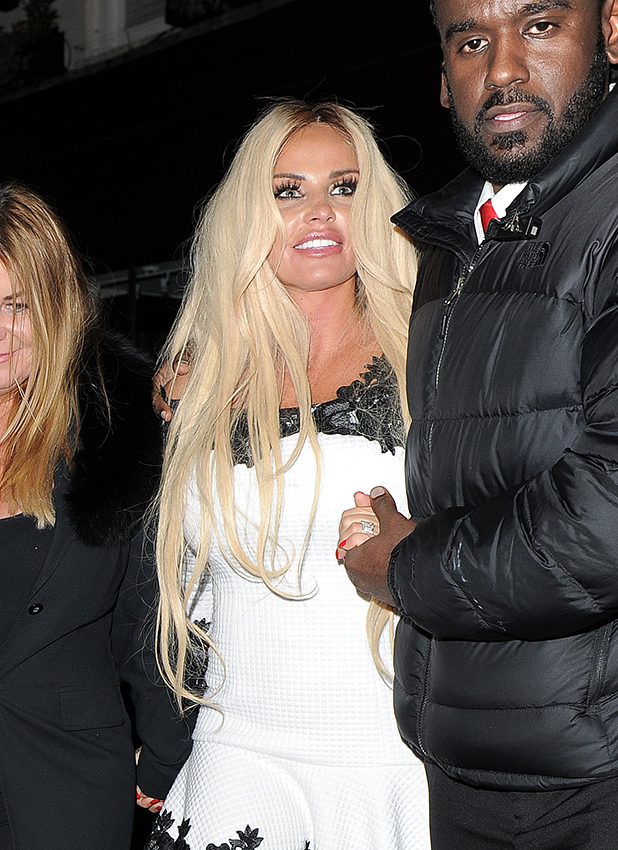 The mother-of-five was spotted club hopping at the likes of Cirque, Vanilla and DSKTRT after being interviewed by philosopher Alain de Botton at The School of Life.
FYI: If you fancy picking up Katie's dress, it's from
Comino Couture and costs £160
.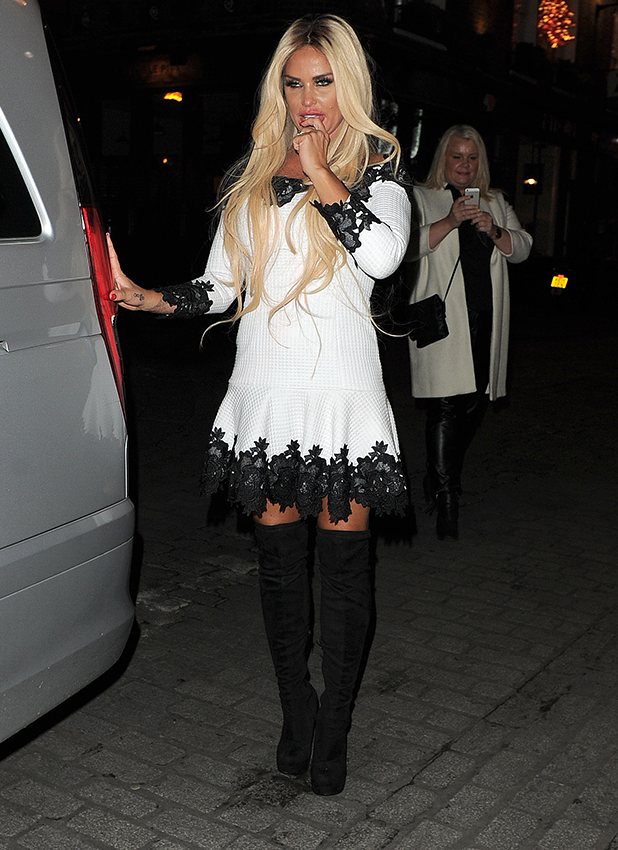 Katie's been pretty quiet in the last month after announcing she'd be temporailry leaving
Loose Women
in order to focus on her marriage and children.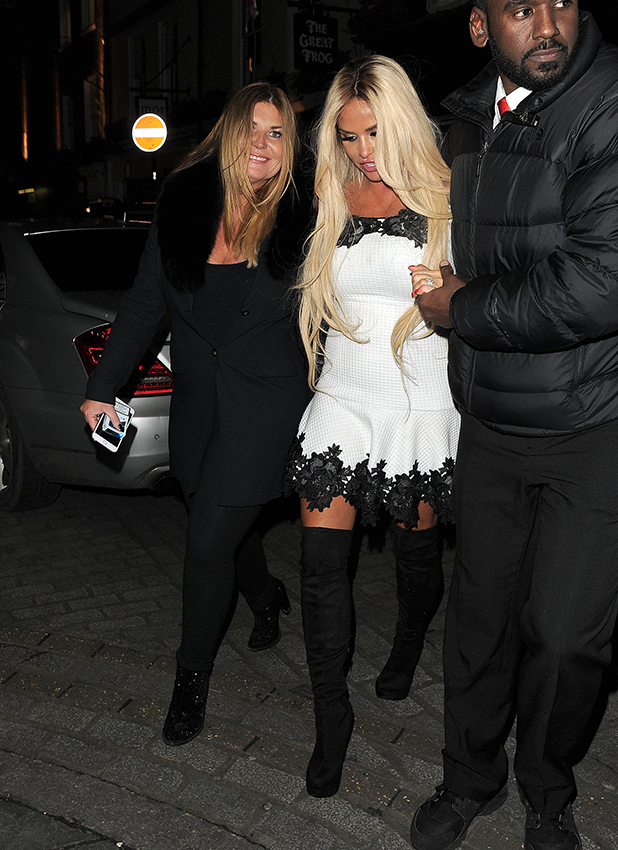 The 38-year-old revealed at the start of October she needed time away from the spotlight to come to terms again with husband Kieran Hayler's affair, after writing her autobiography,
Reborn
, brought back painful memories of that time.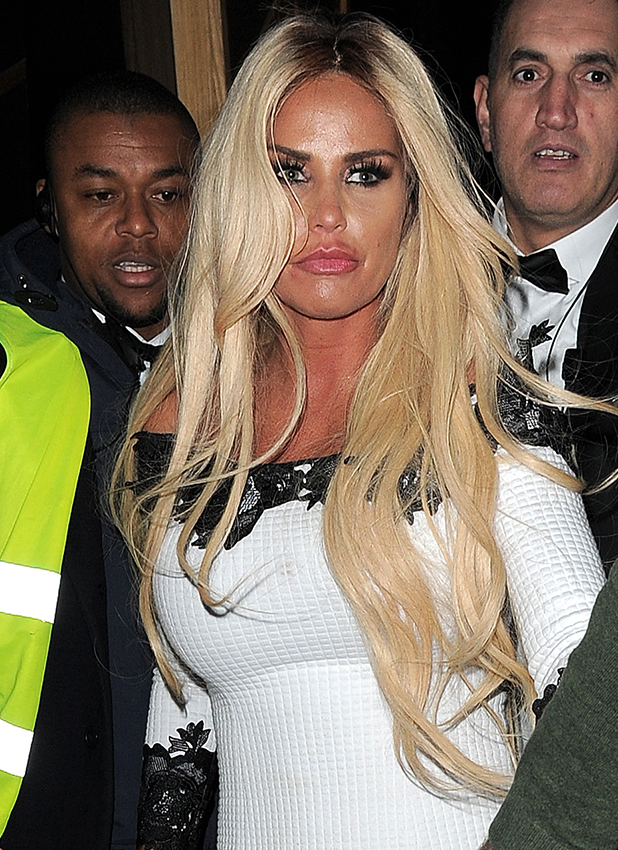 Kieran cheated on Katie with her best friend in 2014, while Katie was pregnant with the couple's second child. Although she initially vowed to divorce him, she later took him back and stayed with him through sex addiction therapy.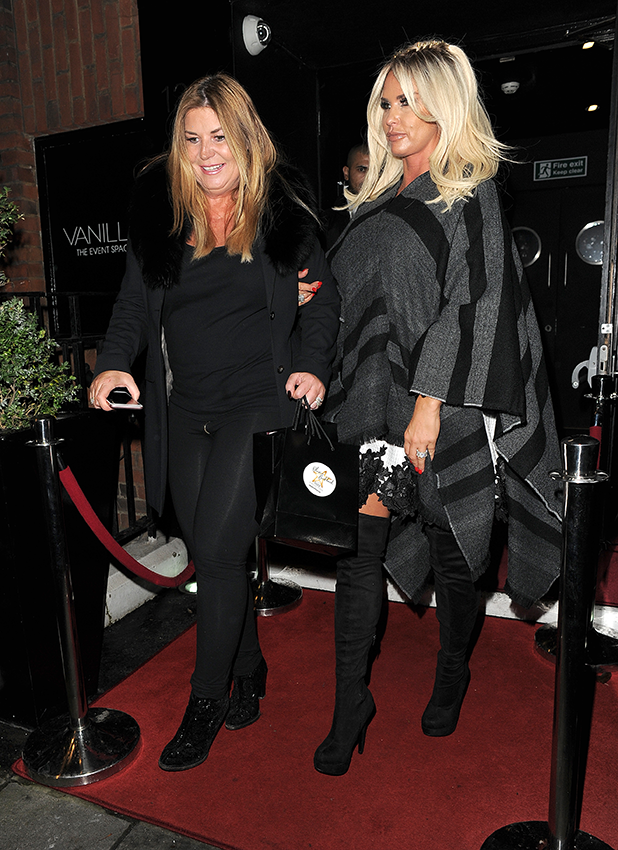 However, Katie revealed last month that writing
Reborn
made her realise perhaps she hadn't dealt with the affair as thoroughly as she thought she had.
"My heart is shattered, it's broken. It's nowhere near healed," she admitted.
"We had therapy and I thought I was OK. The past two weeks I've been on my book tour and it's opened up some wounds. It's been awful. I thought I'd dealt with it."
"My heart is still healing. Someone said it takes five years to heal a broken heart. Is that true? I want to clarify me and Kieran are absolutely fine. We are not splitting, nothing like that. It's just been hard emotionally for us," she added.
"It's horrible for both of us. I'm always like, 'it's fine' and move on to the next thing... It's a relief to me to admit I'm not as strong as people think. Enough is enough. I have to let my barriers down."
Katie will return to
Loose Women
on 2 December.