I'm A Celebrity: Joel Dommett admits he can't stop shaking while taking on the Great Ascent trial.
He's not exactly the biggest fan of heights, but Joel was forced to climb way into the tree tops to win himself and the rest of the camp dinner.
And ITV have released a teaser clip, proving trials can be just as terrifying without all the critters.
This time round, Joel has to face climbing a huge crane to release a flare for each star stuck onto it. His job is to climb all the way to the top reaching out to the different arms, collecting stars on his way up to the top.
Although, it proves to be pretty tricky as not only does Joel reveal the crane is "swaying" as he reaches the top, but it's a bit of a struggle to reach the star - especially as he can't stop shaking.
Reassuring himself while he's climbing, he says: "I'm absolutely fine. Don't even think about. I'm fine. Absolutely fine, Joel. I'm just chilling."
Close to the top of the crane, Joel struggles to grab one of the flares connected to the star and claims: "That's so stupidly far away."
We'll have to wait until tonight's episode to see whether Joel managed to make it to the top and successfully earn ten meals for camp, and it definitely seems like it's going to be a bit of a nail biter to watch!
We'd rather him than us.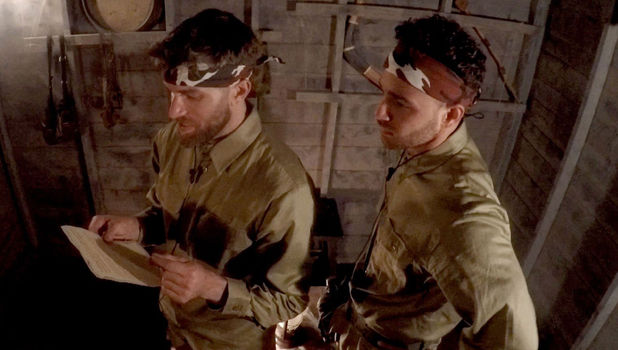 Joel's Great Ascent trial comes after
he, Adam Thomas, Wayne Bridge and Jordan Banjo were all chosen to be stranded
. As part of another trial, they had to try and use morse code (through light and sound singnals) to send certain words back to camp for the other celebs to guess.
Joel was paired with Adam in the Bushman's lodge and they had to try and decipher Wayne and Jordan's light signals to send the correct word back to camp through sound.
Sounds complicated, right? It was. Especially as
Joel and Adam had been joined by plenty of critters and HUGE spiders - Adam's biggest fear.
They sure don't make easy for the campers, do they?!
I'm A Celebrity airs nightly on ITV.