Geordie Shore: Sophie Kasaei quizzed Chantelle Connelly over her kiss with Gaz Beadle, before lashing out at Gaz in defence of her best friend Charlotte Crosby.
Fans saw Sophie make her return to
Geordie Shore
in the latest episode of the show, and it's fair to say, her comeback was more than explosive.
She was supposed to be bringing peace to the group after all the drama that has been going on, but Sophie found herself embroiled in her own when she found out about
Chantelle's kisses with Gaz in Magaluf.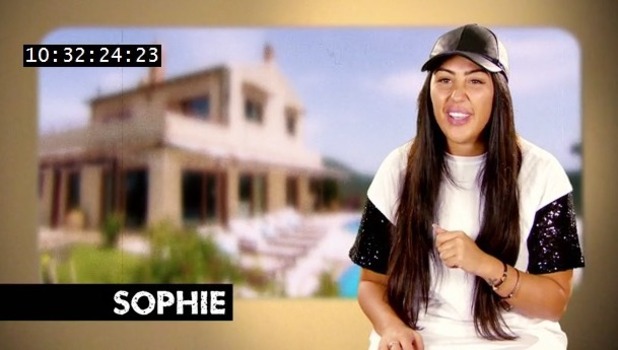 Charlotte had left
Geordie Shore
in June,
after falling out with Gaz over their relationship and doesn't feature this series
. But determined to have her back, Sophie wasted no time in trying to find out what Gaz has been up to overseas without Charlotte in the house.
She asked the girls for the lowdown on Gaz, and Holly Hagan and Chloe Ferry told her he slept with a "random girl" in a caravan in Ibiza. Unable to keep secrets from her cousin, Marnie Simpson then told Sophie that Gaz and Chantelle had kissed.
Sophie's face pretty much said it all.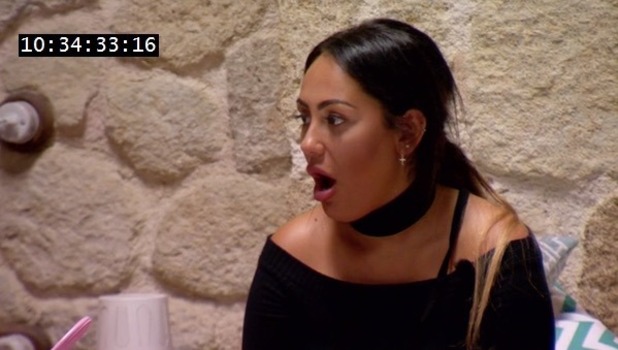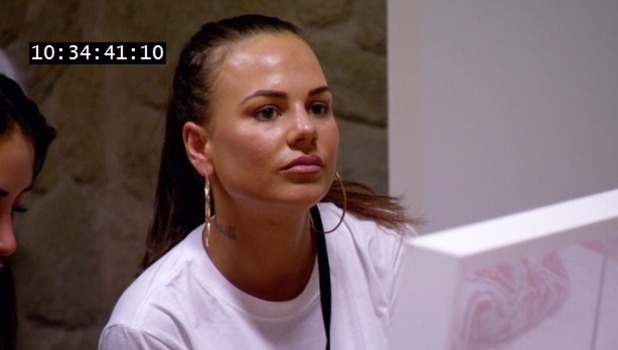 Defending herself, Chantelle said she kissed Gary twice, but claimed: "It meant nothing. I've made it clear I was drunk and it's not happening again."
Sophie, meanwhile, told the camera: "This news about Chantelle and Gary disgusts us. I don't know what to do, or whether I should kick off? Right now inside I am hurting."
Sophie questioned Chantelle's loyalties to Charlotte and claimed that if she was her best friend, she wouldn't have gone near Gaz.
Chantelle hit back: "She's my friend, she's not my best friend."
Sophie then asked Chantelle if she had fancied Gaz the whole time Charlotte had been with him, claiming: "I wouldn't really kiss anyone I don't fancy, so there must have been something there?"
Chantelle replied: "Never," venting privately: "I made a daft mistake and kissed Gary, I'm not mentioning any names, but others girls here have had the c**k in the mouth."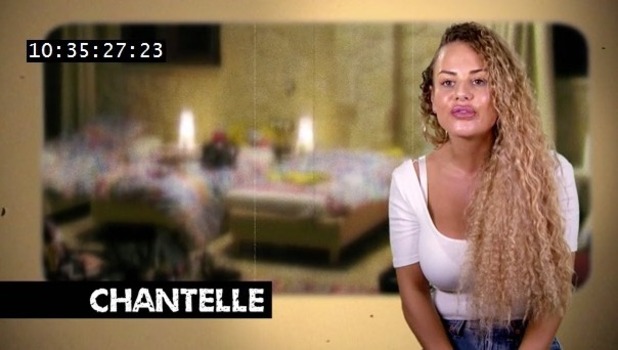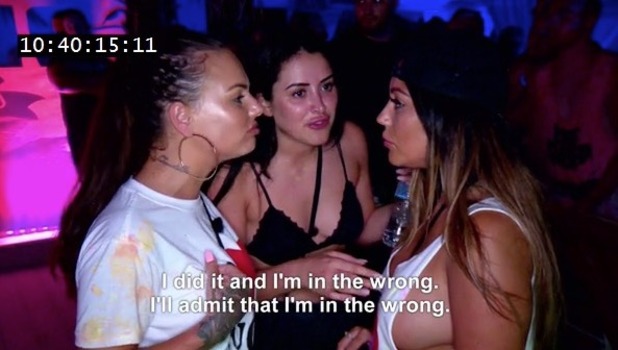 "It takes two to tango, right?" Chantelle told Sophie. "And I'll admit, I'm not going to blame it on the drink or anyone else. I did it and I'm in the wrong. I've sat and said to him, 'This is nothing.' I'll hold my hands up."
Sophie wasn't convinced and claimed she could no longer "trust" Chantelle.
Gaz, meanwhile, had been worried about Sophie's arrival because of how close she is to Charlotte.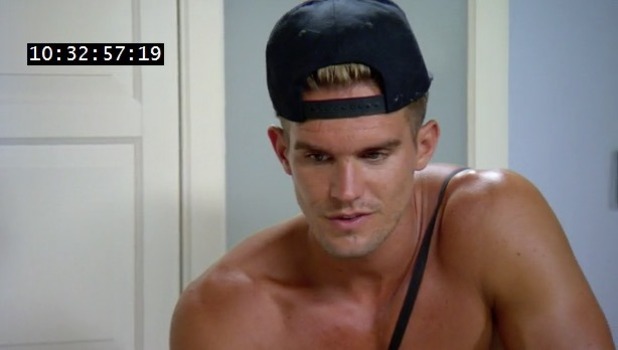 He admitted to Marty McKenna that he and Sophie had barely spoken since she arrived in Kavos, adding to the camera: "The only thing that is worrying me about tonight is that me and Sophie haven't spoke and that time is going to come."
Gaz insisted that if Sophie did have a go at him, he wouldn't say anything in response - famous last words, Gary?
As the tension built up between them,
Sophie finally confronted Gary over his kiss with Chantelle and wanted to know why he had gone for somebody in the house.
She claimed he didn't "have a heart" and said: "You made [Charlotte] rock bottom... You know what get with any random girl and that's fine. There is no emotion. Some one in that house that's emotion."
Sophie added to the camera: "He doesn't care about the five year relationship he had with her. He doesn't care about breaking her heart. This boy is a heartless b**tard."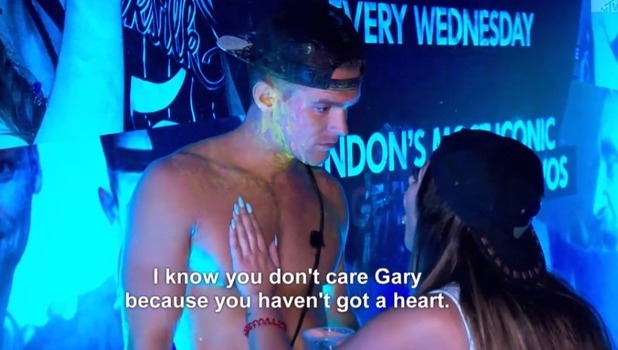 Gaz tried to claim that he doesn't care about Chantelle, but does care about Charlotte - but that only riled Sophie up more.
She ended up lashing out at Gary, after throwing her drink over him, and security and the pair's co-stars had to intervene to separate her from Gaz - who had branded her a "f**king slag".
Sophie claimed: "I don't know how we are ever going to overcome this. I hate Gary."
Gaz, meanwhile, was convinced Sophie was purposely trying to turn the rest of the house against him. He said: "Sophie has walked back in this house, as Charlotte's friend, with one aim to turn everyone against us. She's done it with Marnie, she's done it with Chloe and she's going to do it with Nathan..."
Eek.
Geordie Shore continues Tuesday 22 November at 10pm on MTV.
Like this? Don't miss out! Make sure you're following Reveal across Twitter @RevealMag / Facebook @Revealmagazine / Instagram @revealmagofficial