Pregnant Total Divas star Brie Bella has been toying with unusual baby names, exclusively telling Reveal she could be tempted to name her little girl "Branch" or "Basil".
Very Gwyneth Paltrow, right?!
While she's not so certain on her unborn daughter's moniker just yet, Brie is pretty sure she and husband Bryan Danielson (also known as Daniel Bryan) will settle on a name beginning with 'B' - after all, she explained it is tradition.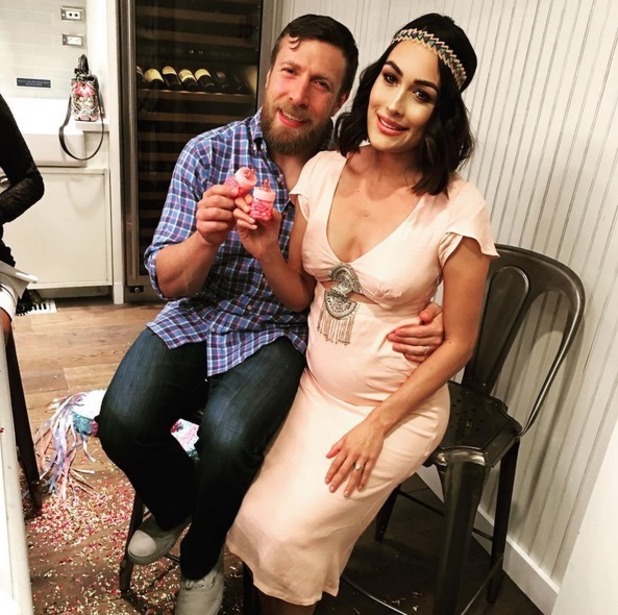 Brie revealed she is expecting a little girl on Instagram and confirming the sex of her baby to us, the WWE wrestler said: "I'm having a little girl! I'm so excited! My husband comes from a family where everybody has a name that begins with the letter 'B' and he's asked if we could have all Bs, because I start with a B and he does."
Her twin sister Nikki Bella then remarked: "You have to hear some of their names..."
Brie told us: "We have some crazy names, but there is not really a lot of girls' names. Branch, Basil, Bridget, Birdie."
Not so convinced about the more unusual options, Nikki said: "Branch and Basil is where I'm like...," but Brie interjected: "You'll get used to it!"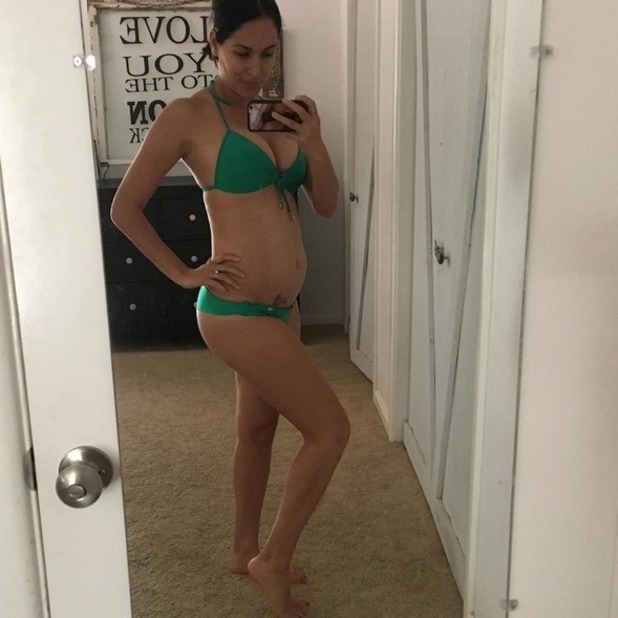 Speaking about her pregnancy so far, Brie revealed she is now into her second trimester and is enjoying having a growing baby bump.
"[Bryan and I] are so excited. I feel like I've been wanting to be a mother for years," Brie said. "It happened a lot quicker than I thought. My first trimester was really hard, I was like, 'Woah. Pregnancy sucks.' But now I'm in my second trimester, everything is great."
"And my boobs are catching up with my sister, which I like!" She joked.
Brie first announced she is pregnant in October.
In an interview with
E!
, Brie said: "It has always been a dream of mine to become a mother. Now that it is finally real, it fills me up with so much happiness."
Bryan, meanwhile, added: "Every time I look at Brie's stomach, I'm amazed that there is a little life in there."
Brie also announced her baby news via Instagram and told fans alongside a photo of herself and Bryan: "Our family is growing."
Brie's baby news comes after she made the decision to take a break from WWE. She announced her exit in April last year, following her win at WrestleMania 32 and explained starting a family was the main reason for hanging up her boots.
We had actually caught up with Brie in Paris a year before she announced she is expecting and
back then, she had shared her hopes of becoming a mum.
"Bryan and I have this crazy baby fever," she gushed. "We are so ready for it in our lives - especially considering how we are with our dog Josie - we're so ready for a kid."
Brie also revealed what she thinks she will be like as a mother, adding: "I think I will definitely be laid back and I think I'll be one of those that whatever my kids want to do, I'll never hold them back... I think I'll be a good mum."
Catch Total Bellas, Sundays at 6pm on E! and watch the premiere of Total Divas at 6pm on 20 November on E!
Like this? Don't miss out! Make sure you're following Reveal across Twitter @RevealMag / Facebook @Revealmagazine / Instagram @revealmagofficial