Love Island star Tom Powell and Sophie Gradon have clashed following their split.
Speculation the couple are no longer together sparked on Thursday (10 November),
after both Tom and Sophie shared cryptic posts on social media linked to their romance.
Tom has since taken to Twitter and accused Sophie of 'cheating' on him - something which she has denied.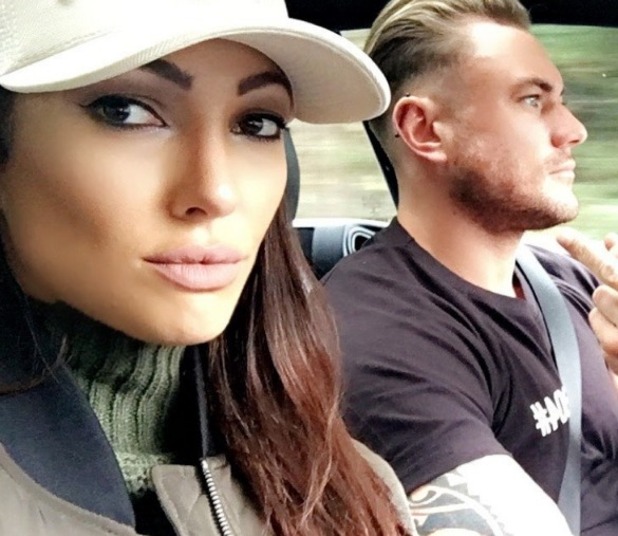 He shared a photograph of Sophie cuddled up to another guy, who appears to be leaning in to kiss her. Tom claimed the photo was sent to him by the guy in the photo and tweeted: "2 can play at that game... here's a picture of Sophie cheating on [me] the week she got out of the villa..."
Tom added: "Only a few days after her promising to make it up to me for cheating on me in the villa. Got sent the photo from the guy telling me about it... Don't piss into the wind sweetheart.
"And FYI I tried to speak to her personally and leave it off social media.. but nope.. she was adamant about being a child."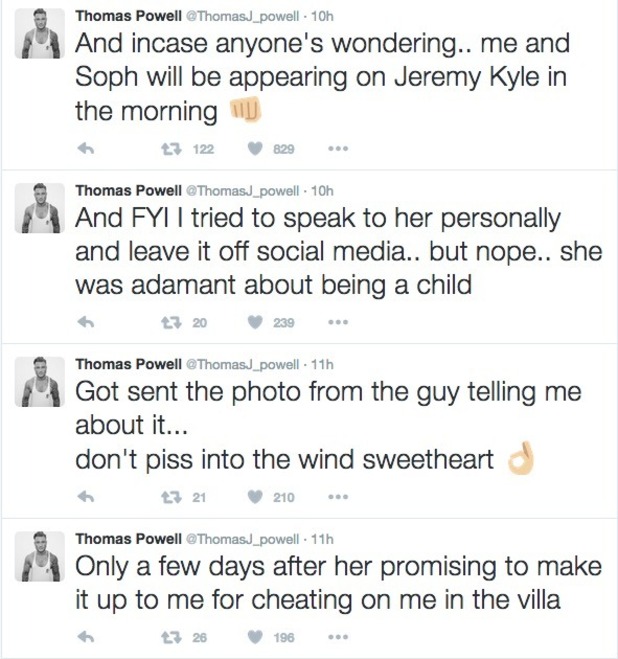 Tom then joked: "And incase anyone's wondering.. me and Soph will be appearing on Jeremy Kyle in the morning."
Sophie, meanwhile, tweeted: "When sh*t goes from 0 - Jeremy Kyle in 2.7 seconds," before dismissing Tom's claims. Responding to the picture Tom had posted, she tweeted the man in the photo with her and said: "Hahahaha look what you started gofffffyyy. I cheated with you don't forget... #whenapictureisallyoucanuse."
Sophie also shared a slew of crying laughter emojis.
She then shared a screenshot of Tom allegedly asking a fan for their number and in another tweet added: "You can't argue with stupid."
Reveal
has contacted reps for both Sophie and Tom.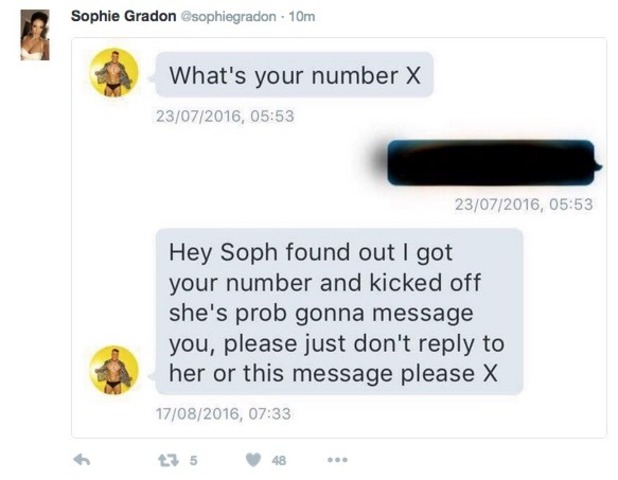 Sophie was first to allude to the couple's split, by sharing a quote to Instagram that read: "Some people are meant to fall in love with each other, but not meant to be together." Sophie added the caption: "Fall in love, learn, then let go. The chapter may be over but the story isn't," but has since deleted her post.
Tom, meanwhile, tweeted: "I haven't got a short temper...just a quick reaction to people's bullsh*t," adding an emoji of a middle finger.
He also shared a quote to Instagram that read: "Sometimes I regret being nice, apologising when I didn't do anything wrong, and for making unworthy people a priority in my life."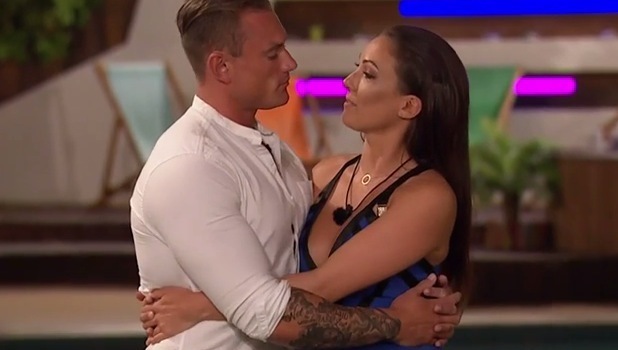 Sophie and Tom had initially got together while starring on the second series of
Love Island
this summer.
Their relationship had been on and off on the show, but the pair did make their romance official and Tom told Sophie he loved her when he was voted out of the villa. Following his exit, Sophie appeared to strike up a romance with Katie Salmon,
but she has insisted things between herself and Katie were purely platonic.
Sophie had then quit the show to work on her relationship with Tom and since leaving the villa,
she and Tom have been hit by split rumours before
- but their break up will no doubt still come as a shock to fans.
Just recently,
Tom had surprised Sophie with a trip to a spa for her birthday
. She gushed: "[Tom] is amazing! I'll be spending the next 3 days at a beautiful spa hotel in the Lakes. My favourite place, best surprise."
Like this? Don't miss out! Make sure you're following Reveal across Twitter @RevealMag / Facebook @Revealmagazine / Instagram @revealmagofficial