Geordie Shore: Chloe Ferry ends up hitting her co-star Gaz Beadle while rowing with on/off flame Marty McKenna.
Things between
Chloe and Marty have been going round in circles ever since they landed overseas this series
. One minute the pair are hoping to make a go of their romance, and the next, they're at loggerheads.
In the next episode of
Geordie Shore
, Chloe falls out with Marty over Holly Hagan again and poor ol' Gaz gets caught in the crossfire.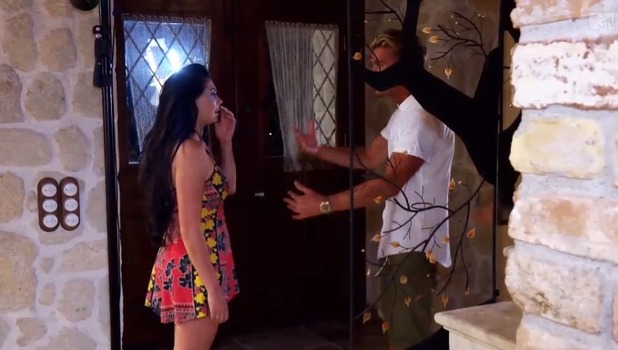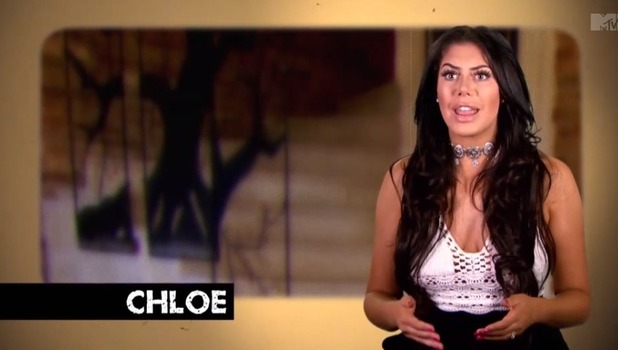 Chloe and Marty previously clashed when she accused Marty of flirting with Holly. Both Holly and Marty assured Chloe nothing was going on, but
her insecurities took over and she kicked off at Marty - throwing chicken nuggets at his head.
While we don't yet know what has happened this time, a new video shared by MTV shows Chloe raging with Marty. She tries to confront him when the gang are back at the villa following a night out, but Gaz tells Chloe to head to bed.
"Marty has been talking to me like sh*t all night," Chloe vents. "There's no way I'm letting this one go."
Gaz, meanwhile, has other ideas and holds Chloe back from Marty when she heads into the boys' room. He tells her: "Chloe you're not going anywhere man. Get the f**k out of our room. Get upstairs and get to f**king bed."
"I'm losing my patience with Chloe. Big time," Gaz tells the camera. "We're all drunk, but she needs to go to f**king bed."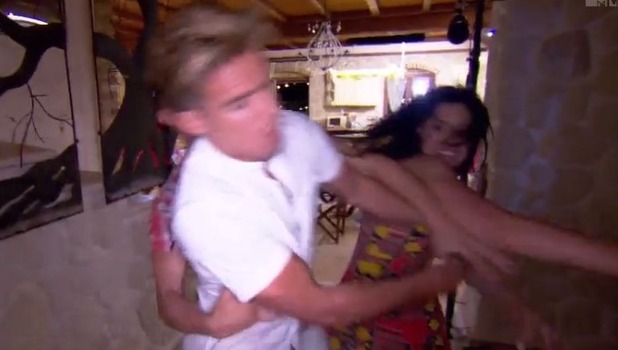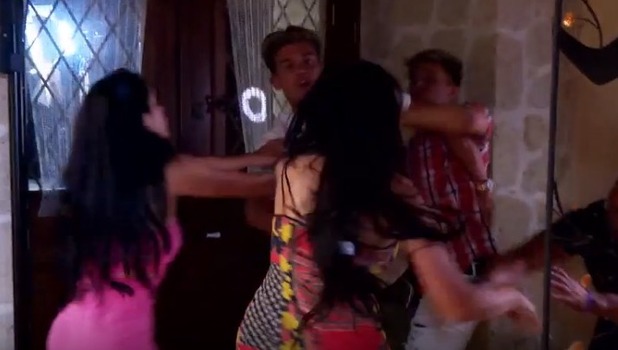 Chloe, however, says: "I want to have this out with Marty. I'm f**king raging. What the hell has this got to do with you, Gary?"
Trying to push her way past him, Chloe then swings at Gaz and hits him across the face. Marty quickly steps in the way of Gaz and Chloe, before security gets involved and drags Chloe away.
"Chloe is now swinging away, all I'm trying to do is calm the situation down between her and Marty," Gaz insists.
It's not the best episode for
Gaz, as he also comes to blows with Sophie Kasaei.
Sophie returns to
Geordie Shore
and soon learns that Gaz has kissed Chantelle Connelly. Like
Holly, she thinks it was disrespectful of Gaz to do so
and when she confronts him over his actions, things get explosive.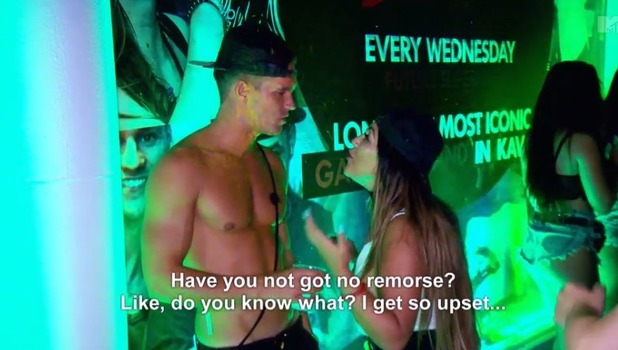 Sophie asks him: "Do you not have [any] remorse? I get so upset. You've hurt my best friend... You made her rock bottom."
Sophie adds privately: "He doesn't care about the five year relationship he had with her. He doesn't care about breaking her heart. This boy is a heartless b**tard."
As the conversation gets more heated, Sophie throws her drink over Gaz, he retaliates by doing the same and the pair have to be separated.
"I don't know how we are ever going to overcome this," Sophie says. "Right now, I hate Gary."
Geordie Shore continues Tuesday 15 November at 10pm on MTV.
Like this? Don't miss out! Make sure you're following Reveal across Twitter @RevealMag / Facebook @Revealmagazine / Instagram @revealmagofficial