It's OFFICIALLY Christmas. John Lewis has released its Christmas advert for 2016 meaning the festive countdown is now in full swing, and this time round their efforts have got us smiling instead of getting all teary-eyed.
Only thing is, it seems some people are missing the waterworks this year! After all, nothing says Christmas like weeping your heart out to a cute clip on TV.
For 2016, a boxer dog named Buster is the star and all he wants to do is bounce. He gets a little envious when the little girl in his family is bouncing around the garden on her space hopper and things get slightly emotional when Buster sees a slew of animals, a couple of foxes, a pretty cute badger, a squirrel and a teeny hedgehog, all testing out the trampoline that has been put together in the garden as a Christmas gift.
Locked in the house he can't go out to join them, and those puppy dog eyes are enough to melt anyone's heart.
While Buster getting left out could be enough to set you off, the ad then switches to Christmas morning and the little girl getting oh-so-excited about her trampoline. But, as she prepares to test it out for the first time, you can imagine who beats her to it... and that leaves everyone a little shocked and us viewers giggling away.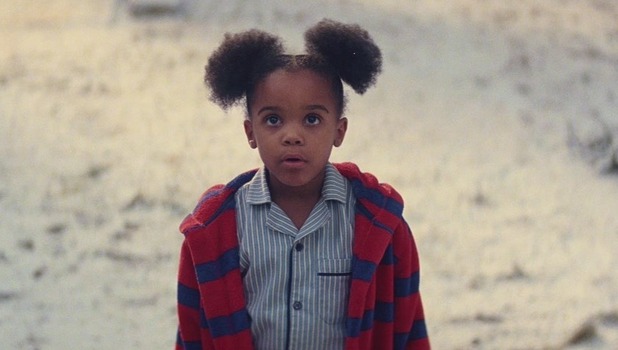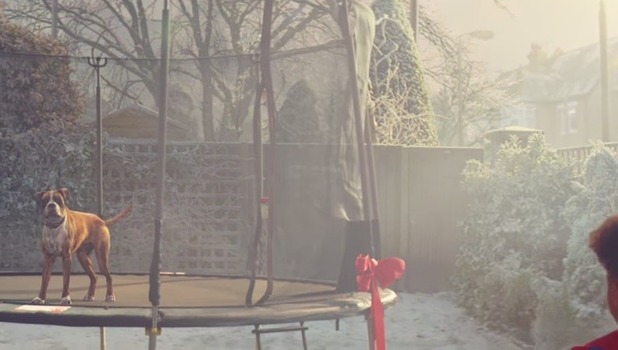 Heart-warming? Check.
Cute? Check.
A soundtrack to give you all the feels? Check.
Buster the Boxer ticks off most of the usual must-haves of a John Lewis ad, but it's not quite the tear-jerker that
Man On The Moon
and
Monty The Penguin
were. And it turns out we all love having a bit of a cry, as Twitter seemed slightly divided on this year's offering.
Those for it...
#johnlewis Christmas ad is spot on this year. After 2016 we didn't need more tears, we needed bouncing animals on a trampoline

— Katie Woollard (@WoollyWalrus) November 10, 2016
Just seen the #JohnLewis advert. May be biased as i love Boxer dogs, but it's a big improvement on 2015. Now show me the Coca Cola trucks!

— Liam Cook (@TheRealLiamCook) November 10, 2016
Not as good as Monty the penguin (you can't beat penguins) but this is two minutes of much needed happy Christmas charm #JohnLewisAdvert https://t.co/GUOaGfgSHO

— Catherine Bateson (@catbateson) November 10, 2016
The #JohnLewisAdvert is absolutely adorable

— finola (@finolawalsh) November 10, 2016
Awww the John Lewis ad is just adorable. Got that warm fuzzy feeling #JohnLewisAdvert #johnlewis #Christmas

— Tasha (@SincereBlonde19) November 10, 2016
Those not so convinced...
For the first year ever I feel disappointed with the #JohnLewis advert.. doesn't quite pull on your heart strings like the man on the moon

— WIN GALAXY S7 NOW!!! (@giveawayzutton) November 10, 2016
Not sure what I thought of #JohnLewis ad. Not very Christmassy, & why didn't Santa deliver the trampoline pre-built?? #buster is cute tho

— Lucy McCabe (@LuMcCabe) November 10, 2016
Every year I count on the John Lewis advert to tug at my heart strings, but this year i felt nothing, really disappointed #JohnLewisAdvert

— Sarah James (@_sejames) November 10, 2016
This years #JohnLewisAdvert - meh. Sorry #bustertheboxer

— Ellie (@EllieStevens_) November 10, 2016
That being said, we're pretty sure we won't get bored of seeing this face anytime soon.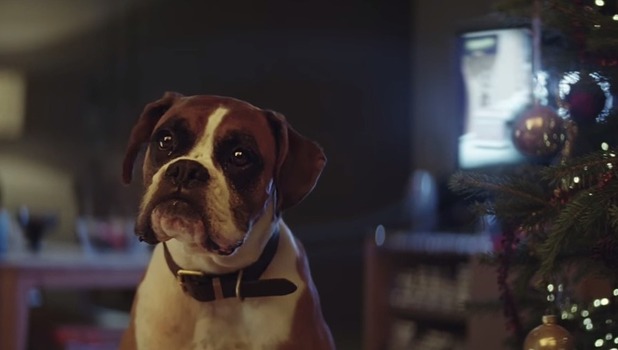 'Scuse us while we hit play... just one more time.
Like this? Don't miss out! Make sure you're following Reveal across Twitter @RevealMag / Facebook @Revealmagazine / Instagram @revealmagofficial