In the midst of his Boyzlife tour, we catch up with Brian McFadden and hear about his 'feud' with Westlife, crazy fan mail, and working with Boyzone's Keith Duffy
When
Brian McFadden
, 36, and Keith Duffy, 42, announced they would be joining forces to form a two-man band, named Boyzlife, critics and fans alike were sceptical.
Despite Brian's band mate Kian Egan expressing his 'aggravation' over the 'misleading' reunion, the Boyzlife country-wide tour sold out in just four hours.
Here, Brian has his say…
How did the reunion first come about?
"About a year ago, Keith [a former member of much-loved boyband Boyzone] had this idea of doing a one-man show, like an autobiography on stage, and he suggested that maybe we could do it together. So we went for it. We added a medley of songs from Boyzone and Westlife and made it into a show."
Did you approach the other members of Boyzone and Westlife about joining you?
"No. It was just something that me and Keith wanted to do together. The Boyzone boys gave their blessing but I don't really talk to the Westlife boys. I don't really know, or care, what they think about the show."
What do you think about Kian saying the name Boyzlife was 'aggravating'?
"I had no idea Kian was unhappy about the name, but it doesn't matter because Keith and I have trademarked 'Boyzlife'. It's not really something I had to consult them about as it doesn't really have anything to do with them. It's a show about mine and Keith's life – it's about our careers and life on the road."
Kian also accused you of only being part of the band for four years, when it was going for 15, yet still using the name?
"I was part of Westlife for pretty much all of the successful years the band were together, which was actually six. We have just as much right as anyone else to use the name."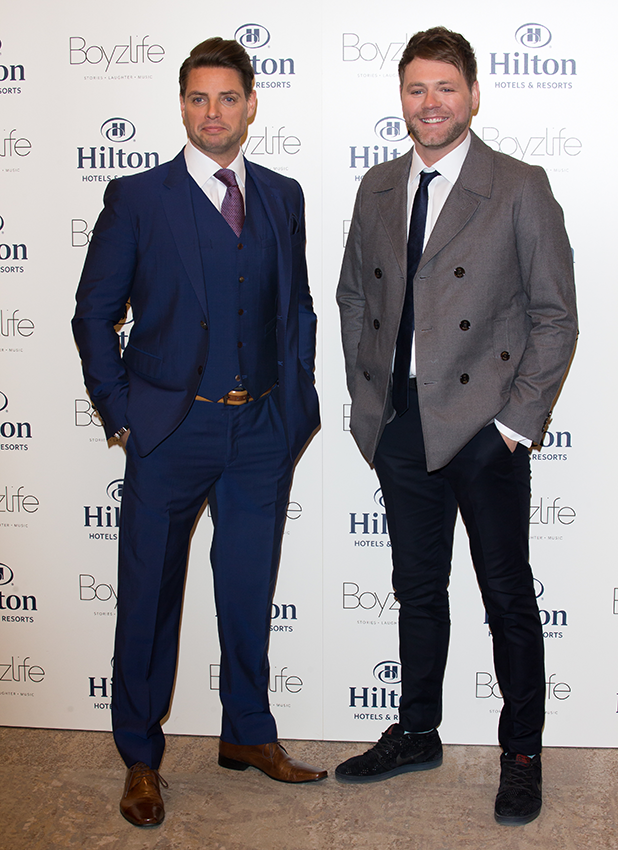 Do you stay in contact with any of the Westlife boys?
"Not really. I haven't been part of Westlife for 12 years so we've kind of gone our own ways and we lead our own lives. We were only teenagers and in our early twenties when we joined together as a band [in 1998]. You can have a great time at school but not keep in contact with your school friends. We don't intentionally not speak to each other!"
What kind of audience have been attending this time around?
"It's been the same faces that have been fans of Boyzone and Westlife from the beginning. They're a little older like the rest of us. Last night, we had an audience from teenagers to a man celebrating his 89th birthday."
Have you had any crazy fan mail?
"Our fans aren't as wild as they were in the early days! There have been no marriage proposals yet but I have had a couple of girls asking me to sign their arms so they can have my name tattooed."
Would you consider touring with GEM (Spice Girls Emma Bunton, Geri Halliwell and Mel B)?
"Who are GEM? Isn't that a cartoon? [After we explain] Oh! Sounds great. I'm on tour already so I'll leave them to it."
Boyzlife April 2017 tour is on-sale now! For VIP Packages & Tickets please visit: www.BoyzlifeTour.com/2017
This interview originally appeared in Reveal magazine issue 44