We catch up with The X Factor's Sam Lavery on those romance rumours, allegations she dumped her boyfriend and being BFFs with Eric Cowell.
Following the rumours that she and 5AM's Nathan Lewis had been sharing secret hook-ups in a cupboard backstage,
Sam Lavery
is keen to set the record straight.
"Nathan and I are 100 per cent just friends. I look up to him like a big brother," she cringes.
"I get on with Nathan as well as anyone in the house and we just laughed. We're still really good friends so luckily it hasn't affected our relationship."
In the same week the saucy claims emerged, 17-year-old Sam's ex-boyfriend Acea Brabrook, 24, accused her of heartlessly dumping him by text.
"If she had crashed and burned she would have come back up north and we would have carried on dating. But she is making a success of it, so now I'm history," he said.
"Sam promised
The X Factor
wouldn't change her.'
But Sam tells us: "Me and Acea we were only seeing each other for three weeks so it wasn't a serious relationship. Because of the show, I didn't know where I was going to be or when I was going to be home. We made the mutual decision that it would be best to leave it for now.
"It's a shame it came out like that but I know how it really happened. We split up about a week before judge's houses so I was just as surprised as anybody when he spoke about it."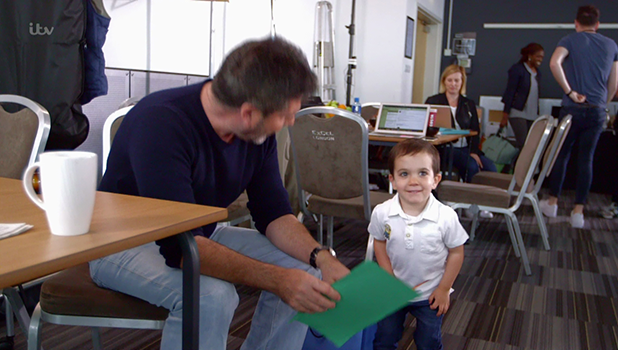 Sam now has a new man in her life, coming in the form of mentor Simon Cowell's adorable son Eric, two.
"Eric is literally my favourite person," she gushes.
"He comes and sees me and we have in-depth conversations about
Peppa Pig
. I have a tiger ring I wear every weekend on the show and me and Eric call it 'Tim the tiger'. It's our good luck charm. We have our own secret handshake, too.
"He's the coolest little boy. I asked him where his daddy was the other day and he said (puts on a well-spoken accent), 'Oh, he's in his dressing room.' He's so posh, I love him."
In other
X Factor
romance news, Gifty Louise sparked more love speculation last week when she posted yet another cosy pic of herself and 5AM member Jordan Lee.
The 20-year-old captioned the snapshot, "The male version of me," followed by a heart emoji, leading fans to question whether the pair are an item.
Yet, despite their closeness, when we catch up with the feisty contestant she insists they're just friends. "There is nothing going on between me and Jordan, everyone keeps saying this!" she laughs.
Gifty tells us that she and Jordan - who according to a show insider "have been inseparable since entering the house" - have more of a brother and sister relationship.
"We literally fight like cat and dog," she adds.
This interview originally appeared in Reveal magazine issue 44
X Factor continues Saturday at 8pm on ITV with Disco Week