X Factor star Honey G has won sympathy from Professor Green, after attempting to slide across her knees on stage and falling over.
Honey G celebrated news she had successfully made it through another week of live shows on
The X Factor
by sliding on her knees across the stage live on air. The only trouble is, she was sporting leather trousers and ended up losing her balance.
During his appearance on ITV's
This Morning
,
Professor Green
was asked if he had ever had a similar mishap to Honey G, but he refused to make fun of the wannabe rapper, responding: "I wouldn't wish that on her."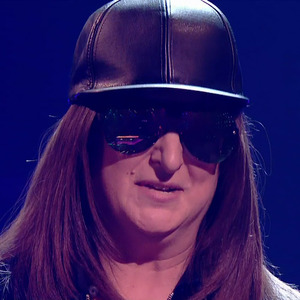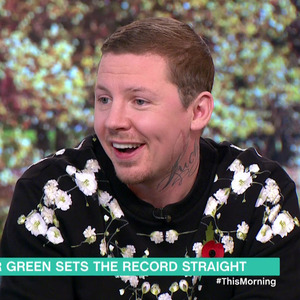 Phillip Schofield had asked Pro Green whether he had seen Honey G's fall, but he hadn't, and asked what happened. When Phil explained, Professor Green felt for Honey G and replied: "I wouldn't wish that on her, I'm not horrible."
But while he did sympathise with the
X Factor
hopeful, he hadn't changed his mind when it comes to her place in the competition.
Professor Green has previously said he thinks that Honey G is "taking the mickey" out of rap music
. He questioned whether Honey was a "gimmick" act and when Phil and Holly Willoughby assured Professor Green that she is serious about making a career in the music biz, he said: "Well, bless her."
The 32-year-old then added: "If you're a rapper, you write your own lyrics, you tell your story. It's really difficult to be a credible rapper when the whole point of [The X Factor] is to perform other people's [songs]."
Holly tried to vouch for Honey G with her own hook ("When I say Honey, you say G), but Professor Green wasn't a fan.
"You have to have a sense of humour about things, but it's gone a bit too far," he said. "We could have had someone else on the show who has a chance to have a proper career in music."
He then added: "Listen, Simon Cowell signed Zig and Zag (a puppet duo) and he did alright with them... I might be wrong!"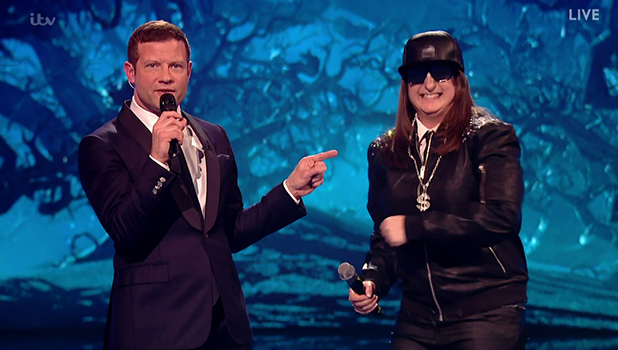 Honey G has been up against it since her very first audition. She appears to have divided viewers, with some branding her a "joke" or a "novelty act".
However, Honey G has insisted she is serious about making it as a rapper and
has said that claims she is a "novelty act" are "insulting".
She told WhatsOnTV: "I know some people have been saying they don't think I'm real and that I'm a prank that's been set up by the producers, but those haters need to check themselves because I AM the finished article.
"I might not have the most amazing voice but I'm a heavyweight rapper, singer and producer and I write my own lyrics, so I've got real skills to bring to the table. To be regarded as a joke is really insulting."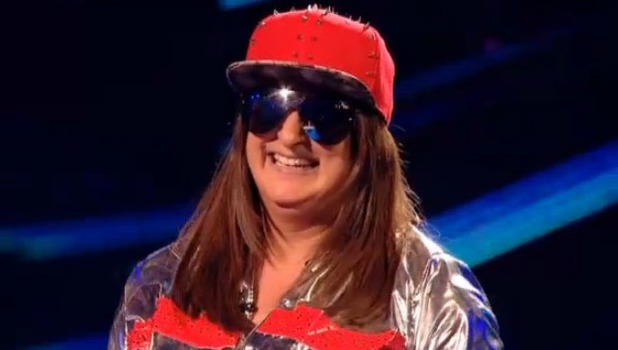 Fans saw Honey G take to the
X Factor
stage on Saturday night to perform her rendition of 'Jump'. While Louis Walsh told Honey that it was her "best performance yet", Nicole Scherzinger told her: "You brought the house down. Tonight you have earned my respect... all the hard work you are putting into this is paying off."
Simon Cowell was also full of praise. He addressed Honey's critics and said: "On paper, this shouldn't work. Every week, I keep thinking it's going to end, but tonight, once again, you stepped up Honey. There are so many people getting their knickers in a twist over you. Music can be fun, you're fun, you're believable and you're entertaining. Backstage you are one of the nicest contestants."
Meanwhile,
Four of Diamonds became the latest act to leave the competition
. The girlband found themselves in the bottom two alongside Saara Alto.
Like this? Don't miss out! Make sure you're following Reveal across Twitter @RevealMag / Facebook @Revealmagazine / Instagram @revealmagofficial