TOWIE fans are keeping their fingers crossed for a Danielle Armstrong and James 'Lockie' Lock reunion one day after the exes shared a cute moment on the latest episode.
Wish lockie and Danni would sort things out and get back together man. The way they look at each other wasted love. #Towie

— Helen (@helenbushbyx) November 6, 2016
Oh Danni and Lockie should be together #TOWIE

— Megan Bamber (@BamberMegan) November 6, 2016
Danielle and Lockie split earlier this year for a second time but have remained good friends, as we saw in Sunday's episode.
They talked at the Bonfire Night party about what will happen when one of them starts dating again, prompting Lockie to playfully joke: "I wish you all the best. You'll never find someone better than me but good luck trying!"
Danielle added: "I think we've both come to the conclusion we get on but can't be together."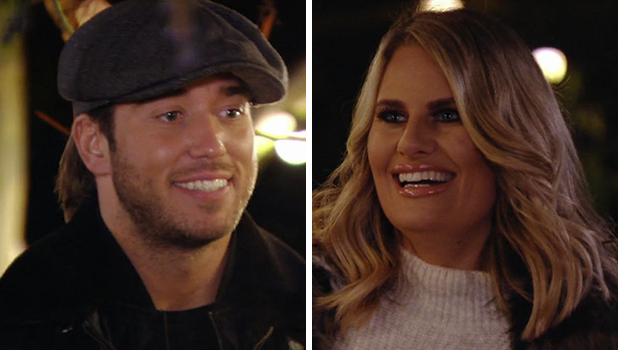 The next day, Danielle told the girls: "I got to speak to James, it was actually quite funny. He was in one of those annoying banter moods. He was joking saying you'll never meet anyone better than me."
Chloe Lewis chipped in to say: "He lovvvvvves you!"
"I'll always have good chemistry with James," agreed Danielle. "We were good friends before we even got together so I feel that's just natural between us.|"
Fans, however, are not giving up hope that friendly chemistry may turn back into romance, with loads of viewers taking to social media to reveal how much they love Danni and Lockie together.
Lockie and Danielle just need to be together I don't understand why there not too cute

— reanne (@reannemx) November 6, 2016
I want lockie and danielle to get back together #towie

— Kia (@foreverboynjh) November 6, 2016
Don't like the fact Danielle and Lockie aren't together they were too cute #TOWIE

— HollyNeavaboobie (@HollyNeavesx) November 5, 2016
Danni and Lockie just belong together

— Chelsey (@chelseybrown22) November 6, 2016
I wish Danni and Lockie would get back together

— Alex Lajbrok (@alexlajbrok19) November 6, 2016
Danni and lockie make me wana cry every episode just get back together please #TOWIE

— Louise (@louisesealey87) November 6, 2016
When we
caught up with Lockie recently
, he admitted it was "mad" how much impact the show has and how many people are rooting for him and Danielle.
"The question everyone always asks is when am I getting back with Danielle! As much as it's flattering and nice, we are real people and this is our real life," he told
Reveal
"Things don't always work out right in life, it's never perfect but we're good friends and we can be around each other. There's no animosity between me and her. I think this is the cleanest break it can be because we're friends.
"With me and Danielle, never say never, but at the minute we're both busy doing our own thing and focusing on our business projects. I'm not in any rush to move on and I'm enjoying myself at the minute, being with the boys."
The drama continues in The Only Way Is Essex on Wednesday at 10pm on ITVBe.
10 reasons why we want to be in TOWIE:Like this? Don't miss out! Make sure you're following Reveal across Twitter @RevealMag / Facebook @Revealmagazine / Instagram @revealmagofficial