X Factor's Four of Diamonds have joked they'll pay tribute to their mentor Louis Walsh by naming their future dog after him!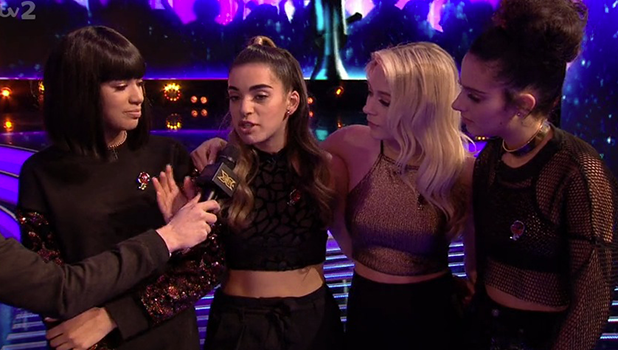 Caroline, Lauren, Sophia and Yasmin were sent home by the judges after a sing off opposite Saara Aalto following their Girlband vs Boyband performances on Saturday.
But appearing on
Xtra Factor
on Sunday, the band remained upbeat about the future.
A future that could include moving in together and getting some dogs...
"We've already spoken about [moving in together] and we want dogs," said Lauren.
"Is one of them going to be called Louis?" questioned Rylan Clark-Neal
We'll have to! I think we could call it Lulu!" joked Lauren.
"He's been so amazing to us," said Sophia. "There's been such a mutual respect for him. He is so honest with us and he's just... we couldn't have asked for a better mentor."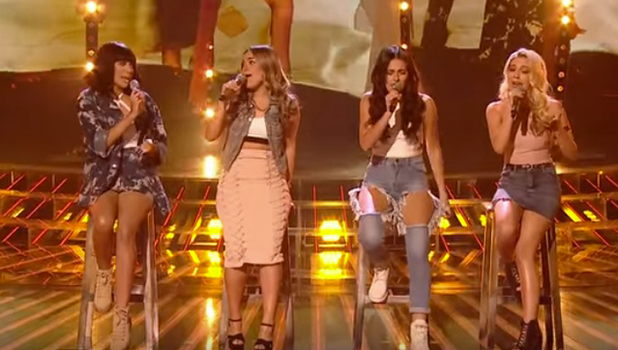 Louis has admitted he doesn't know what went wrong for his girlband
Four of Diamonds
, who performed 'Hold On' by Wilson Phillips on Saturday night.
Speaking on
Xtra Factor
, the girls' mentor Louis said: "They were great to work with. I don't know what went wrong as they were brilliant last night. They are on the tour, though, that's the good news."
Dermot O'Leary confirmed during Sunday's results show that all the remaining acts would take part on the 'X Factor Live' arena tour next year.
Four of Diamonds admitted on
Xtra Factor
that had been one of their main goals when they entered the competition so they were thrilled to have made the tour.
Yasmin said: "Being on the tour was one of our main goals so to make the tour, we're so happy. This experience has been one of the best experiences of our whole lives."
Caroline added: "We have been so blessed to have his opportunity, out of the thousands who auditioned, to make it to live shows. We had a rocky road but thank you so much."
Lauren assured fans it was "just the beginning" for the group, who said they'd become "sisters and family" throughout the process.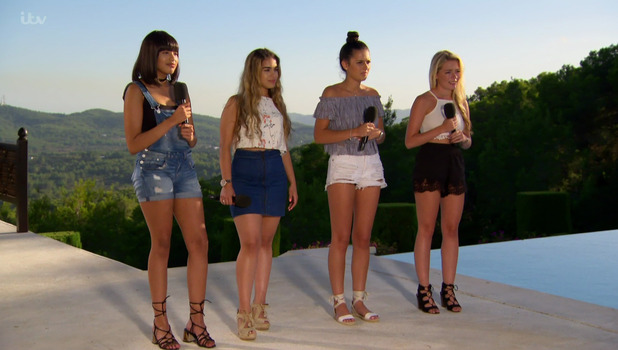 After the show, the band posted a photo to Twitter showing them with mentor Louis. The caption read: "An experience we will never forget. Thank you to absolutely EVERYONE involved."
A lengthier note to Instagram said: "Firstly, we would like to say the biggest thank you to every single person that has voted for us and shown their support during our whole X Factor journey.
"Secondly, we would like to thank the X Factor team (including the incredible Mr Louis Walsh) for giving us such an incredible opportunity and teaching us so much about the industry.
"Finally, last but definitely not least, thank you to all of the incredible contestants we met along the way for making our time on the show the most fun and enjoyable. We've made some real friends for life and you are what we will miss most about the show.
"We are just SO grateful to have been given this opportunity. We will keep on going and what doesn't kill you makes you stronger keep an eye out for us!"
Louis memorably said earlier this series that he wasn't always a fan of working with girlbands, but Four of Diamonds bucked that trend as, in his words, every member could sing and they all got along.
Four of Diamonds actually auditioned as solo singers but, after failing to make it through by themselves, were encouraged by producers to form a group. They took part in a 'groups workshop' before re-auditioning as the band.
They made it through to Louis' Judges' Houses in Ibiza, but he failed to pick them for live shows in a move that shocked many fans. They got their chance to join the live shows, however, when
Brooks Way withdrew from the competition
following allegations about Josh Brooks' personal life.
X Factor
continues Saturday at 8pm on ITV with Disco Week.