Geordie Shore: Nathan Henry has undoubtedly landed himself in trouble, after telling Aaron Chalmers that his girlfriend Marnie Simpson is bisexual.
In the opening episode of
Geordie Shore's
thirteenth series,
Marnie revealed to the girls that she is bisexual.
She explained she had recently opened up about her sexuality to her family and wanted to tell them all too. Although, she did admit she didn't feel ready to tell Aaron.
That meant when she and Aaron picked up their on/off romance, Marnie was still holding her secret back from him.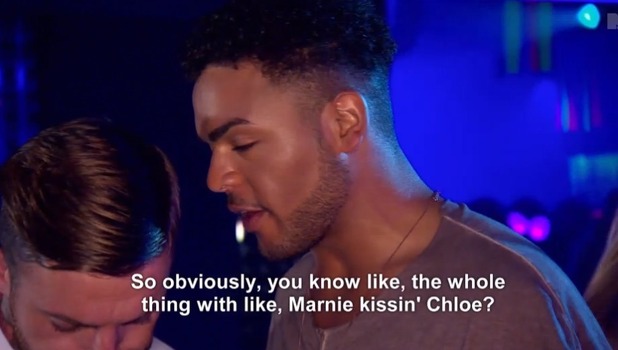 Marnie may now actually be dating CBB's Lewis Bloor
, but fans have only just seen
Aaron ask Marnie to be his girfriend in the last episode of Geordie Shore onscreen.
He had wanted the pair to really give their relationship a go once and for all, after going round and round in circles, so plucked up the courage to ask her during filming back in June.
Marnie said yes and while the pair had been all loved-up, they clashed just a day after making things official and Marnie hit out at Aaron, telling him he needed to 'read a book on how to be a good boyfriend'.
Aaron had been angry with Marnie for getting involved in
an argument with Chloe Ferry and Marty McKenna
and because Marnie had continued to kiss Chloe when she was drunk, despite promising she would no longer do so.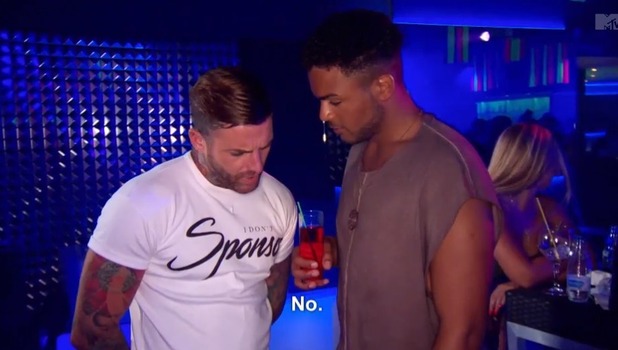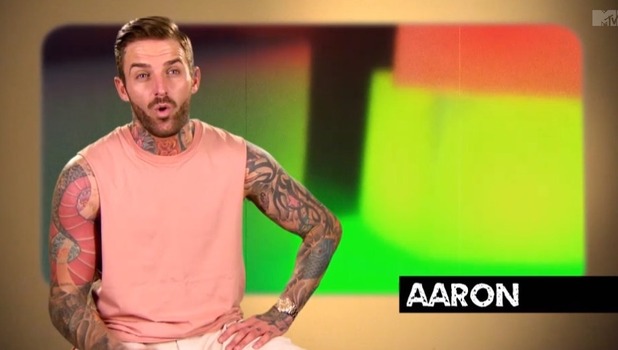 With Aaron and Marnie not talking, Nathan tries to help the pair work out their issues by telling Aaron that Marnie is bisexual.
In the next episode of
Geordie Shore
, he tells Aaron: "So obviously, you know the whole thing with Marnie kissing Chloe? You do know that she's bisexual, don't you?"
"No, why would I know that?" Aaron replies. "She's never said that."
He adds to the camera: "Nathan has pulled us off to tell me Marnie is bisexual, which is fine. But she is supposed to by my girlfriend, so why the f**k am I the last person to know?"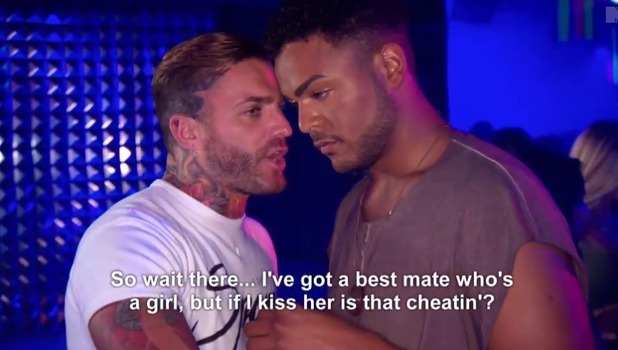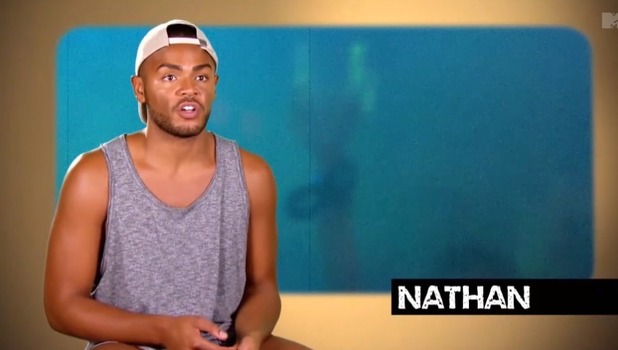 Aaron then brings up Marnie's kiss with Chloe and asks Nathan: "I've got a best mate that's a girl and I kiss her, is that cheating?"
Nathan tells him: "Yeah, that would be the same thing."
"What annoys me is that Marnie keeps kissing Chloe and thinking it's alright," Aaron says. "It's f**king not. I'm done, mate. I'm done. Its sh*t."
Frustrated Aaron heads home from the club, leaving Nathan to realise that he has just caused even more problems for Aaron and Marnie. He says privately: "What the f**k have I just done?!"
Marnie, meanwhile, is completely unaware of Aaron and Nathan's conversation.
Awkward, much?
Geordie Shore continues Tuesday 8 November at 10pm on MTV.
Like this? Don't miss out! Make sure you're following Reveal across Twitter @RevealMag / Facebook @Revealmagazine / Instagram @revealmagofficial