The Harry Potter books are pretty much perfect, fact.
So perhaps that's why a HUGE love triangle scene written just for the movies was left on the cutting room floor. Why mess with JK Rowling's magical universe, right?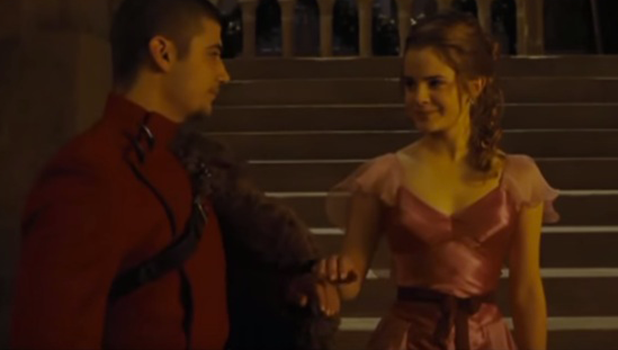 Actor Stanislav Ianeveski has told
Entertainment Weekly
that a new storyline was written for
Harry Potter and the Deathly Hallows: Part One
which saw his character, Viktor Krum, try to win Hermione Granger back much to the annoyance of Ron Weasley.
Which explains that deleted scene on YouTube showing Viktor and Hermione dancing at Fleur and Bill's wedding!
In the
Goblet of Fire
book, Viktor and Hermione attended the Yule Ball together, which made Ron really jealous. Then we find out in the
Order of Phoenix
book that Hermione and Viktor have remained "pen pals", prompting Ron to say Viktor wants more.
But that's it as far as a Hermione-Viktor hinted romance goes in the books, well, from Hermione's perspective anyway.
However, in Entertainment Weekly's
EW Binge Podcast
, actor Stantislav said new scenes had been written and filmed for the
Deathly Hallows
movie showing Viktor and Hermione getting close again at Bill and Fleur's wedding.
"[The director David Yates] invented a new story that wasn't in the books, a love triangle between Viktor Krum, Hermione, and Ron, but that was cut out of the film because it obviously didn't fit with all the horrible things that happen in the last book," he said.
"We did a new dance scene, I sort of stole [Hermione] from Ron. She remembered our old times, Viktor was acting like a gentleman again, happy to see her, she was happy to see him. Ron was sitting on the side, was jealous, and then Viktor took her to the dance floor."
Now, the scene is based on what happens in the book: if you remember, Viktor
does
indeed attend Bill and Fleur's wedding and, when he sees Hermione with Ron, gets a bit jealous. He tells Harry, who is in disguise, there's no point being famous if all the best girls are taken.
Of course, we all know Hermione and Ron ended up together and went on to get married and have two children who both attend Hogwarts.