X Factor's Gifty Louise has taken to Twitter to defend her attitude after being eliminated on Sunday night, saying she was allowed to be upset as she was devastated to be leaving the show.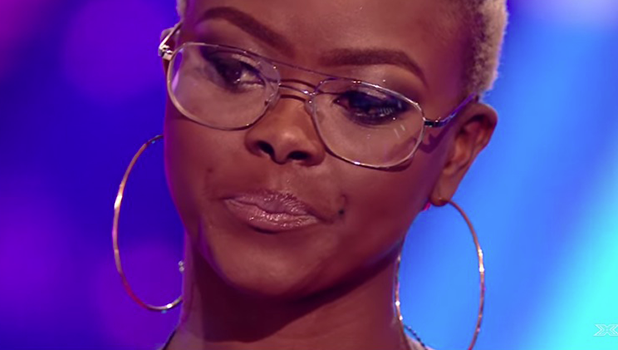 The 20-year-old was sent home after a
sing off opposite Four of Diamonds
, with all the judges, bar her mentor Simon Cowell, choosing to save the girl band.
Gifty was visibly upset about the elimination and rather quiet when interviewed by Dermot O'Leary, leading some viewers to call her a "sore loser" on social media.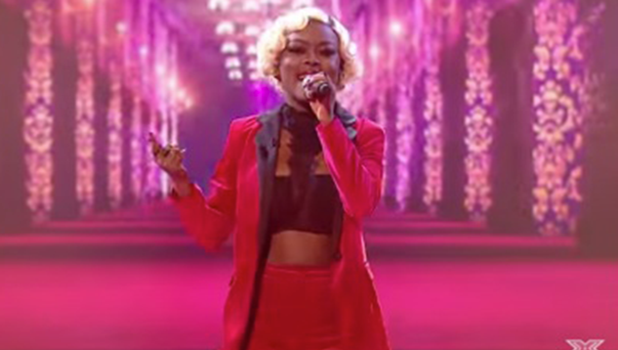 However, Gifty, 20, has hit back via Twitter, pointing out she was "gutted" to be leaving
X Factor
and was allowed to be upset about the voting result.
She tweeted: "Not going to pretend I'm happy and smile for the beneficial of others. I worked my ass off and I was gutted. I'm allowed to be."
Gifty also retweeted a fellow user who wrote: "Gifty's refusal to pretend she's anything but completely f**ked off is why she's my spirit animal."
Gifty's refusal to pretend she's anything but completely fucked off is why she's my spirit animal. https://t.co/11pd83hI0o

— the ghoul who wept (@theboywhoslept) October 31, 2016
Plenty of fans responded to Gifty's tweet with messages ranging from understanding why she was annoyed, to calling it "refreshing" to see a genuine reaction on the show.
@GiftyLouise It's ok to be upset. You have amazing voice & lots of opportunities waiting for you. Go on, soar like an eagle! #realtalent

— ConfidentQueenGenny (@confident_queen) October 31, 2016
@GiftyLouise I thought you were amazing Gifty. Don't blame you, it's refreshing to see how honest and real you are. Keep being you.

— Marcus Roberts (@MarcusRobertsTV) October 31, 2016
@GiftyLouise it's good that you show your emotion and feeling and not fake it pretending they are happy like most! Keep it real girl

— Jules (@x__Jules__x) October 31, 2016
@GiftyLouise everyone was saying how you didn't take it well, but what was you meant to do, have a tap dance? You deserve to still be there

— Elizabeth Berrett (@elizabethberre1) October 31, 2016
@GiftyLouise Completely understand,you should never have been in the bottom 3 and you were the best in the sing off by miles...#XFactor

— Sophie (@LumpyBootHead88) October 31, 2016
Meanwhile, appearing on ITV's
Lorraine
on Monday morning, Gifty was praised by Lorraine Kelly for not faking her emotions.
Lorraine told her: "What I like about you is you're very honest and what you see is what you get, you didn't do that whole, 'Yes, it's been a lovely journey, thank you all so much, I've had a lovely time.' You were annoyed, cross and devastated because it's what you always wanted to do."
"I worked so hard, it is what it is, I did my best," replied Gifty.
Gifty landed in the bottom three alongside Ryan Lawrie and Four of Diamonds after Saturday night's Halloween Fright Night. Ryan was saved by the public flash vote for a third week in a row, leaving Gifty and Four of Diamonds to sing for survival.
Her mentor Simon apologised afterwards, saying he was to blame as he'd chosen the wrong song for Gifty to sing this week. He picked Fifth Harmony's relatively unknown 'In Love With A Monster' and admitted on
Xtra Factor
it was too gimmicky.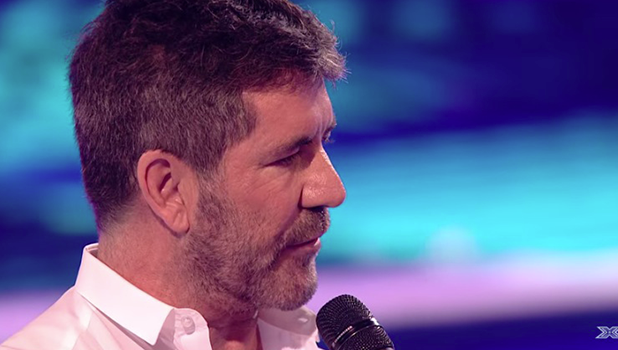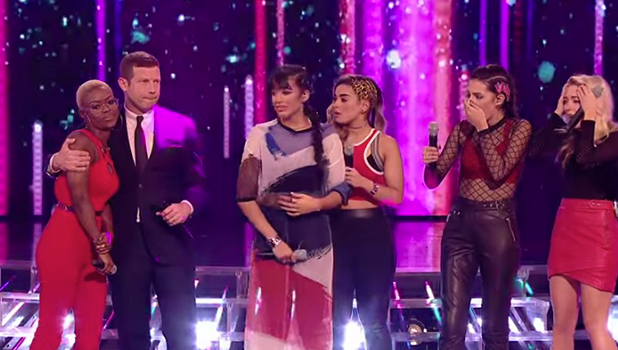 Gifty, meanwhile, has said she
personally felt it was "predictable" to do a second Fifth Harmony song
in just four live shows and she worried the audience would be bored, but she also understood Simon had her best interests at heart.
"Simon has been absolutely fantastic, he's always had my best interests at heart and has always done what made me feel comfortable. With him saying he picked the wrong song, I don't blame him, I feel he honestly felt it was the right song for me and I would smash it," she said.
"I tried my absolute best. I knew it was a risk doing Fifth Harmony song, like third time. I personally feel people are going to think she's too predictable, but you know what, I did it and I have complete faith in Simon; he knows what he's doing."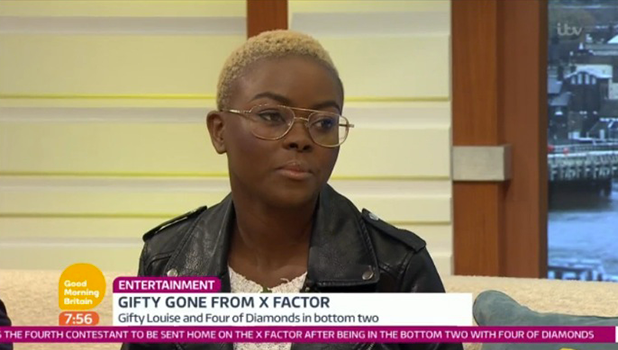 Meanwhile, appearing on
Good Morning Britain
on Monday,
Gifty said she held no hard feelings towards Honey G
, who has made it safely through to the fifth live show despite being branded a "novelty act" by some viewers.
"Personally, I feel like she's an entertainer, she entertains people and people have fun when they watch her, so her making it through, I wasn't surprised. She has a huge fan base, so good on her. She gives a great performance.
"I don't hold it against her because she isn't the one doing the voting, people do the voting, and obviously she was fan favourite."