Michael Buble joined the Loose Women ladies for a chat and it really made us LOL.
Yup, Linda Robson and Kaye Adams met up with
Michael (who will actually be hosting the BRIT Awards next year)
to mark the release of his new album
Nobody But Me
, and it was one of the best things we have seen.
Here's 7 reasons why we LOVED it so much:
1) The way he spoke about his kids
Michael credited his children for having the best impact on him. He told the ladies his only regret in life is "waiting this long to have kids." Michael is dad to two children, sons Noah, three, and Elias, ten months.
He said: "The only regret I have, is waiting this long to have kids. I had no idea the perspective it would give me. It's made moments so insignificant... compared to what is really important." He also revealed they inspired him to take on a healthier lifestyle, with the singer admitting: "I want to be old. I want to be old with these babies."
2) The fact Michael went to answer Kaye's phone mid chat
C'mon it's happened to the best of us, right? Phones have a funny way of ringing out when they really shouldn't, but ever the gent, Michael went reached over to pick it up and said: "Sorry, I was going to answer it." Kaye replied: "That would have been so cool," so Michael proceeded to put the phone in his lap and wait for it to ring again.
3) Michael's face when the phone buzzed in his crotch
His face was a picture, right? The way he jumped up... hilarious. He then had Kaye all worried when he shot her a look and when Kaye asked what it was that had popped up, Michael joked: "Nothing, it's, err, a picture. Beautiful."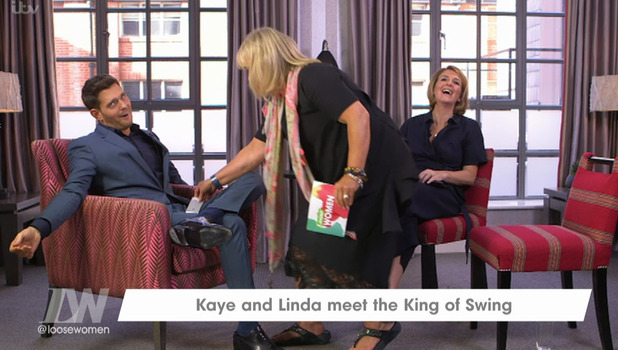 4) When Linda delved into Michael's crotch to get said phone
That led to Kaye saying she wanted to grab her phone back but was hesitant to, thanks to its awkward position on his lap, but that didn't phase Linda. Oh no. She told her co-star: "I'll get it," and with that she delved right in. Cheeky!
5) The way Michael spoke about his new album
Not only did he say it was his "third baby", but he admitted he felt "weird" talking about his album - even though he was kind of supposed to. That's pretty much the reason he was being interviewed, no? Still, he said he thinks it is "so good", but then added: "But why would you believe me anyway?" Putting on *the* most dulcet voice ever, he added: "Every artist says, 'This is the best record I've ever made.'
Oh, we believe you Michael! We do!
6) The way he got excited over, err, vocal surgery
Michael had to undergo surgery on his vocal chords back in May. Shortly after, Michael revealed everything went "perfectly" and speaking to Kaye and Lisa, he admits that now he gets excited over the op. He said: "It truly excited me that now whenever people talk about vocal surgery, I would be included in the conversation with Adele! Oh, Paul Young... he's dreamy."
Well, that's definitely one way of looking at it!
7) When Michael burst into song at Linda
She had asked him if he minded her asking for a favour, and jumping the gun a little, Michael interrupted: "Is it to sing Every Time You Go Away, because if it's to sing it, I'll..." before giving us all a whirl of those magical vocals.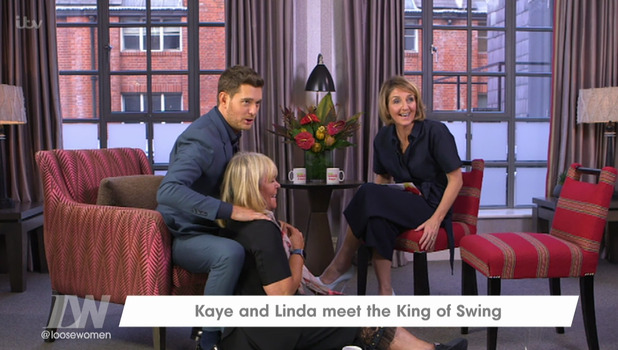 8) When Michael massaged Linda
That was the actual favour. When do you ever get the chance to ask Mr Michael Buble to give you a rub down? Erm, pretty much never. Taking her opportunity, Linda said: "My shoulder has been killing me. I wondered if you'd give me a little shoulder rub? Michael's reaction? "Yeah!"
He was all for it. In fact, when Linda came to sit in front of him, he quipped: "You can sit on my lap if you want." She responded: "No don't say that, Michael."
Not only did Linda get a massage, but Michael serenaded her while he was at it. He burst back into 'Every Time You Go Away' and finishing off the lyrics for him, Linda told him: "I'll take a piece of you, don't you worry about that."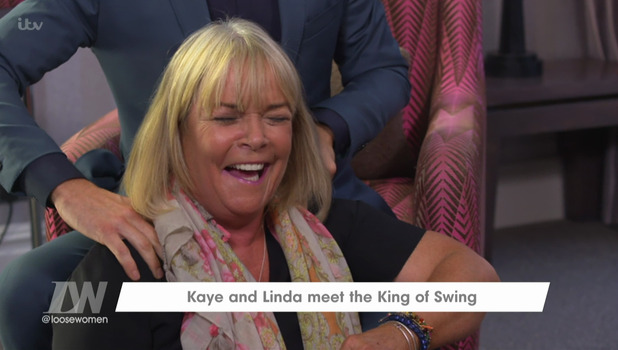 Just brilliant.
Follow us on Twitter @RevealMag for all your celeb, fashion and beauty news!
Fancy winning some GREAT prizes? Check out Reveal Competitions here!