Emmerdale fans were left shocked during last night's episode (20 October), as FOUR characters appeared to die in its much awaited car crash episode.
It has been teased that at least one character will die, but fans have now been left speculating whether we could be saying goodbye to more than one face on the soap.
Ashley, Rhona, James Barton and Aaron all appeared to have their life hanging in the balance.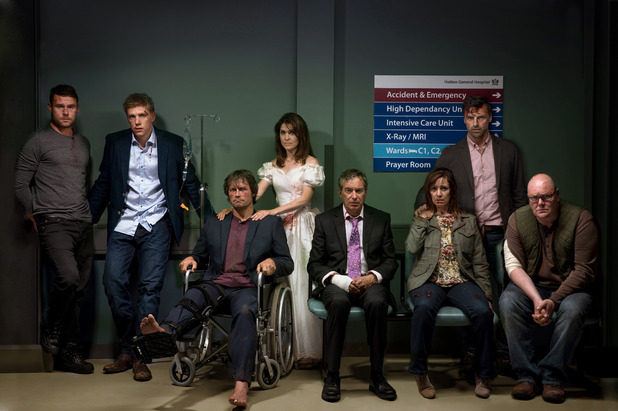 The storylines of all four characters came together in an explosive episode. James had kicked things off, after finally escaping from wife Emma who had been holding him hostage.
His escape led to him being on a bridge that was over a motorway, he was pushed by Emma as the pair argued and fell over the bridge, tumbling down onto the traffic below. BUT, on the road, several characters had been driving.
James fell on top of Ashley's car, causing his vehicle to roll over and crash. Pierce had narrowly avoided the crash, after managing to get his car out of harms way, while Paddy and Rhona had been caught up in the collision too.
Aaron and Robert, meanwhile, avoided the collision but crashed into a quarry instead. Their car was submerged in water and the boys struggled to get free.
There was a LOT going on, right?!
As the rescue unfolded on screens, fans were left shocked over the action and many took to Twitter, speculating which characters had met their end.
One viewer tweeted: "#emmerdale was insane last night and I feel more twists and turns tonight! Just gets better and better." Another said: "Those scenes between Aaron and Robert broke my heart. Aaron better not die cause I don't think I'd cope."
One fan couldn't resist joking: "Well that game of bumper cards got a tad out of hand," while others suggested that Emmerdale may need to start auditioning for new cast...
Here's how Twitter reacted:
Emmerdale was something else last night omg

— ëm (@EmmaGrainger_) October 21, 2016
Well that game of bumper cars got a tad out of hand #Emmerdale

— Callum (@Fistachristian) October 21, 2016
#emmerdale was insane last night and I feel more twists and turns tonight! Just gets better and better #ashleyyyyy

— Daniel Holmes (@100Holmesy) October 21, 2016
When you have to watch #Emmerdale again because you couldn't quite take it all in now the house is empty .......

— cobby-doe (@daisydoo_4) October 21, 2016
Those scenes between Aaron and Robert broke my heart. Aaron better not die cause I don't think I'd cope #Emmerdale #Robron

— Ciara Manning (@xCiaraManningx) October 21, 2016
Yesterday's #Emmerdale eps nearly killed me. Those scenes of Aaron & Rob in the water were horrible to watch

— mel (@xaeleon) October 21, 2016
#Emmerdale has officially been cancelled by a woman who has single-handedly killed everyone in the village.

— J. Oliver Price (@JonathanOPrice) October 21, 2016
Does no one drive at a safe distance in #Emmerdale? I think some driving test retakes are required..... @emmerdale

— Victoria MacDonald (@TheVickyMD) October 21, 2016
I have been awake since 5 am and I can't sleep because i'm so nervous about tonights #Emmerdale episode

— Caroline (@dapperhipster) October 21, 2016