I'm A Celebrity… Get Me Out Of Here! contestant Lady C has revealed she was just "hours from death" after coming down with sepsis.
The 67-year-old, who has two sons, appeared on ITV's
Loose Women
on Monday to recount how she feared for her life after being hospitalised with blood poisoning just a week ago.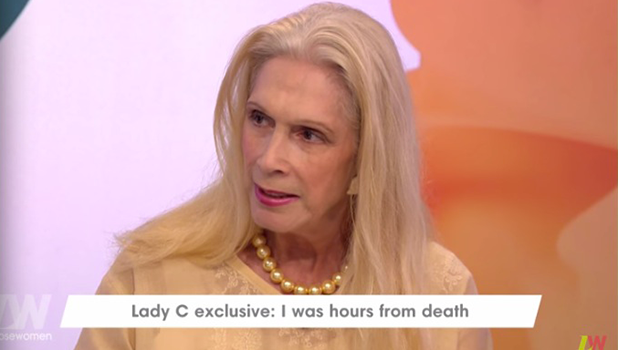 Lady C
explained how she developed food poisoning and was given antibiotics, but wasn't getting better. She realised something was wrong when she became very ill, disorientated and her bladder stopped working.
"A week ago on Wednesday I went to a very smart restaurant and had scallops for lunch," Lady C explained. "Thursday I was feeling dodgy so I went to the doctor. Saturday morning, I bantered with [someone] who said, 'Good morning.' I said, 'You're very optimistic' because I thought it was Friday evening.
"That, in conjunction with the fact that afterwards my bladder had completely shut down, I realised that something dramatic was going wrong."
Lady C phoned her brother in law, who is a doctor, in America and, after she went through her symptoms, he advised her to seek urgent medical help. "He said, 'You absolutely need to get yourself to a hospital immediately. You need to be catheterised and you'll need [stronger] antibiotics.' He said ,'You have sepsis, the classical symptoms for sepsis.'"
The socialite said doctors still aren't sure what caused the sepsis but they think it was likely an infected scallop that brought on food poisoning. "They were treating me for food poisoning, then the food poisoning gets through your system and is shutting down your organs," she said.
Watch Lady C discuss her sepsis below:
In a separate interview with The Sunday People, the reality star said: "I'd have died if I hadn't been given stronger antibiotics. If I'd gone into septic shock I could have been dead within 48 to 72 hours. I could feel my organs starting to shut down. I was desperately ill.
"A problem with sepsis is that it causes confusion because it attacks the brain. I was terribly weak and I could tell that my body was going through something very ominous. I vomited green sick in my waste paper bin."
Lady C said on Monday she's now on the mend but hopes to raise awareness of the symptoms of sepsis so others can seek the appropriate medical treatment in time.