Sharon Osbourne has dismissed the suggestion she was drunk during The X Factor's live show and offered a rather good reason for pawing at co-star Nicole Scherzinger's breasts.
The music matriarch was certainly in high spirits throughout Saturday evening's Express Yourself live show, causing some Twitter users to question whether she'd been on the booze.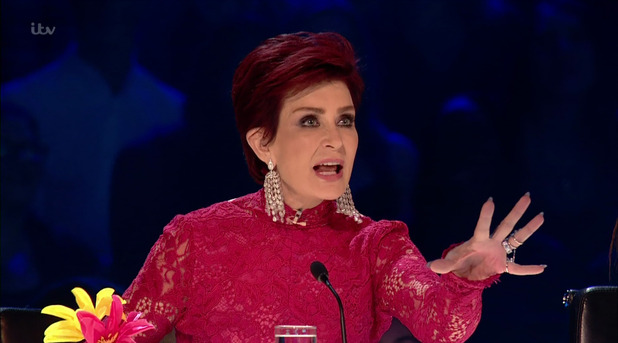 Appearing on her US chatshow
The Talk
, she said: "Why is it when you're there and you're having fun and you're being silly, do you have to be drunk? Why can you not just have fun? It's an entertainment show. It's entertainment, and it goes out late on a Saturday night."
Sharon added: "I'm there with the bestest - Nicole Scherlingerlinger… I can't say her last name! And she's the best, She's funny, she's naughty and you have fun."
As for why she had her hands on Nicole's boobs during the live show, Sharon said: "There were very, very young boys [there] and Nicole had this amazing outfit on that barely covered anything. This one boy was looking at her and I'm down there going, 'Look in the eyes!' That's what I was doing!"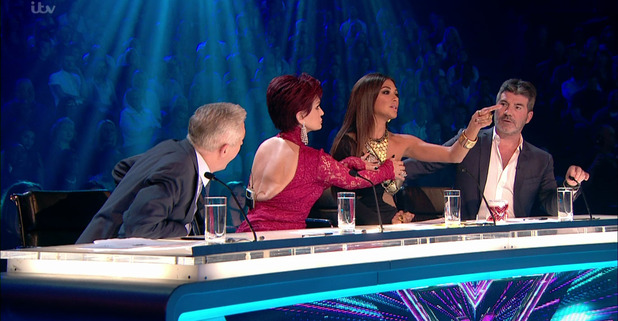 Sharon's co-stars on
The Talk
agreed with her.
Sara Gilbert joked: "I've been with Sharon drunk and she wouldn't be covering the girl's boobs, she'd be exposing them!"
Meanwhile, Julie Chen told her: "Here in the US, our audience see you every day on
The Talk
. When I watch that clip I'm like, 'That's her every day! What are they talking about?!' It was the first live show you've done over there in a while. The British press love you and know a Sharon Osbourne headline will sell, so they look at one person who tweeted something and it becomes a headline."
On the Sunday night
X Factor
results show, host Dermot O'Leary had poked fun at the drunk claims, telling viewers: "'Despite what some reports are saying all the judges drank backstage was water." He then cheekily added: "It was just high spirits. Those spirits being vodka, gin and whisky..."
X Factor
continues Saturday and Sundays at 8pm on ITV.