Ed Balls has been recalling one of the first Strictly Come Dancing lessons he learned this series: always wear dark colours at rehearsal!
The politician appeared on ITV's
Loose Women
on Tuesday, after successfully getting through to week three of the competition thanks to his samba inspired by the movie
The Mask
.
If you haven't watched it, stop everything and watch it NOW!
Chatting to the panel, Ed talked about his very first rehearsal at the end of August on a hot day at a studio in Roehampton. His wife, Yvette Cooper, had told him to get some leisure wear for training, so he got himself a pale blue t-shirt.
BIG MISTAKE.
"I was wearing light blue and cameras were filming – and I suddenly realised why every other person was wearing black. I had a huge sweat mark and spent the whole time hiding behind Laura Whitmore. It was terrible! I've learned things I never knew before."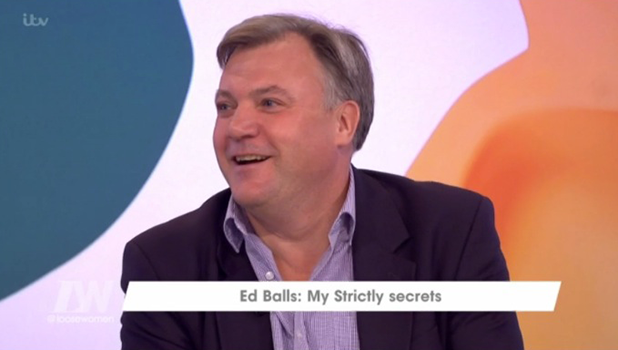 Ed said he'd had three hours of rehearsal that morning and had another five hours in the afternoon.
"The professional dancers have been doing this for years and years," he said. "But I'm doing the paso doble this week and the first time I ever did it in my whole life was yesterday at 1pm, and by Saturday I have to do it front of all these people watching."
He joked: "I found out last week I had glutes - they're sore!"
Ed revealed he hasn't yet had a spray tan but when the time came he would NOT be doing a Full Jeremy and going naked! "Jeremy Vine told me when he did he was totally naked and it's now called a Full Jeremy. But it's hard to see what dance I would ever do before the watershed that would ever mean I need to be tanned all over."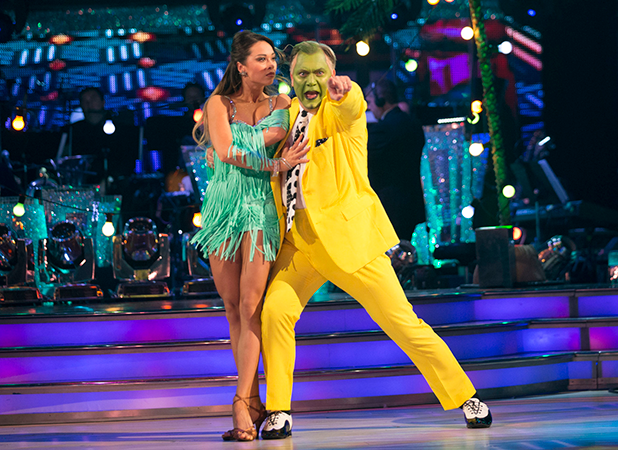 The politician said he's really enjoying his
Strictly
experience so far and learned after his first dance to really let go and embody a different character on the dancefloor.
"The problem I had with the first week and the waltz was I was very aware it was me dancing. Darcey [Bussell] told me to put a mask on and perform, so the second week with the Charleston, I decided not to be Ed, to be this banjo player instead. You have to just go for it."
Discussing this week's samba, he added: "That makeup was amazing. It was three different makeup artists who did it together for 45 minutes. The woman in charge does Elphaba's makeup in
Wicked
; she's the best green makeup artist in all of Britain!"
Finally, the former MP joked that the only reason wife Yvette urged him to sign up for
Strictly
was so he could shed a few pounds." She said, 'I'm really envious, you'll lose weight!' The only reason she wants me to stay a few more weeks is so I'll lose a few more pounds!"
Fancy winning some GREAT prizes? Check out Reveal Competitions here!