Four Of Diamonds have moved into the X Factor mansion ahead of their big comeback to the show!
On Monday evening, it was confirmed that
Four Of Diamonds will be replacing Brooks Way
following their shock exit - and the girl group couldn't be more excited.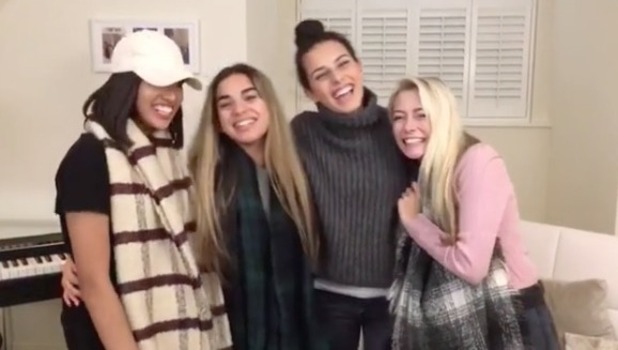 In an Instagram video, the four singers can be seen in the luxury north London home currently housing this year's contestants, and they are quick to tell fans about their return.
Grinning from ear-to-ear, Lauren says: "So, as you have probably all heard, we are back!" She continues: "We are so unbelievably excited and can't wait to make you all proud."
Sophia adds: "We are chilling in the
X Factor
house now. Well, not really chilling but we are settling in and getting to know everyone again. It's so nice to see everyone. We want to thank everyone for all our lovely messages - thanks for the support!"
Caroline then tells fans: "We're going make you proud and we're going to work really hard!" While Yasmin adds: "We can't wait to see you this weekend!"
Confirmation of Four Of Diamonds' comeback came after it was announced that
Brooks Way had "mutually agreed" to leave The X Factor
.
Shortly before the first live show of 2016, news broke that the duo - made up of twins Josh and Kyle Brooks - had been suspended after it was alleged Josh had attacked and sent threatening messages to an ex-girlfriend. He denies the claims.
Announcing Four Of Diamonds' return, Louis Walsh said that he acknowledged fans' disappointment after they were sent home from Judges' House.
In a statement, he said: "I was really impressed with the girls at Judges' Houses but only had three spots to fill for the Live Shows.
"At the time a lot of viewers were disappointed that I didn't put the girls through, now that a place has opened up in my category, I've listened to the fans and am delighted to be bringing the girls back.
"They're a great girl group and I'm hoping will take me all the way to the final."
Four Of Diamonds will join 5AM in Louis' Groups category.
The X Factor continues, 8pm on Saturday and Sunday, ITV1.