EastEnders, Corrie, Emmerdale, Hollyoaks: we take a look at tonight's top soap stories…
EastEnders, BBC1, 8pm
Busily revising for her theory test, Kim enlists Denise's help with her work, but when she starts talking about Denise's pregnancy, it looks like she had an ulterior motive for spending time with her sister.
In a reverse of their usual roles, Kim desperately tries to make Dee face reality, but in no mood to talk things through, Denise quickly shuts her down and leaves.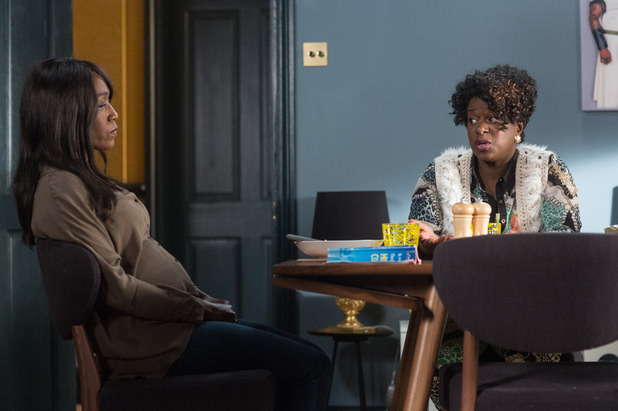 Kim later visits her sis to apologise, but can she persuade Denise to open up?
Coronation Street, ITV, 7.30pm & 8.30pm
As Michelle and Steve attend their first scan, something's clearly playing on his mind and he eventually breaks the news to Michelle he's had a call from his dad, Jim, who's revealed he's got Myotonic Dystrophy.
Steve confesses to Michelle the condition is genetic and if Steve also has it, their baby is at risk – and 'Chelle confides in Leanne her fears.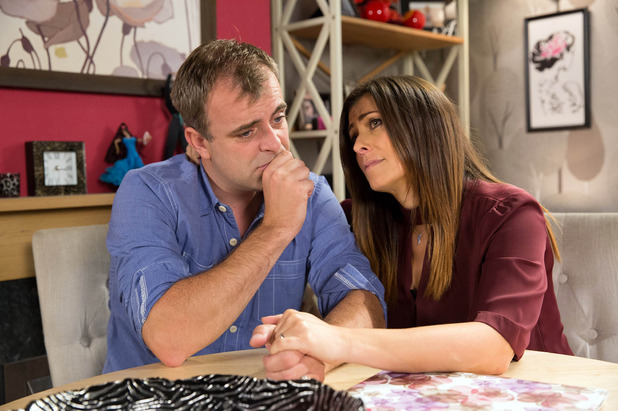 Leanne tries desperately to hide her own inner turmoil as Michelle reveals the baby has a chance of having MD as well, and knowing she's also carrying Steve's baby, Lee and Nick call him over to theirs to talk.
They put pressure on Steve to find out his results as quickly as possibly, but with Steve already feeling in a state, he snaps and loses his temper. Will he agree to get tested?
Emmerdale, ITV, 7pm
It's the day of the big move for Emma and James, but an oblivious Emma has no idea her whole world's about to come crashing down.
As they're lugging boxes, Ross confronts James over what he said to Moira and angry over how his mum's been treated, Ross shoves James hard. James falls down the stairs and breaks his leg.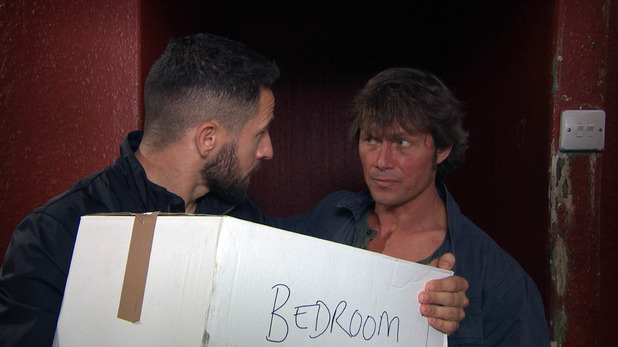 At the hospital, Ross isn't feeling apologetic and instead quizzes James again over Moira. But they're totally unaware Emma's listening – how will she react?
Hollyoaks, C4, 6.30pm
Ste and Amy go along to support Leah after she lands a part in a television advert, but when Ryan turns up too, tensions start to run high. Then Leah reveals it was Ste who picked them up from school, not Harry and it all kicks off.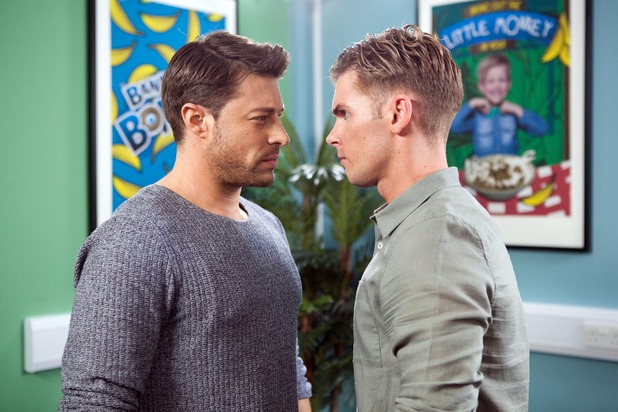 Amy rages and as the adults argue, Leah disappears. She later returns, but Ste and Ryan end up in another row and square up to each other. Can Ste keep his cool? And what will happen when the police arrive on his doorstep?
Fancy winning some GREAT prizes? Check out Reveal Competitions here!