Katie Price is temporarily quitting Loose Women in order to focus on her marriage and family.
The 38-year-old made the shock announcement on Friday's show, saying "old wounds" about
husband Kieran Hayler's affair
had been reopened in recent weeks as she promoted new autobiography
Reborn
.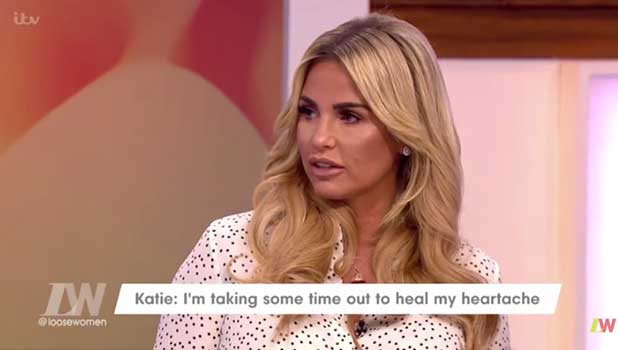 Katie explained that she and Kieran had therapy in the past, after she
learned of his 2014 betrayal
, but she's recently discovered perhaps she's not moved on from the incident as much as she thought.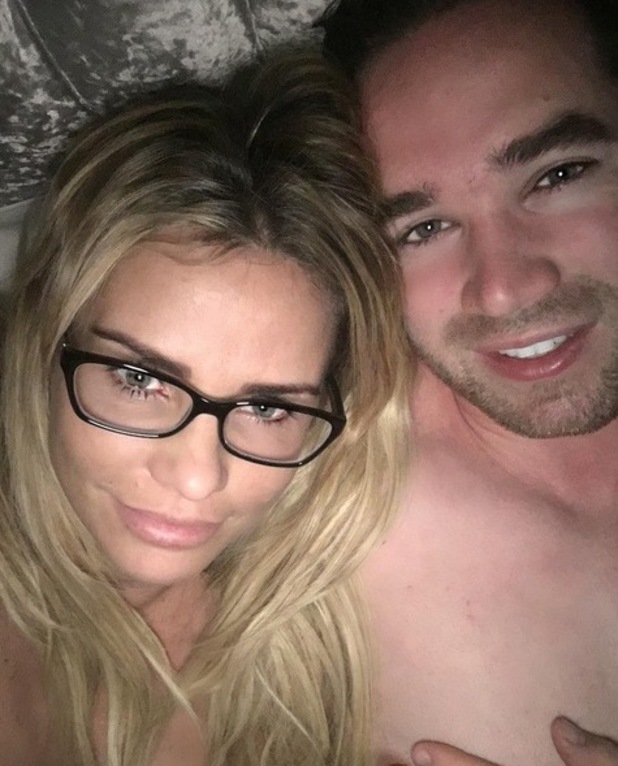 Katie said: "We had therapy [after I found out about the affair] and I thought I was OK. But the past two weeks I've been on my book tour and it's opened up some wounds. It's been awful. I thought I'd dealt with it. But when I look back, I had just had babies and was concentrating on them and I was numb when it all happened."
She was left devastated in May 2014 when she discovered
Kieran had been sleeping with her best friend Jane Pountney
. Katie was pregnant with the couple's second child at the time.
Katie revealed how she was so emotional after writing the book she couldn't even read it back: "A few months ago, the legal team said to go through the book, but I couldn't read it. I was getting all nervous about the book tour, I was contracted to do it; when people would ask questions, I'm usually quite good at putting up a defence but I just couldn't do it with this. If I'm hurt I try to answer it in a jokey, banter way."
"I haven't got any tears to cry," she added. "My heart is shattered, it's broken. It's nowhere near healed."
Katie said it had also been a difficult time for Kieran, who had therapy for sex addiction after his affair was uncovered. "It's been hard for Kieran as he's changed, he had his therapy. He's had to read the headlines and serialisation of my book. He's realised how it hurt me and how I'm really feeling.
"We've come two and a half years and Kieran is having to relive what kind of person he was, and I'm reliving it with a fresh mind, thinking, 'Oh my God, this is really what he did to me?'"
She said the next step for them is seeing a therapist together.
"We are going to see a therapist to reassure us we're fine. It's horrible for both of us. I'm always like, 'it's fine' and move on to the next thing... It's a relief to me to admit I'm not as strong as people think. Enough is enough. I have to let my barriers down."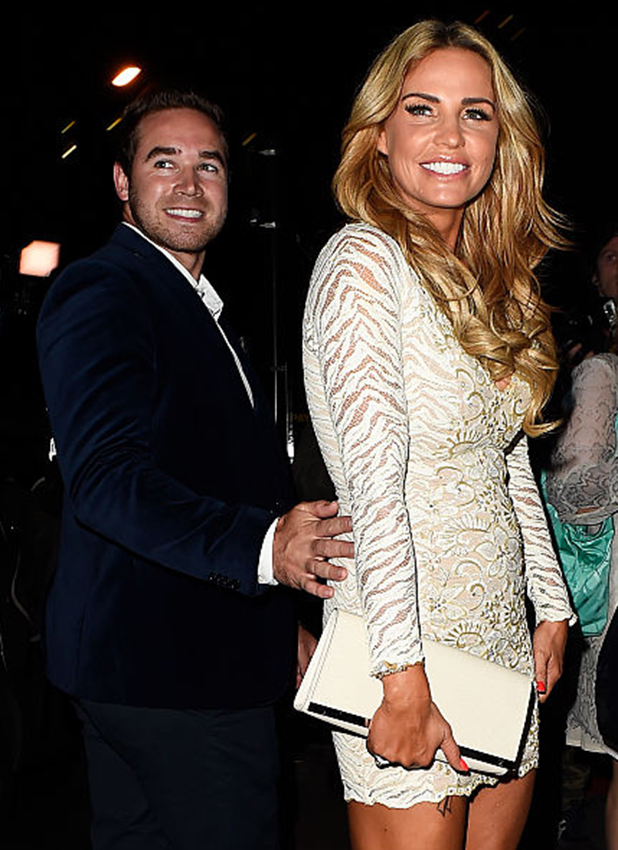 Katie said she and Kieran, 29, will be enjoying a "belated honeymoon" and spending time with the kids: they are parents to Jett, three, and Bunny, two, while Katie is also mum to sons Harvey, 14, and Junior, 11, and daughter Princess, nine.
She added: "I want to help Kieran through this as well. It's been tough on us both. It's been turbulent."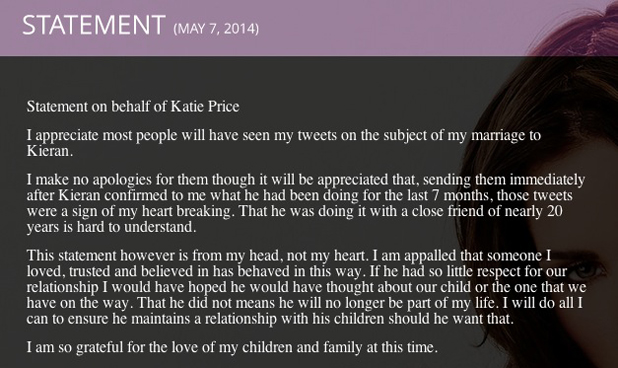 She initially vowed to divorce him before giving
Kieran a second chance and supporting him as he underwent therapy for sex addiction
. She later said the incident had brought them closer together and Kieran had transformed from a "boy to a man".
"It's easy to walk away," she told
Reveal
recently. "It takes a stronger person to stay and deal with it. That's what I did, and it's the best thing I did."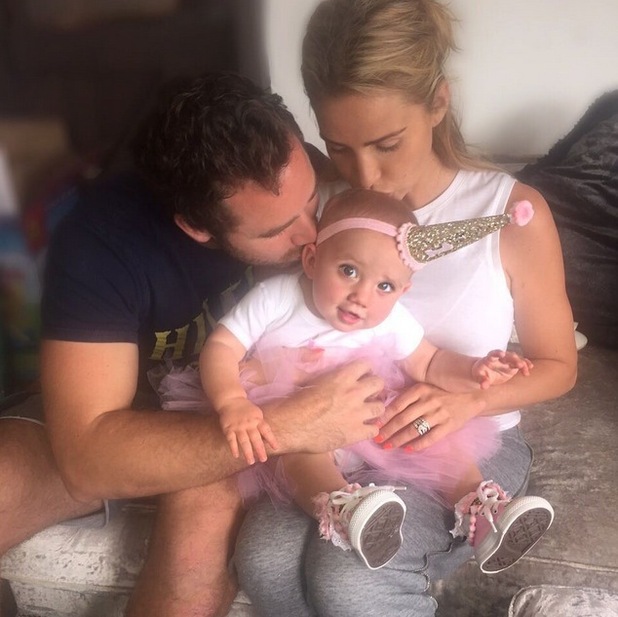 Katie has said in interviews to promote
Reborn
that Kieran was finding it hard having the affair make headlines again.
Speaking to Steve Wright on BBC Radio 2, Katie admitted: "Kieran's seen [the book] and he said, 'I deserve it.' He hates it now if anyone brings it up. The book is out now and he hates it, it puts him back in that place and he hates it.
"But I tell him, 'You still did it and you will never know what I went through."
"I haven't read the book back," she said. "It's the most painful book I've ever done, the rawest and the deepest. When I was with the legal team I said, 'I can't read it.' It was two and a half years ago, all of this. I don't want to be put back in that situation because it was the worst thing ever. That's why I called it Reborn, what else could possibly happen to me?"