Jodie Marsh has spoken candidly about her sexuality and revealed that she is attracted to women.
The former bodybuilder claimed that she "doesn't want or need a label" when it comes to her sexual preference, but she has admitted that she does now "fancy women" too.
Jodie tweeted on 1 October: "So anyway, it's now obvious that I only fancy women.... I don't want or need a label. I just fancy women," and added an emoji of a tongue.
Opening up about her sexuality further, Jodie confessed that she is more likely to find a women attractive nowadays than a man.
She spoke to
Big Brother
star Andy West on behalf of
Daily Mail
and said: "I tweeted the other night that I fancy women as well. I don't want a label, I don't need a label, but I do fancy women. At the moment, whenever I look at someone that I think is hot, it's always a woman.
"This is not me going, 'Right I'm coming out.' I don't want a fuss made," Jodie explained. "I'm just saying as I look around this room there's a woman over there that's gorgeous and my eye would be drawn to her over any of the men in suits."
So anyway, it's now obvious that I only fancy women..... I don't want or need a label. I just fancy women

— Jodie Marsh (@JodieMarsh) October 1, 2016
It's not the first time, Jodie has spoken about fancying women.
Back in September, during an interview about her celibacy vow, Jodie revealed: "I'm not against having another relationship, but at the moment, the only people I fancy are women and I am only sexually attracted to women."
She decided to become celibate, following her split from estranged husband James Placido
, and Jodie has said she "hates" that the last person she had sex with was her ex.
Jodie said: "I am back to being celibate now and I almost think I do need to go out and have sex with someone else who's really sexy and gorgeous so that the last person I have sex with isn't [James]. I hate the thought that the last person I had sex with was him!"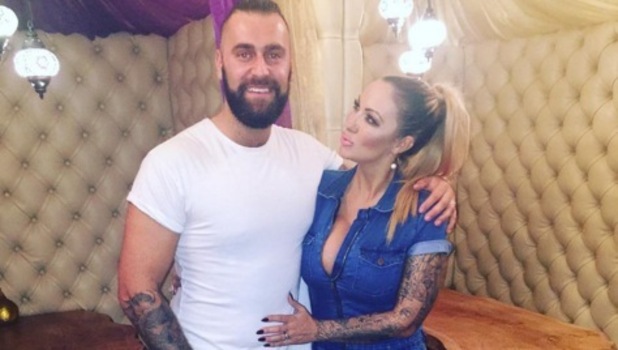 The 37-year-old had shocked fans by secretly marrying James in a secret ceremony in Barbados in August, this year. No one had known Jodie was dating again, let alone that she was engaged. At the time, Jodie had seemed head over heels in love. She gushed: "I have news. I just married the love of my life, my soul mate, my best friend; James Placido, I love you and I'm so proud to be you wife. I promise to love you, support you, encourage you, help you and I promise to make you laugh every day of our lives."
However, eight months later, the couple split.
Jodie announced her separation from James in April.
She released a statement via social media that read: "It is with sadness that I bring you the news that James and I have separated. I will be keeping all the dogs with me. I won't be taking calls on the matter as I'd like to be left alone. I thank you in advance for your sensitivity on the subject..."
While Jodie never publicised the reasons for their split, she did hint that it wasn't on good terms and
later claimed she was "embarrassed" to have married James.
Follow us on Twitter @RevealMag for all your celeb, fashion and beauty news!
Fancy winning some GREAT prizes? Check out Reveal Competitions here!