Kim Kardashian has been pictured without her engagement ring after fleeing to New York following her terrifying robbery in Paris.
Kim jumped straight onto a plane to NYC after the frightening incident, which saw her bound and gagged in the bathroom of a private French property and held at gunpoint in the early hours of Monday (3 October), and she has now been snapped in public.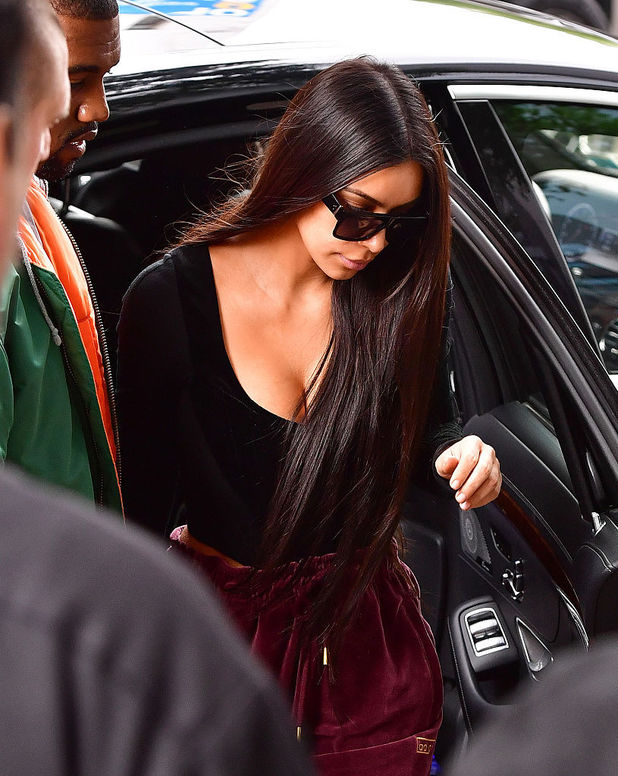 After reuniting with husband Kanye West, who cut short his concert in the Big Apple after learning of his wife's ordeal, the couple were pictured arriving at their Manhattan town house, closely followed by Kim's mother Kris Jenner.
After the incident, police confirmed US reality star Kim had been robbed of a jewellery box worth £5.2 million and a ring worth £3.5 million. It has not been confirmed whether Kim's valuable engagement ring was the one that was stolen, however it was notably absent from her wedding finger in NYC.
Wearing burgundy trousers and a low-cut black top, Kim hid behind a pair of dark sunglasses and kept her head down as she entered the building.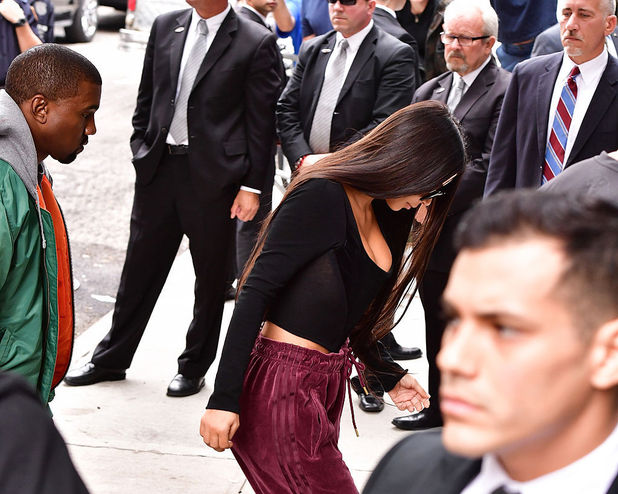 Witnesses have told America's
People
that the family were flanked by a large security team. Gunilla Ebers, who is the director of a nearby art studio, told the US publication that the scene in New York "was out of control", with "police barricades, a couple of police cars, secret service and 15 big, black Cadillac Escalades".
Kim was in France with her sisters Kourtney and Kendall for Paris Fashion Week. It has been reported that at the time of the robbery, her main bodyguard was accompanying Kourtney and Kendall on a night out while Kim stayed at the private residence.
It has been reported that a gang of men gained entry to Kim's private quarters by threatening the building's concierge at gunpoint, handcuffing him and forcing him to show them where she was.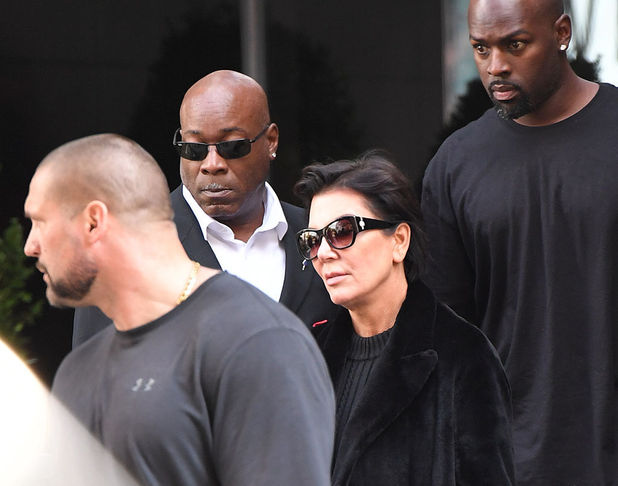 Kim was said to have been threatened with a weapon, tied up and locked in the bathroom as at least two men entered her room and made off with valuables including mobile phones and the jewellery. The gang escaped on bicycles and are still at large.
The mum-of-two's rep said she was "badly shaken but physically unharmed." Kim has stayed away from social media since the frightening incident.
A family friend told People that Kim was "very upset and couldn't wait to leave Paris. She gave a statement to the police and left right after. She got robbed of her jewellery but doesn't care. She is just happy to be alive".