Eamonn Holmes and Ruth Langsford kicked off Friday's This Morning with a controversial topic that's had everyone talking: they met a woman who charges students £100 for 'sex lessons'.
And it was clear they found the whole idea pretty dubious.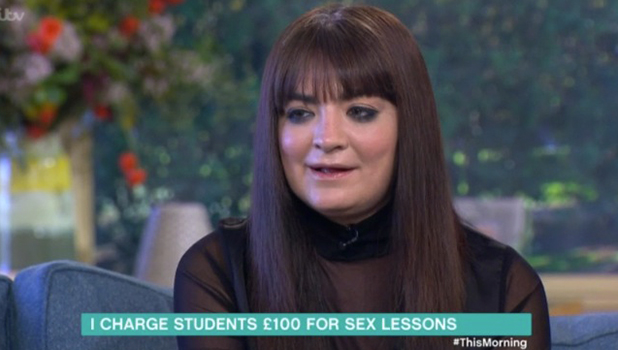 Escort Kat Lee explained that she targets students during Freshers' Week and if they show a valid student card they can get 30 per cent off sex.
She explained: "I only [target students] in Freshers' Week. If I don't do it, they will just go out on Freshers' Week and sleep with people without protection and stuff like that, and get people pregnant."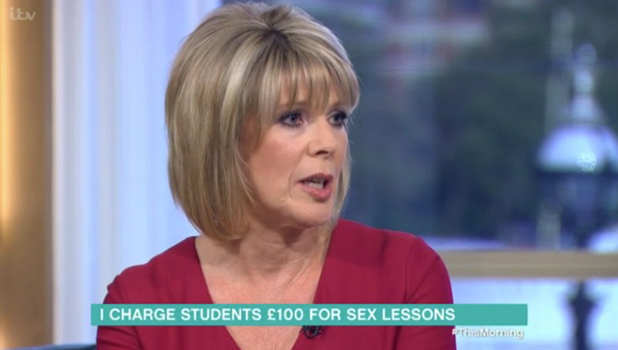 Ruth, however, interjected to say that perhaps young people would actually go out, meet people they liked, have sex with someone they cared about and use protection and not get pregnant.
Kat said her usual fee is £130 but she knocks 30 per cent off to make it £100 if you show a student card. (We know, the maths is a bit wrong…)
"They are getting student loans," added Kat about how youngsters pay, saying students could easily spend £250 on a night out anyway.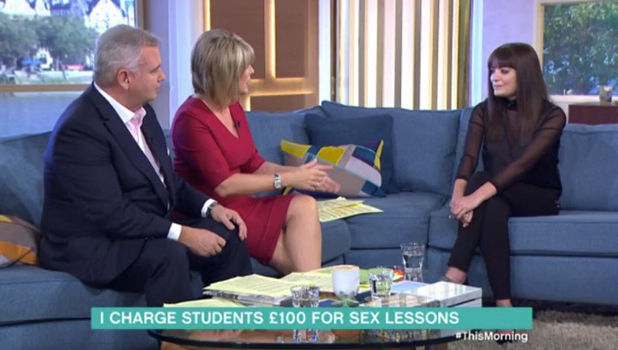 Eamonn suggested Kat's role is to "relieve [students] of their loan" (we see what he did there!) and questioned how many people she'd seen during Freshers' Week. Kat replied: "Too many to count! No, I'm only joking. I see about four or five a day."
Kat made it clear to Eamonn and Ruth that she doesn't spend all the money she earns on herself, insisting she gives to charity. "I don't keep all the money myself. I do a lot of charity work so when they give me some money, last year, for example, I ran for Alzheimer's disease and stuff like that. Half of what I earn I give to charity."
"That's commendable," replied Ruth.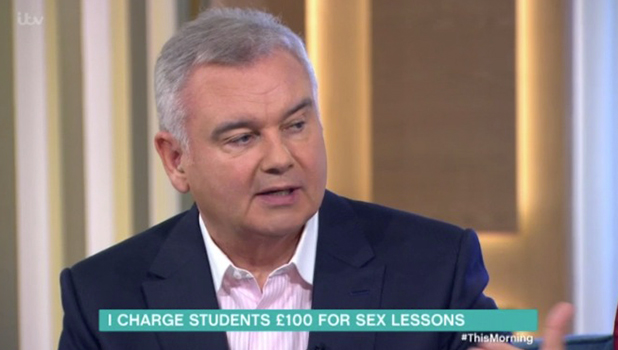 The couple then put to Kat that some people might view her as selling sex i.e. prostitution, but Kat said that wasn't the case.
When pressed what she teaches students during her lessons, she said: "You get confidence. When you go to uni, it's like peer pressure, isn't it? Everyone wants you to go and say you've slept with this girl or that girl. People are shy. I give them confidence.
"I am helping them, if they don't want to do it I say that's fine, go out and do something else."
Kat said she is contacted by students who are virgins and she makes sure they're comfortable before continuing. "I can tell. If they feel ashamed or vulnerable I say, 'You should go out and find somebody yourself, someone who will be special to you." But if a virgin really wanted to pay her, she would say yes. "I can tell by people's reactions," she said. "I'm not taking advantage of anybody. I lost my virginity in porn so I know what it's like."
"I always wanted to get into acting and be a drama teacher," continued Kat, "so I went to a photoshoot and they said, 'take your top off, take your pants off', there were cameras all around me and they went, 'you would do well in porn' and that's why I got into the industry."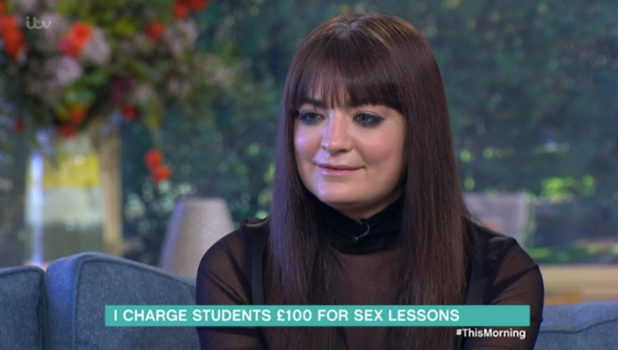 Kat, who is single, also said if her future children wanted to pay for sex, then she would give them her blessing. "I would say, 'it's up to you what you do because at the end of the day you're an adult and can do what you want.'"
She added: "At the end of the day, when you go out at freshers and as a student, it's a part of your life. It's when you get older you need to have respect and responsibility."
Needless to say
This Morning
viewers had A LOT to say on social media:
Hope she's better at sex than she is at maths.. #ThisMorning

— Jodie-lee Parker (@jodieleeparker5) September 30, 2016
This girl man she has clearly never been a student and has no idea what actually goes on at uni #ThisMorning

— Rachael (@Racheeeeb) September 30, 2016
Any student stupid enough to pay this women may as well quit uni now because they are too dumb to get a degree! #thismorning

— Sooz (@BimSooz) September 30, 2016
#ThisMorning: @RuthieeL sarcastically telling this escort giving money to charity is "very commendable". The shade of it all.

— Hayley Minn (@hayleyminn) September 30, 2016
So does she teach you sex through a power point presentation or does she legit have sex with you? #ThisMorning

— Yaseen Akkad (@yaseen1083) September 30, 2016
This surely can't be real, what is the world coming too #thismorning

— Andrea Wade (@andjjxx) September 30, 2016
Eammon saying (with a cheeky grin) she 'relieves' students of their student loans.. #thismorning

— Chelle Belle (@Shellybellylou) September 30, 2016
@thismorning My boy goes next year to uni would break my heart if he gave his student loan away for this !

— francesca (@FranceyDeaves) September 30, 2016
@thismorning Good luck to her. It's all consensual..they know what they're doing.

— Benny's Bag (@alfredoshead) September 30, 2016
@thismorning They're consenting adults doing what billions do every day. Lot of hysteria about the P word. They know what they're doing

— Pix (@LadyBaloo) September 30, 2016