It looks like Holly Willoughby has a new admirer!
The mother-of-three was interviewing a Donald Trump impersonator on Tuesday's episode of
This Morning
when she found herself on the end of a slew of flattering compliments.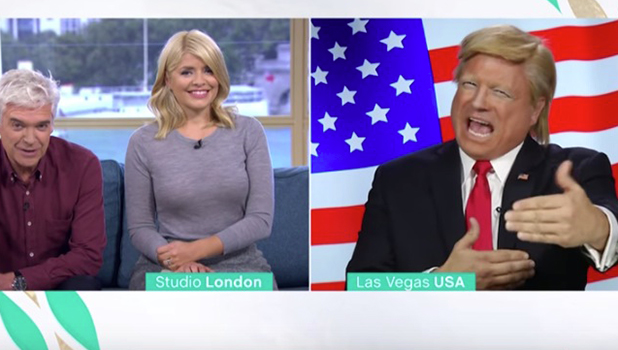 Comedian John Di Domenico makes £30,000 a month impersonating presidential candidate Donald Trump and appeared via video link on
This Morning
to give Donald's 'thoughts' on how the debate against Hilary Clinton had gone.
When Phillip Schofield said 'Trump' was flirting with Holly, he replied: "She was flirting with me! I could feel it across the ocean. I was just kind of answering, that's what I do."
Holly replied: "I apologise if I led you on in any way!"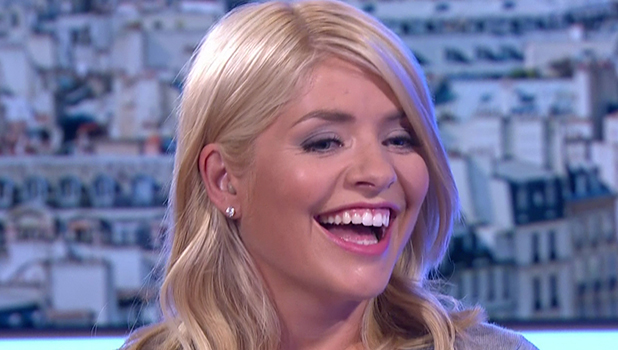 'Trump' then suggested Holly would make a great new wife if he ever dumped Melania, 46. "Holly would be a perfect [First Lady]. Melania is beautiful but she's getting older, a little long in the tooth. You know what I say, 44 and out the door. Holly, you would be an incredible First Lady. It would be amazing."
And he added: "I think it would help with Brexit."
How? Well, we're not sure!
Reverting to his normal self, comedian John said business is booming since Trump announced his presidenial bid. "It's been unbelievable between commercials and voiceover and animated series. I've been on Conan O'Brien 12 times and I'll be on tomorrow again. It's been amazing for me as a comedian and performer to do all this work."
John added: "There is no one else who speaks the way he does. I've been doing him 12 years but in the last year his voice has changed, It's got more guttural, gravelly, he's speaking all the time now so it's rougher. I fine tune it, listen to him every day, practice every day, try to keep up any nuances or changes.
"He's constantly on television, people know what he's doing they hear his voice, see his physicality, and I really want to nail that and be as accurate as possible but also funny. "