His debut dance is the most-watched clip in the history of Strictly Come Dancing but Judge Rinder is staying cool as a cucumber and dismissing the idea he could win.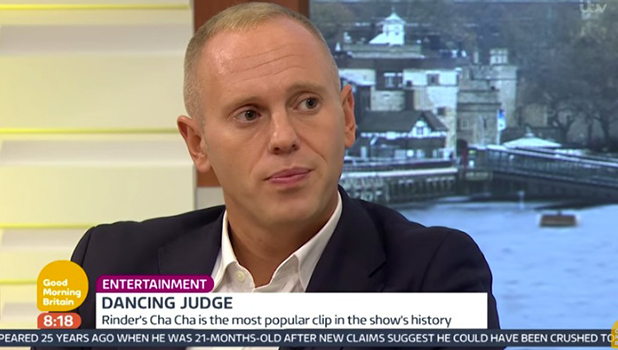 "I don't think so at all," he simply said on
Good Morning Britain
.
"I'm just enthusiastic and having a good time. I don't really have a dance background."
Judge Rinder
's cha cha cha to 'Mercy' with partner Oksana Platero has been watched more than 370,000 times in just three days, making it the most-viewed
Strictly
clip in history. One person who didn't want to view it, however, is Judge Rinder himself.
"I tend not to watch myself," he admitted. "I'm forced to by Oksana… I'm forced to do all sorts of things by Oksana. She's a very forceful woman."
The Judge – real name Robert Rinder – wowed the
Strictly
judges and audience with his fantastic performance and super chiseled abs when he hit the dancefloor on Friday evening (23 September) for the first time.
As for whether he things people in his courtroom will view him differently after
Strictly
, he said: "I don't think so. They've seen me in a different way on television in as far as I like to dance."
"People keep coming up to me and saying, it's a lot of work. But people who have day jobs work really hard. It's not really a lot of work I come in, look at the beautiful Oksana, and she teaches me the cha cha. No one is doing the fun run for me the amount of work I'm doing, but it's fun. You do have to put the hours in and it's required.
And speaking of the courtroom, the judge is getting ready for a brand new series of
Judge Rinder
, kicking off soon on ITV.
"Lots of different drama, lots more drama and it's incredibly exciting. We are dealing with a broader range of cases than the first three series and there is something for everybody."
Watch Judge Rinder talk
Strictly
and his courtroom return: