There have been so many celebrity splits lately it feels as if true love in Hollywood is a thing of fantasy and can never really happen… but then we remember Sarah Michelle Gellar and Freddie Prinze Jr and the world is right again!
If you want an example of a strong Hollywood marriage then look no further than these two who have been married for 14 years (together for 17), have two children, and are still blissfully happy and not afraid to show it.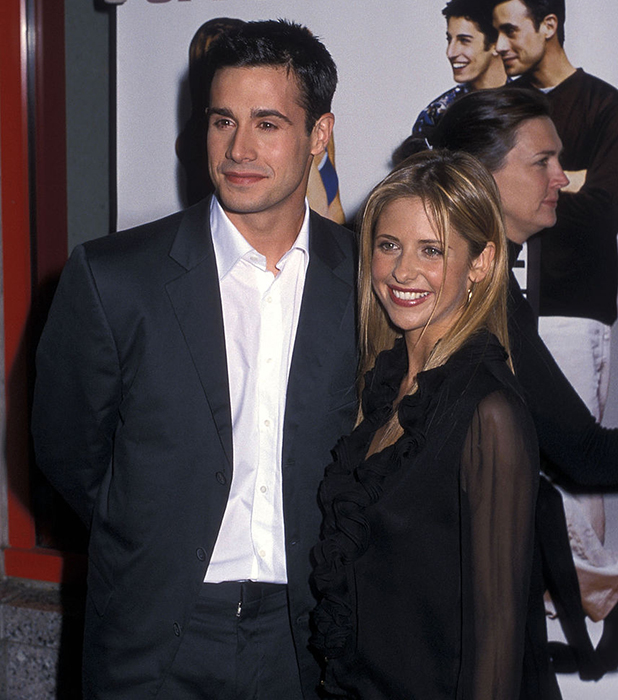 Just this week Sarah has been taking part in the #LoveYourSpouse challenge on Facebook and Instagram, which tasks people with uploading seven days' worth of happy photos showing just how amazing marriage is.
Cue lots of cute photos of her and Freddie! Look at how young they are in this one taken the day after their 2002 marriage!
We're not ashamed to admit we feel rather heavily invested in Sarah and Freddie's relationship having pretty much grown up with them on screen. If we'd gone to a us high school they'd totally be the super popular cheerleader and jock childhood sweethearts who were actually totally lovely and you just knew they'd be together for ever and have loads of gorgeous babies.
They first met on the set of 1997 horror movie
I Know What You Did Last Summer
when Freddie's character was hooked up with Jennifer Love Hewitt and Sarah's was dating Ryan Phillippe. (Ah, Freddie and Ryan in the same movie, those were the days!)
So heres 16 reasons why Sarah and Freddie are #RelationshipGoals

1. Their Facebook Live was ridiculously cute
In a bid to promote Freddie's cookbook and urge him to join Facebook, Sarah hosted a Facebook Live interviewing him which led to so many uber sweet moments and banter. Apparently one of Freddie's favourite things to do is play 'Guess the movie' with Sarah by throwing quotes at her and doing different accents. She didn't seem so good, but she did point out: "If he would play with me, 'What Broadway musical is that from?' I would so get it."

2. They kept their wedding low key (and didn't let a hurricane spoil the day)
They married in Mexico in 2002 and had planned a romantic beachside ceremony, but that ended up having to be moved inside after a hurricane hit the resort. And the next day an earthquake struck the region! Considering they've been married 14 years, we guess it wasn't a bad omen!

3. They've had no drama
Unlike some Hollywood couples who rarely leave the headlines, Sarah and Freddie manage to balance letting fans have a glimpse at their romance while also keeping their private lives relatively private. They post photos and cute messages about each other on Instagram and the occasional photo of their kids, but don't have to suffer tabloid headlines about alleged rows, splits or the likes. 'Cause they're #relationship goals and will NEVER SPLIT, okay?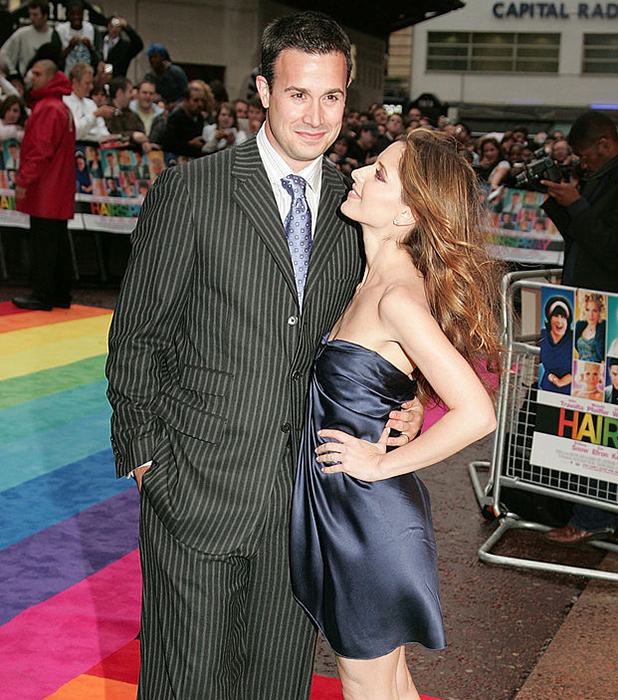 4. They always mark their anniversary with heartfelt messages
For this year's wedding anniversary, Sarah said: "Happy anniversary @realfreddieprinze You stole my heart, so I got my revenge and took your last name!!" The year before she shared a photo of them dancing at their wedding with a quote from poet Roy Croft.

5. They're totally like us and can tune each other out at times!
During their Facebook Live earlier this month, Sarah asked Freddie a question, not realising he'd already given away the answer while talking previously. Oops. "I was totally not listening," joked Sarah. "We've been married 100 years. He talks... that's called 17 years, my bad, sorry!"

6. Freddie can't remember the first meal he cooked for her but will happily pretend he does!
When asked by Sarah what he cooked for her when they first met, Freddie launched into a dramatic story... which sounded somewhat dubious.
"I was looking sharp that night," he said. "Sarah was wearing sweats, she wasn't taking it very seriously. She was just a mess, covered in mud. She was having a hard time making end's meet in between seasons of
Buffy
so she was a dog walker in our street, six or seven dogs at a time. She was so small, so little, and they would drag her down the street, so I wanted to make her dinner to make her feel better and cheer her up, like
Indiana Jones
-style with the monkey brains. So I took those dogs... No I won't do a dog meat story! I have no idea what the first meal was, I've cooked you 150,000 meals in 17 years."

7. They have two beautiful children
They're parents to daughter Charlotte, seven, and son Rocky, four, who occasionally feature on their famous parents' Instagram accounts, although their faces are always hidden. Just recently Freddie posted that he'd been teaching Charlotte archery, while Sarah shared this beautiful photo of their kids snuggling up together in front of the TV. Clearly family always comes first for them.

8. The working together curse never affected them
As well as
I Know What You Did Last Summer
, they also starred together in
Scooby Doo
and Sarah made a cameo in Freddie's smash hit
She's All That
. The movie's director Robert Iscove told Cosmopolitan last year: "She was there visiting Freddie and we asked her if she would come and do it, and she said she would come and do it, but she wouldn't speak. She wouldn't say any lines. OK, we don't know why you wouldn't say, 'Thank you,' or 'No.' But that was her thing and she did it. And to get Buffy in the movie was certainly [a big deal] — because at that point, Buffy was huge."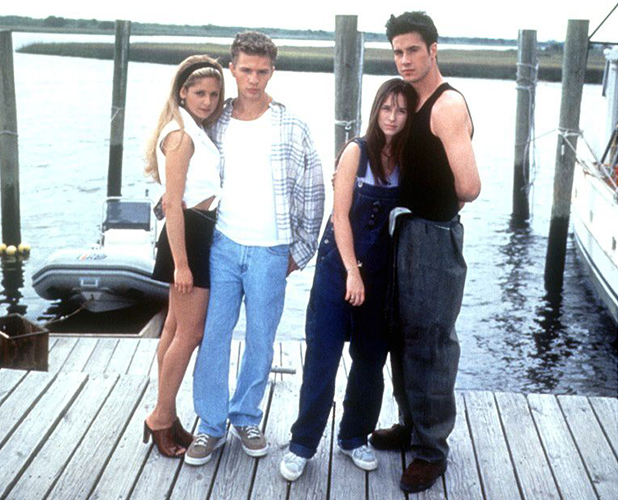 9. They were friends first
Freddie told
Huffington Post
earlier this year: "She knew the kind of guy I was, I knew the kind of girl she was, and the trust part didn't have to be earned because it already was there."

10. They still do date night after 17 years together
Earlier this year, Sarah posted this cute photo toInstagram with the caption: "Shhhh.....don't tell the #kids. We snuck out for a #datenight after they were #adultsonly @realfreddieprinze."

11. Freddie's not a picture man but will happily pose for one when Sarah asks

12. They're not afraid of a little PDA
17 years and the love is strong!

13. Sarah's beautiful tribute to Freddie on Father's Day 2016
She wrote on Instagram: "Happy #fathersday to @realfreddieprinze and to all the #dads (stepdads, uncles, surrogate dads included) who are an integral part in raising these amazing little people (who eventually turn into amazing adults) The greatest part of every day is watching life through my children's eyes, so today (and every day) Freddie I thank you."

14. All of Sarah's posts so far for #LoveYourSpouse
Apparently Freddie planned her entire 30th birthday party! (Love the crown!) And look how young they are in the photo taken one day after their 2002 wedding.

15. They are animal lovers
'Cause we all love a fur baby in the family, right?

16. They always seem to be having fun and smiling
No pouty duck lip photos for these two: they're always having fun in their Instagram snaps such as this one showing them trying on Valentine's Day gifts made by the kids, and striking a pose in the wrestling ring.
Here's to many more happy Sarah and Freddie years!