Holly Willoughby's had her fair share of unusual interviews on This Morning but she reckons today's chat with a man who uses his penis to paint was probably the craziest!
Tim Patch - who goes by the stage name Pricasso - is an Englishman who now lives in Australia. He joined Holly and Phillip Schofield on Monday's show to talk about his unusual form of artwork and unveil a portrait he'd done of them.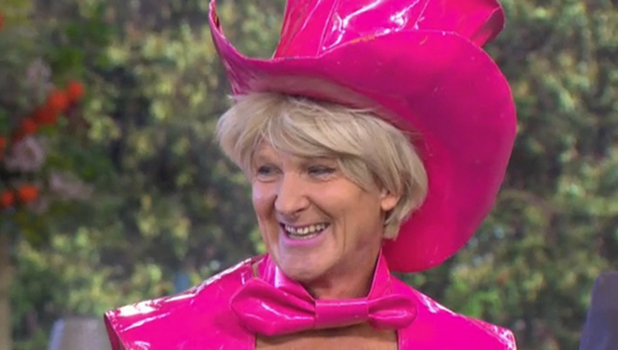 "The idea [of painting with my penis] popped into my head one day and I thought, 'It has to be possible' so I Googled it and found there was no one else doing it," he said.
"It took about six to eight months of practice," he added, admitting he didn't tell anyone at first in case they thought he was a "bit weird."
"Well, it's unusual, shall we say," replied Holly.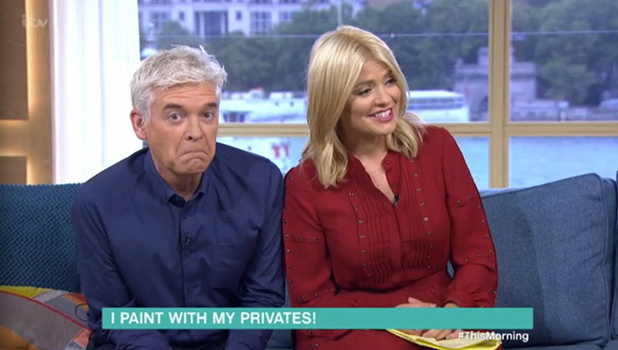 Pricasso charges from $200 to $300 for a personalised painting that includes a video - either PG or R-rated - and worldwide shipping. He has so many orders coming in globally that he can't take them all.
As well as using his penis to paint, he also gets his testicles and bum involved.
When Phillip questioned if a bum and testicles gave a different texture, Pricasso explained: "Your butt can cover a bigger area and smooth things off very quickly." He also said he uses his scrotum to put paint on a canvas before spreading it out with his rear end.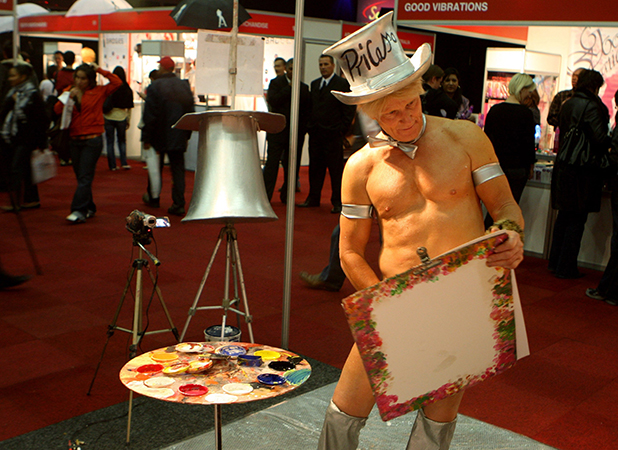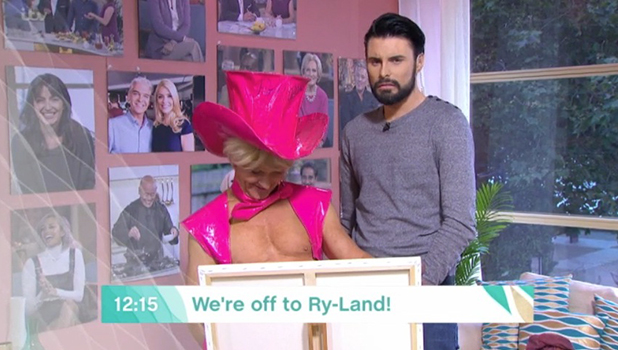 Pricasso told Holly and Phil that he can get "very sore" painting for days on end as all that rubbing on a canvas isn't too pleasant. "There is stretching and friction," he said. "I normally only do one painting a day and I make my own paint which is washable."
"This is probably the craziest interview I've ever done!" remarked Holly.
Of course, there was one question we all had which, thankfully, Phillip asked: "Are you painting in a state of happiness and arousal? And is it easier if you're painting with a stiffer brush?"
Pricasso said the state of arousal depends on whether he's doing a PG or R-rated video accompaniment for the painting, and that using a stiff brush is "much harder".
Pun intended?!
The artist then unveiled the painting he'd done of Holly and Phil earlier that day - and they were pleasantly surprised!
"It's actually really good!" said Holly. "I love the colours and the real freedom to the paint. Look at it! It's very good!"
You can find out more about Pricasso at
his official website here
.