Jennifer Aniston's close friend Chelsea Handler has weighed into the Brangelina split and, in typical Chelsea style, she's been pretty brutal!
Over in the US, all the late night talk show hosts had their say on Brad Pitt and Angelina Jolie's big divorce news this week, including Chelsea who hosts her own show,
Chelsea
, on Netflix.
"Brad and Angelina always said they wouldn't get married until everyone could get married. And I always said I wouldn't get married until they got divorced, so I'm officially accepting proposals. I'm ready," she joked.
"There are rumours that part of the problem was Brad was allegedly drinking and smoking too much weed. I wonder why he would need to self-medicate?
"Maybe because he could have been spending the last 12 years at Lake Como hanging out with George Clooney and Matt Damon, instead of being stuck in a house with 85 kids speaking 15 different languages.
"Oh yeah, because he married a f**king lunatic, that's why.
"But we should all respect their privacy during this very difficult time. So this will be the last time I speak of this on TV. You can follow me on Twitter."
Chelsea weighs in. #brangelina pic.twitter.com/mCZsP5AHIy

— Chelsea (@Chelseashow) September 21, 2016
Chelsea's good friends with Brad's ex-wife
Jennifer Aniston
and has been pictured on holiday with her in the past. She's also known to be not such an Angelina fan, having bashed the Hollywood star on several occasions.
2013: On Watch What Happens Live in the US
"She seems like a demon. It has nothing to do with Jennifer. As a woman, I know when you see somebody walking across the room that's a bad girl. I just don't like Angelina Jolie. I just think she's not a girl's girl. I like girl's girls!"
2012: More magazine (via Daily Mail)
"She doesn't strike me as someone I would have a close friendship with. You just know as a woman, when you see another woman, if that's a woman you can trust."
2010: Glamour magazine interview
"Yeah, I'm not a fan. She just doesn't come off to me as a sincere woman. She seems like a woman that you'd really want to avoid."
2010: Stand up comedy show (via Us Weekly)
"She's a homewrecker, she is. She can rescue as many babies from as many countries as she wants to… I don't f**king believe you. She gives interviews, 'I don't have a lot of female friends.' Because you're a f**king c***, that's why."
2010: While reading a magazine article about Angelina on Chelsea Lately (via Access Hollywood)
"Angelina… it talks about how she's so fun with her kids – all 18 of them... What a fun mum! You are so fun kitty cat. You go girl! You're evil and everyone knows it."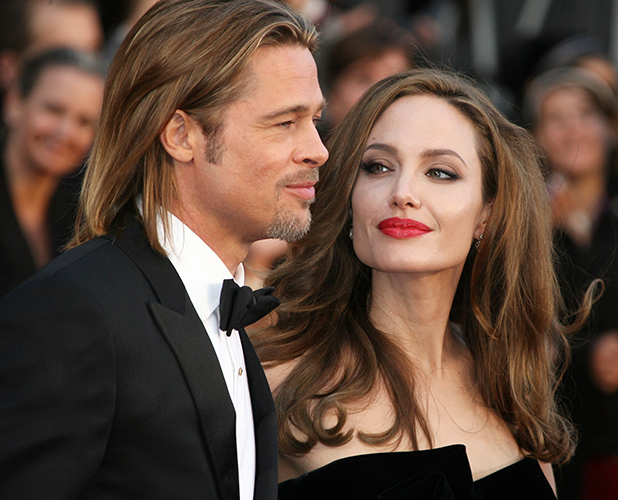 Angelina filed for divorce from Brad on 19 September citing irreconcilable differences. It's believed she's requested full custody of their six children with Brad having visitation rights. They're parents to Maddox, 15, Pax, 12, Zahara, 11, Shiloh, 10, and twins Vivienne and Knox, eight.
Angelina's attorney said on her behalf: "This decision was made for the health of the family. She will not be commenting at this time, and asks that the family be given their privacy during this difficult time."
Brad responded with his own brief statement
, simply saying: "I am very saddened by this, but what matters most now is the well-being of our kids."