Made In Chelsea's Jamie Laing has unveiled a tattoo his ex-girlfriend 'told him' to get - but he insists it is not in her honour!
Jamie, who is now dating
MIC
co-star Frankie Gaff, revealed his inking in his latest YouTube vlog and it is simply the word 'small', written across his left bicep.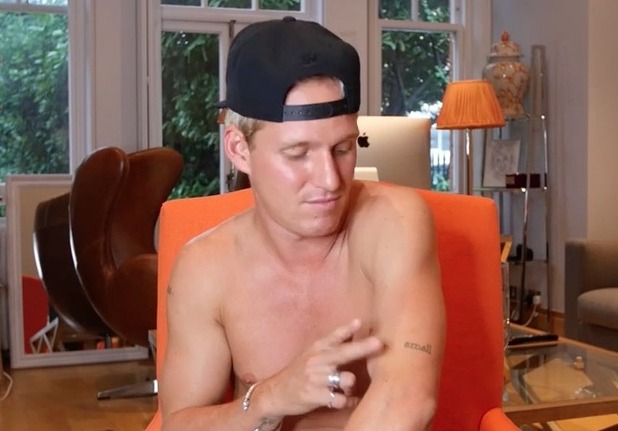 But recalling the story about how it came to be on his arm, Jamie has admitted he used to call his ex-girlfriend 'Small'. AWKS!
He said: "Small. I used to call my ex-girlfriend Small, At the time I was like, 'I want to go and get a tattoo. I really want to get one done'. She was like, 'What are you going to get?'
"I wanted to get something small, like 'cute' or 'wild' or something like that. She said I should get 'small' because I like small things.
"I thought it was a great idea. I went to the tattoo place and got 'small' tattooed on my arm. She started laughing, I asked her why she was laughing. She said, 'Because you call me Small'."
Oops! We think Jamie was well and truly had!
Shaking his head, Jamie continues: "It's not for you, it's because I like small things. It's not for the ex, it's because I like small things. Get that into your head!"
Jamie talks through each and every one of his tattoos in his latest video for fans, but he has another confession to make.
At the start of the footage, Jamie warns: "Tattoos last forever. People say you can get them removed. It hurts 10 times more than actually getting a real tattoo.
"When Mummy watches this, she's gonna kill me. My Mummy doesn't actually know I have so many tattoos."
(The confession was about the quantity of tattoos he has...not the fact he calls his mum, 'Mummy'. Obvs.)
Follow us on Twitter @RevealMag for all your celeb, fashion and beauty news!