Kim Kardashian couldn't resist sharing a sexy mirror selfie of Kanye West and herself last night (17 September).
If it ain't broke, don't fix it...
And of course being typically Kim, the snap also showed off a fair bit of flesh. But we'd expect no less!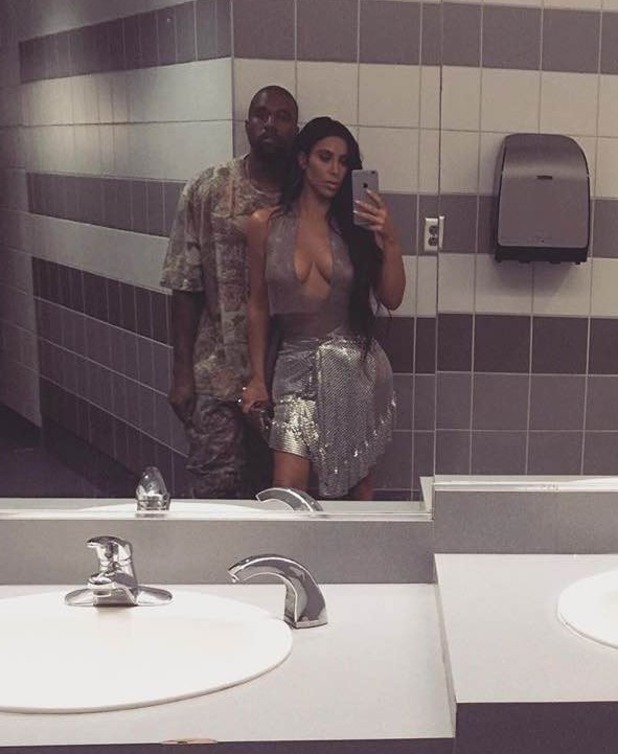 Grabbing a quick photo before Kanye performed, the famous pair looked as glam as always in the not so glamorous location of a...bathroom.
Proving that there's never a bad time for a selfie, Kim used the mirror to take a shot with her husband. Maybe it had really good lighting?!
Nevertheless, the reality star has gone all out in a silver dress. Featuring an asymmetric skirt, the metallic piece left little to the imagination with its plunging sheer top half that basically covered up her nipples and not much more.
Sporting some seriously long hair, Kim wore her glossy locks loose and pulled round to the side. And of course she had a perfectly flawless face and some killer contour.
Standing behind her, Kanye opted for a matching camouflage combo and pretty serious-looking face.
Kim's been snapped in a whole array of different outfits this week.
On Friday (16 September),
Kim and Kanye enjoyed a date night in Miami
, where Kim flashes her cleavage yet again in a teeny tiny lace bralette.
But her
New York look earlier in the week
was much more demure for Kim, as she opted for a floor-length velvet black dress that only displayed a touch of her chest.
We're glad to see she's made up for it with this latest revealing photo.