Stephanie Pratt and Joey Essex finally got to test their romance on Celebs Go Dating, and it's safe to say sparks certainly flew!
We all still haven't quite got over that *very* steamy snogging session in the pool, but what else went down when Joey got the chance to woo Steph Essex boy style?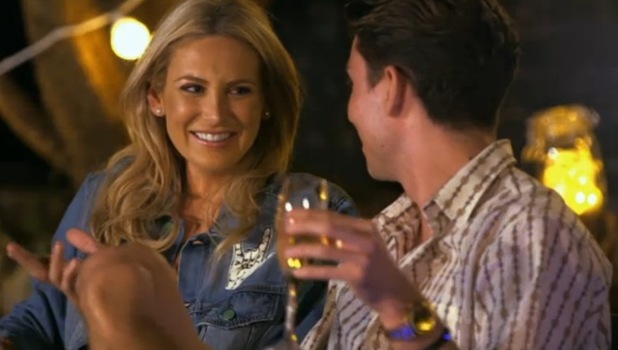 Let's recap.
It's been no secret that Steph and Joey have the hots for each other. We've had hint after hint that there's been something going, and after news got back to matchmaker Nadia Essex on the couple's secret texting and obvious flirting, she decided to send Steph and Joey on a date.
BUT the pair locking lips was not exactly what she had in mind...
Speaking to Stephanie, she revealed that she is sending the
Made In Chelsea
star on a date with Joey at his Essex home where he had to cook for her. She told Steph: "We don't think you're right, but at the end of the day, you can't deny chemistry... you guys have chemistry. So it would make sense to put you on a date and see how it develops?"
Stephanie's face lit up (we don't think we've ever seen a smile so big...) and she replied: "A date with Joey? I'm up for that."
Nadia, meanwhile, wasn't convinced that the date would end well and asked her fellow matchmaker Eden: "Joey Essex cooking Stephanie Pratt dinner - is it going to be in any way romantic? Is it going to be in any way pleasurable for Steph?"
Eden responded: "It's not going to be number one dream date."
"But it will finally put this flirting saga to bed," Nadia added. Oh, they couldn't have been more wrong.
En route to her date at Joey's, Stephanie admitted that if she hadn't signed up to the agency, she and Joey would never have met and got to know each other. "We are just so different zones," Steph admitted. Although, she did add: "But there is so much chemistry."
"I cannot not smile when I look at him, I get in like this trance," she gushed.
Joey, meanwhile, seemed confident that he could win Steph over: "It ain't about trying. She's already on me. I see it. We're on each other."
Working his charm, Joey dressed up his garden with fairy lights and set up a table and chairs alongside his pool, and his efforts impressed Steph: "Oh my god, this Essex boy knows how to make a California girl feel right at home. Bring on the pool party."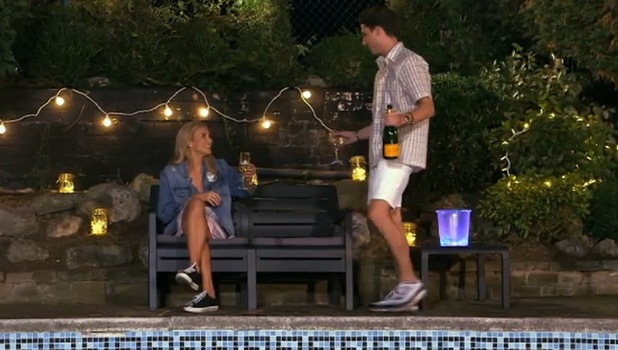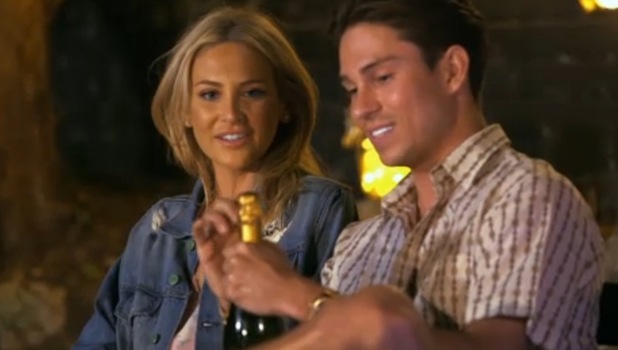 Joey then kicked the night off with a bottle of champers, telling Stephanie: "We can have a party tonight, just me and you. Get some champagne, start popping it, whatever you want to do."
Even if he did end up spilling the champagne all down his shorts. Smooth.
As the date got underway, Joey discussed his feelings for Steph and told her: "When I first met you, I didn't think like... obviously I saw you and I fancied you, but I didn't think nothing of it. Then we started talking and flirting... you can't help who you like, can you?"
She, meanwhile, revealed privately: "It feels so weird sitting here with Joey, but there's just something about him. I can't stop smiling. He does know how to make a girl feel special."
And Joey certainly won himself top brownie points when he revealed the pair would be eating burgers for dinner - that is only Steph's favourite food. "Now I feel like you're putting this all on," she remarked.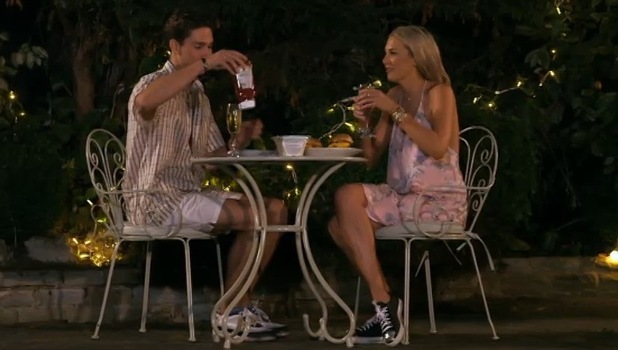 Joey promised he wasn't and as he escaped to prepare the food, he gave the camera an update on the date so far: "Straight away champagne, bosh. I think it's going really well. I think it's all going good. My hair looks good, the champagne, it's all good. Absolute sort."
Steph, meanwhile, admitted: "Throughout this process all I've wanted is good food, good company, a guy I fancy. You know what, Joey is ticking all of those boxes."
From then on things really heated up, the pair discussed a second date (a bus ride - after Steph revealed she's never been on a bus, we're not kidding) and took a fully-clothed dip in the pool.
Steph suggested going for a swim and when Joey asked if she'd brought a bikini with her, she teased: "I don't need one."
"This girl is unreal. I think I'm blushing," Joey gushed. The duo then engaged in a serious amount of winking at each other, prompting Joey to say: "I think this is what they call the green light."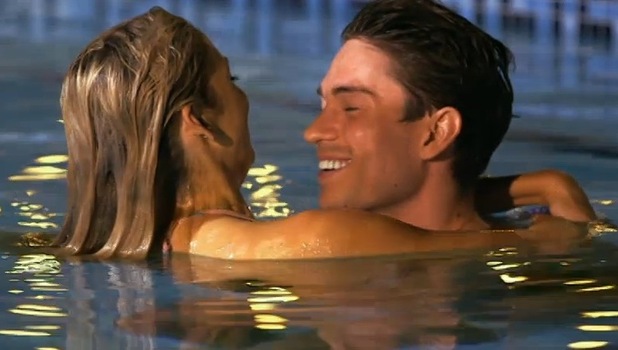 A flirty push in the pool later and Joey and Steph couldn't keep their hands off each other. Joey whipped his shirt off and tried to persuade Steph to take her dress off too, although she cheekily quipped: "I don't have anything on underneath." She did, though, clarify that she was in fact wearing knickers.
Joey then revealed that he had been touching Steph's bum, before she suggested that Nadia and Eden were going to be "really angry" at the pair. Joey asked her: "Do we really care?"
Steph's response? "Not anymore."
Cue the snogathon...
Celebs Go Dating continues tonight on E4.
Follow us on Twitter @RevealMag for all your celeb, fashion and beauty news!
Fancy winning some GREAT prizes? Check out Reveal Competitions here!