Jem Lucy is convinced her ex Hawley still loves her but just won't say it… and she may be onto something as he's admitted in a deleted Ex On The Beach scene that there are still feelings on his part…
Which is why he slept with
Holly Rickwood
purely to get back at Jem when she confessed she'd bedded his pal Scotty T. (Though Scotty has denied that.)
Ouch.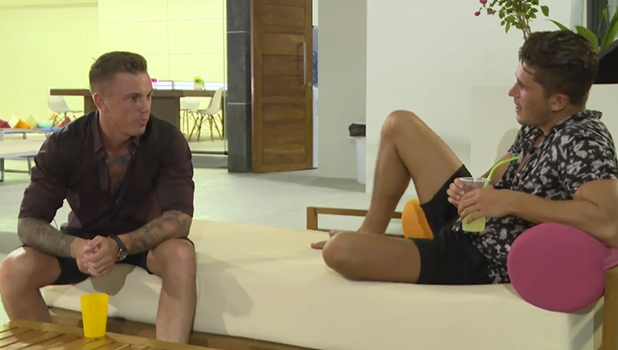 In a bonus scene posted by MTV, Hawley is seen chatting to Jordan Davies about why he decided to accept Jem's offer of a truce in the latest episode, after multiple rows with her on the show.
"I think it's time to put all our issues to one side," explains Hawley. "Everyone is sick of our arguing now and I wouldn't mind getting on with her. We did have a good relationship when we were together. I would rather be civil, myself, and the arguing is bringing people down."
Hawley continued: "When I'm around her, obviously before I found out [about Scotty T] there were feelings still there. When she told us what happened with Scotty, that sent my head west and that's basically why I got with Holly.
"I don't think there's anything with Holly but I don't think I'd go back with Jemma. At the same time, I wouldn't like to say yes or no."
Hawley went on to say he knows Jemma is still in love with him, and added: "I do still have some feelings for her, which everyone can tell as well. I'm not going to f**king tell everyone."
Jordan then questions if Hawley would ever sleep with Jemma again, to which he smiles, prompting Jordan to say that's a definite yes!
"There is actual depth there, mate," said Hawley, talking about Jem. "There was something serious. She lived with us and everything. With Holly I just banged her."
Watch them chat below:
EOTB continues Tuesdays at 10pm on MTV.