Ex On The Beach: Holly Rickwood certainly had an eventful first night in the villa, as she found herself not in one, but THREE cat fights.
Three. Seriously, we're not kidding. And all three saw the boys or security intervene!
Holly,
who emerged from the sea as Stephen Bear's ex
, clashed with Kayleigh Morris minutes after her arrival, then Jem Lucy following her date with Jem's ex-boyfriend Hawley, and Olivia Walsh after she thought Olivia had called her boring. Here's what went down...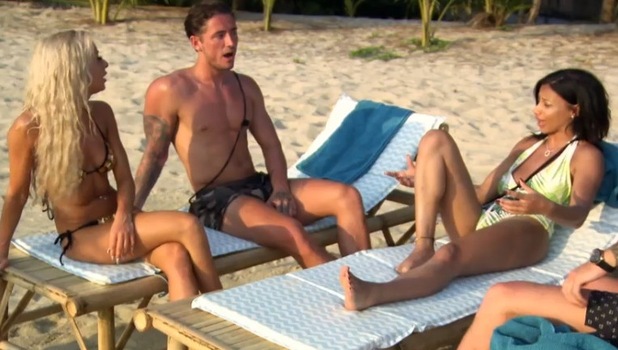 1. Holly vs Kayleigh
Minutes from greeting her former flame Bear (they enjoyed a brief fling during series three of
Ex On The Beach
), Holly was introduced to Kayleigh and it was *very* clear the girls did NOT like each other. Apparently they fell out over Holly calling Kayleigh's ex
Adam Gabriel (Remember him? He got together with Charlotte Crosby on series two)
a "sort" in front of her during a night out.
When Bear pointed out Kayleigh, Holly replied: "Yeah I know her, I hate her already." She then told the camera: "I hate Kayleigh Morris, I just think she is a bully."
Kayleigh, meanwhile, said: "This is a f**king joke. I f**king hate her." She then asked Holly: "Didn't you get finger blasted by [Bear] on the show?"
That didn't sit well with Holly and she replied: "Babe, please don't insinuate that I'm a slut. You've had more d**ks than I've had sunbeds."
"You're so irrelevant, I don't need to argue with you right now," Kayleigh said, before telling Holly to shh. That was it for Holly, taking Kayleigh's shh as her cue, she said: "Don't f**king speak to me like that you silly little sl*g," before launching herself at Kayleigh.
Ouch.
2. Holly vs Jem
Things were never going to end well between Holly and Jem - not after Kayleigh stirred the pot and said Jem had previously been slagging Holly off, and Holly locking lips with Jem's ex David Hawley. After hearing Jem was in the villa, Holly had seemed pretty excited and was pleased to hear one of her pal's would be keeping her company. However, that friendship seemed to hit the rocks within seconds, after Kayleigh told Holly that Jem had been bitching about her.
"If Jemma's been slagging me off, she can f**k right off," Holly said. "Is she joking? She's meant to be my mate."
Holly was then sent out on a date with Jem's ex Hawley and he made it pretty clear he was interested.
The duo ended up getting pretty close on their whiskey tasting date, and pictures were sent back to the villa via the Tablet of Terror - one of Holly and Hawley kissing, and one of Hawley licking whiskey off of Holly's thigh. Jem exploded when she saw them and
things majorly kicked off when Holly and Hawley arrived back at the villa.
"Holly you can't even look me in the eye," Jem said. Holly replied: "Well, I heard that you've been slagging me off Jemma. I heard you called me a slag."
Jem then questioned what the pair had got up to on their date, before telling Holly that she's been sent pictures of everything. Holly teased: "We did lots of stuff babes."
Things then got pretty heated and Holly questioned Jemma, asking her: "You've been slagging me off. What the f**k have I ever done to you? I haven't ever done anything wrong."
But instead of answering, Jem goes for Holly's hair instead and the girls come to blows, prompting Olivia to point out: "Every night someone's hair is getting pulled..."
She's not wrong, there!
3. Holly vs Olivia
After being separated from Jem, Holly seemed a little emotional after finding herself in two spats on her first night in the villa and asked her ex Bear: "What have I done?"
Next thing you know, Olivia walks past and mutters "boring", prompting Holly to chase after her, shouting at Olivia to say whatever she had to say about her to her face.
Olivia denied that she was calling Holly "boring", but that didn't stop the pair trading a slew of insults.
"What did you just say?" Holly asked. "I don't need another f**king person to start on me. If you've f**king got something to say, then f**king come and say it to my face."
"I didn't say anything you weirdo... You look like a skank," Olivia replied. "You've got white gold hoops in, I used to wear those when I was like twelve."
Holly shouted: "Please someone get this bitch out of my face," before the girls started shoving each other and Bear and security were forced to step in and separate them.
Talk about eventful, right?!
Ex On The Beach continues Tuesday 6 September at 10pm on MTV.
Follow us on Twitter @RevealMag for all your celeb, fashion and beauty news!
Fancy winning some GREAT prizes? Check out Reveal Competitions here!