Celebrity Big Brother winner Stephen Bear has revealed his brother Danny is a multi-millionaire who pushes him to earn the most money and be the best he can.
The 26-year-old was paid a fee of £12,000 – one of the lowest celebrity fees of the series – to compete over the summer , and ended up WINNING the show on Friday night's live finale (26 August).
Not that Bear had any doubt he would triumph!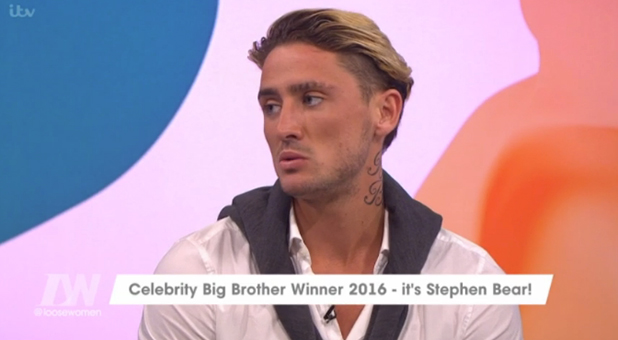 Appearing on ITV's
Loose Women
, the reality star bluntly said: "I love winning. Also, if I win I have enough money to help my family out. Now that I have won, they'll get sorted and that's the best feeling ever. The night before the final I couldn't sleep thinking about what I could buy my mum, my niece, nephew…"
Bear started his career as a plumber but says after failing to find work, he retrained as a roofer. His first stab at reality TV stardom was on
Shipwrecked
, before he was cast on
Ex On The Beach
, which led to
CBB
.
He told the
Loose Women
panel he's always been super motivated and confident, and once he sets his mind to something he knows he will achieve it.
"I listened to a lot of motivational speeches growing up and, wow, they work," explained Bear. "I used to walk around the park just listening to all the speeches and it worked. 'You can do this!' It's drummed in."
Also motivating Bear is his brother, a self-made millionaire. His sibling Danny founded Euphorium Bakery, before expanding his business and eventually selling it to Tesco last year.
"He came from nothing," said Bear. "He will be the richest guy who came out of the East End. Sold his business for over 30 million quid. [Before I entered
CBB
], he flew back from Italy, came to see me and said, 'you have one chance at this, do not mess this up. You are going places.' He is so proud of me. I was the rank outsider coming in here."
Bear added: "He is a multi-millionaire, he never gave me a penny. Growing up it is what it is. Now he's proud of me and we've had a chat and we'll make some serious money together. You have to be cruel to be kind. If he did give me money, I wouldn't be sitting here now."
He added: "At any job you do, do your best. Cleaning, cooking, think of the biggest picture and do the best you can because you never know where it will lead you."
Watch Bear chat about his success below: