Love Island's Olivia Buckland has defended her decision to tweet about Zara Holland's interview on Loose Women about losing her Miss Great Britain title, exclusively telling Reveal: "I had to say something."
Both Olivia and Zara had gone head-to-head to win Alex's affections on
Love Island
, and fans saw Olivia left upset when she heard Zara and Alex had slept together on his first night in the villa. That moment eventually saw Zara lose her Miss Great Britain title for having sex on TV, and Olivia caused a stir when she recently hit out at Zara for "hiding behind her mistakes."
Olivia's comment came in response to
Zara's interview on Loose Women, where she had been discussing losing her Miss GB crown.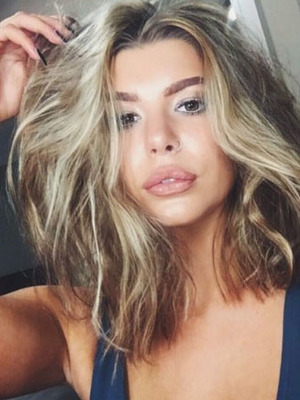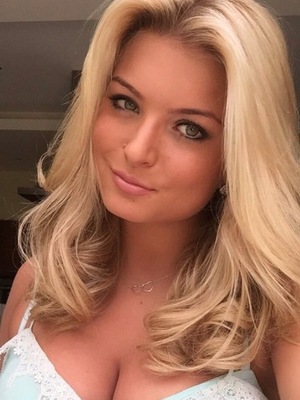 On the show, Zara told the panel she regrets sleeping with Alex, and has repeatedly said she made a mistake in the villa, fuelled by too much champagne and forgetting the cameras were on.
At the time,
Olivia was forced to deny she had "thrown shade" at Zara after tweeting
: "Think before you act. I never have any regrets. Best way to live."
Zara had said on
Loose Women
that alcohol had been involved in her decision to sleep with Alex, but despite stressing she was not using it as an excuse, Olivia accused Zara of "blaming alcohol" and not "owning up to her mistakes."
We caught up with Olivia recently, as boyfriend Alex officially moved into her Essex flat, and she explained why she felt the need to comment on Zara's
Loose Women
chat.
She exclusively told us: "Normally I'm quite good at keeping my mouth shut, but the whole situation of her saying that it was all down to alcohol really annoyed me. I had to say something and it just all kicked off!
"It is just because it keeps being brought up - it's done. I don't want to talk about it, Alex doesn't want to talk about it and I'm sure she doesn't want to talk about it really, but that's what she's got to do."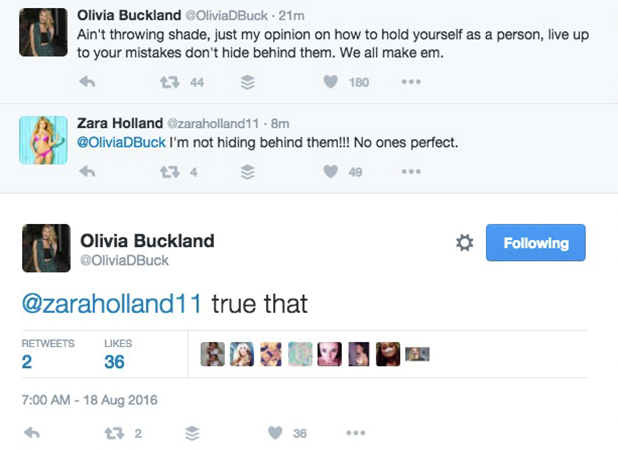 Olivia had come under fire for being bitchy towards Zara on Twitter, but explaining what she had meant by her tweets, she added: "I said I never regret anything and I don't regret anything I did in the villa, but Zara said she did.
"My point was, I don't regret it because I made that decision and if you've done something you shouldn't regret it. She was constantly saying that she did. It's a different situation because she had something to stand by - I didn't have that responsibility and that's what I was getting at."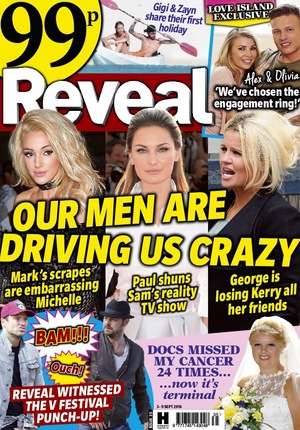 Olivia continued: "I don't agree that they took her crown away. I don't agree with that at all, but at the same time you should always think before you act and that's what I meant."
Zara did respond to Olivia on Twitter at the time, and insisted she "wasn't hiding behind her mistakes" like Olivia had suggested. She tweeted: "Nobody's perfect." Zara later added: "Everyone makes mistakes! You live and you learn."
Alex, meanwhile, criticised Zara for mentioning alcohol and claimed they were not able to get drunk in the
Love Island
villa, as their alcohol was rationed.
He said that by mentioning she was drunk, it had made him 'look bad.'
Alex told us: "She said she was drunk and people agreed with her on Twitter which made me look really bad, almost like I'd taken advantage, but Zara asked me to go in there and Zara put it on me even though she's making it look like I suggested it.
"We were both there but I didn't have a crown to lose. She made that decision and she flopped, done, that's it."
Catch more from our exclusive interview with Alex and Olivia in this week's issue of Reveal magazine, available to buy now.
Follow us on Twitter @RevealMag for all your celeb, fashion and beauty news!
Fancy winning some GREAT prizes? Check out Reveal Competitions here!