Pregnant Stephanie Davis has admitted that a task they were given by producers to look after a baby doll while she was a Celebrity Big Brother housemate made her want to have her own.
Talking on
ITV
panel show
Loose Women
today (26 August), the former
Hollywoaks
star admitted that seeing her ex - and the father of her unborn child - Jeremy McConnell, taking to fatherhood with the baby doll in the CBB house made her broody.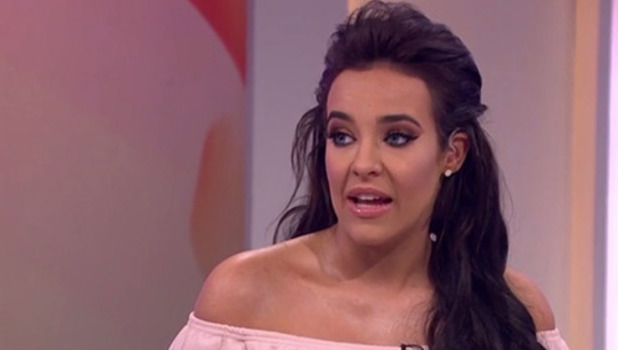 "Thank you Celebrity Big Brother for the baby doll because now I'm pregnant!" she laughed.
"They gave a doll to my ex [Jeremy] and he was really good with the baby - the doll - and I was like 'Ah, it's so cute'. He was burping it and it was crying and crying, and he was rubbing its back... And I was like, 'I want a baby with him.'" she confessed.
"Then, after the show, you watch back the clips and we were there looking at it and you could see me looking at him and I was like, 'Oh my days, this is what I want for my life.'
"And he was like, 'Shall we have a baby?' and I was like 'Yeah' and I thought, just like the doll, he was going to be really good with it and I'll be good with the baby... and that's what happened."
Sadly, it didn't quite become the fairytale that Stephanie envisaged. Although
Stephanie announced her pregnancy in May
, she had just split from Jeremy, who
initially denied the baby was his
.
When asked about being a single mum, Stephanie confessed: "At first I was like 'What am I going to do?'
"I was a bit worried about going in to anti-natal classes and being on my own and everyone else being with their partners," she added, admitting that she would sit in the corner pretending to text her other half during the class, or go to the drinks machine to get water or to the loo to avoid hearing gossip about her.
"But my wid-wife Aunty Ann has been amazing. Every time I've had a little wobble I've been on the phone like, 'Aunty Ann please help me,' and she's like, 'It's fine you're cool, I'll see you Friday,' and it's been great just having a chat with her.
"Sometimes you just want to turn to your partner to say, 'Do you feel this kick?'. But there are loads of little things I've been doing on my own like singing to my bump. I've been singing Shania Twain's From This Moment On. Don't ask me why, it's a long story, but I've kind of clung to that song. There's the line, 'All we need is just the two of us, my dreams came true because of you,' and when I play it he's kicking away. So I've been playing that to him every night."
Stephanie was then quizzed by her co-panellist Nadia Sawalha on her mum's reaction on learning that her daughter was pregnant. Stephanie admitted that when she first called her mum with the news she immediately put the phone down before she could hear her mum's reaction.
"My mum met my dad when she was 16 and got married at 19 and that was it. So she always wanted me to do it the right way; get engaged, get married, have kids... and I did too. But hey," she said shrugging.