Love Island's Tom Powell, Sophie Gradon, Rachel Fenton and Rykard Jenkins had an epic sleepover this week and roped their fans into playing truth or dare!
Well, they tried anyway!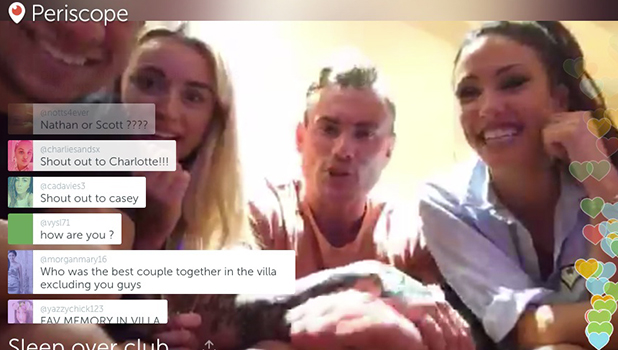 The foursome chatted up a storm on Periscope on Wednesday night (24 August) and reminded us just how much we miss
Love Island
!
Every good sleepover needs some good old-fashioned truth or dare playing, but we've learned perhaps Periscope isn't the best platform for that!
Dares that came in were (inevitably) about kissing each other or, er, downing a bottle of vinegar (which Soph didn't have in the flat!) or watching the girls doing ten pushups in a row. Tom reckoned neither girl could but Sophie gave it a go. Maybe next time, eh Soph?!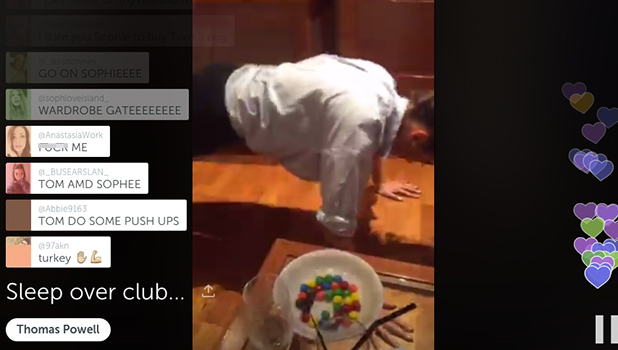 More successful was their general Q&A with fans were we learned plenty of fun facts about
Love Island
and beyond.
Scotty T or Scott Thomas from
Love Island
? Tricky question. "That's hard," said Sophie. "I love Scotty T but I love Scotty Spesh! I think equally because I love them both. Scotty T is my boy. Scotty Spesh is my boy. Love them."
Should you apply for
Love Island
? Well, only if you're a strong person, said Rykard."You have to be able to take a bit of heat. So if you're a Sensitive Susie don't do it."
As for whether the boys would ever propose to their girls, well, Tom simply replied: "That's a bit deep, isn't it?!"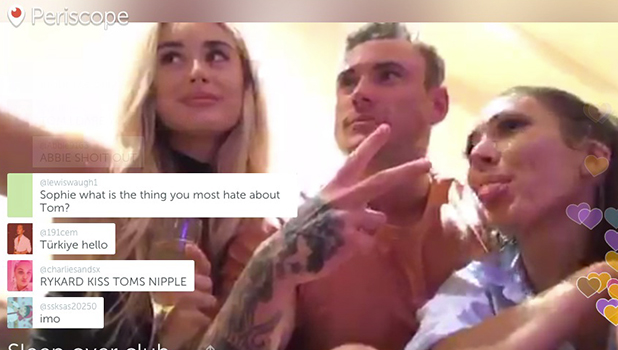 Other highlights included:
- Who knew Tom was the last to eat every night at the villa? Apparently he used to make sure everyone had enough before he tucked in. The same can't be said for Scott. "He would run!" joked Sophie. "He didn't give a s**t about anyone else."
- Their cutest moments of the series were (obviously!) when Rykard left the show for Rachel after her eviction and when Tom asked Sophie to be his girlfriend.
- If Tom had got to the final he would have dyed his hair bright blond!
- Sophie's biggest regret is not leaving the show when Tom was evicted, while Rykard said if he could redo anything it would be telling Rachel the truth of what happened with Olivia. Tom, meanwhile, said he'd simply mess around more and play more pranks!
- Tom describes Rachel and Rykard as a "Disney couple"
- Tom missed music the most while at the show, while Rachel missed having lots of alcohol as apparently their supply was very limited.
- The boys chose
Hercules
as their favourite Disney movie, while the girls both chose
Beauty and the Beast
.
- If Rykard was a
Friends
character he would be Ross.
- Rykard bought Rachel some super cute adidas co-ords while she was at work so she could have something nice to chill in after work.
- They all thought Dan was a member of the crew! Or a spy. "He was too good to be true," said Tom, while Sophie added: "To be 23 and qualified as an osteopath..."
- Adam M made the best breakfast. Usually with eggs!
Catch up on all the Periscope goodness for yourself below!
LIVE on #Periscope: Sleep over club... https://t.co/NkdZLDXPuD

— Thomas Powell (@ThomasJ_powell) August 24, 2016
LIVE on #Periscope https://t.co/bnWwLZgVaN

— Rykard (@ItsRykard) August 24, 2016