Ex On The Beach's Stephen Bear has explained why he chose to send Chloe Goodman home and, well, it's pretty much exactly what we figured...
There was a bombshell on Tuesday night's episode (23 August) when the Tablet of Terror gave
Bear the power to give one housemate the boot.
He pretty much immediately opted for Chloe.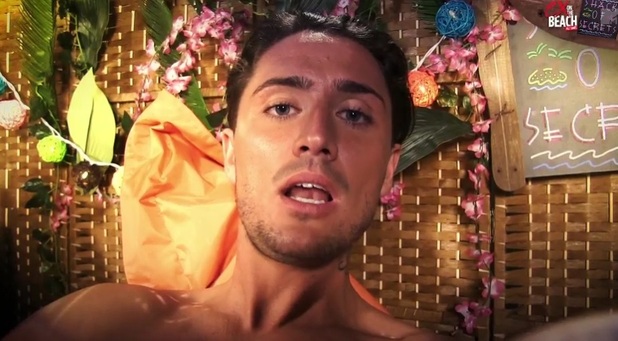 Speaking to the Shack of Secrets after Chloe left, Bear said: "I had to choose someone to leave. I couldn't wait to send Chloe home. She's boring, she's negative, she will slag [me off] to everyone behind my back. She's a little sh*tter."
Bear's decision caused PLENTY of drama as Chloe's best friend Jess Impiazzi broke down in tears and unleashed her anger on Bear, only to be stopped by Jordan, who ended up with a slap from Chloe for his efforts.
"A fight broke out," said Bear. "She's throwing punches, Chloe, and all I'm thinking is I'm having a good time. Bit of drama. I was actually thinking threesome..."
"That little sh*tter has to leave the environment," he added. "Ta ta. Pack your bags love and get out of here. Sling your hook."
Chloe, meanwhile, said: "Thank you so much Bear, you've done me the biggest favour. Getting away from you is the best present I could have asked for. D*ckhead. I won't miss anyone apart from Jess. The only thing I feel bad about is that I'm leaving her on her own. I can't wait to get out of here."
Bear made no secret of the fact he found Chloe the hottest girl in the villa during episode one but Chloe just wasn't interested. On the latest ep, they went paddle boarding together which Bear described as a last ditch attempt to see if they would click. "She's a nice girl but she's boring," said Bear, adding if this date didn't go well he would "sack her off in the old sin bin."
It didn't and things got worse back at the villa when Chloe interrupted Bear's flirting with Kayleigh to tell the latter that Bear had called her a dog.
"What is Chloe's problem?" said Bear. "Why do you keep singling me out? I have done nothing wrong to you except say you're good looking. Sorry for giving you a compliment, babe."
He added: "I don't like Chloe because she's a c*ck block and I've f**king had enough."
Chloe, meanwhile, simply said after she left: "I would rather jump off a cliff than spend another f**king second with him."
EOTB
continues Tuesday at 10pm on MTV.