CBB: Renee Graziano has told Frankie Grande that she "won't defend" him anymore, after clashing with Bear for him.
The house had been separated into two teams
for the latest Christmas-inspired shopping task
, and Bear had jokingly tried to sabotage the other team's efforts to win, by rugby tackling Marnie Simpson and preventing her from getting to her workstation to perform a dance with her fellow elves: Frankie, Renee and Aubrey O'Day.
Frankie had intervened and told Renee he had been hurt by Bear while doing so,
prompting her to lash out at Bear for his actions.
However, Renee was not best pleased when she saw Frankie forgive Bear so soon after.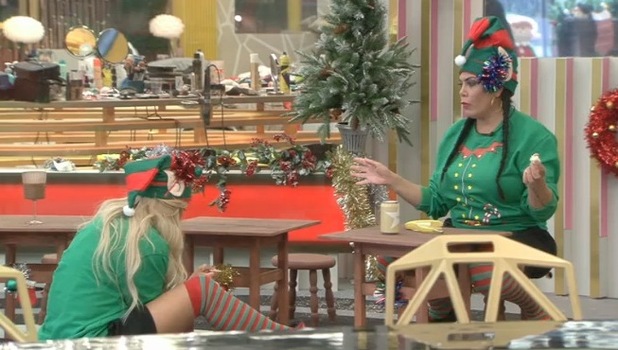 Renee had lost her cool with Bear, branding him a 'f**king a*sehole', before breaking down in tears in the Diary Room.
When she returned to the house, she was greeted by Frankie who then hugged it out with Bear.
Renee responded by telling Aubrey: "I'm not going to defend anybody after that. I'm not going to defend anybody when they make up with him anymore."
She then said to Frankie directly: "Frankie, if you choose to make up with him like you just did, I'm sorry, but I'm not going to defend you period. You want to hug it out with somebody, after they've just assaulted you I can't do..."
Frankie, meanwhile, insisted he wasn't going to drag things out with Bear. "I'm just going to let it go," he told Renee. "There's nothing we can do."
When she suggested that Frankie had "given in" to Bear, he replied: "No, he didn't get a real hug back."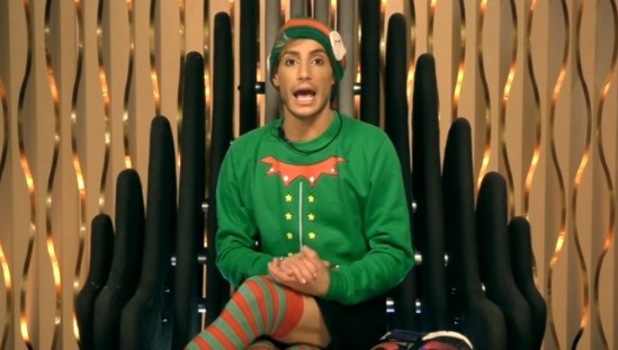 In the Diary Room, Frankie told Big Brother that he had moved on from his incident with Bear in the garden, even though others hadn't.
He said: "As usual, as soon as the game begins, Bear violates every rule and trys to destroy everything that is good and happy for Christmas. He is literally the grinch. I'm gald we had an altercation, I'm glad that I spoke my mind and I'm glad that I told him what he did was not ok, I had my moment and I moved on and I'm ok. But other people are still living in that moment."
Renee, meanwhile, questioned Frankie's actions in a conversation with Aubrey. She said: "If someone comes and tells me they are hurt, and it's supposed to be your friend, you're supposed to believe them right?"
Aubrey replied: "Well, he's said he is hurt multiple times and then two seconds later he is hugging him..."
"That's what I said," Renee told her. "I'm not going to tolerate that. I'm done. It makes me look like a lunatic."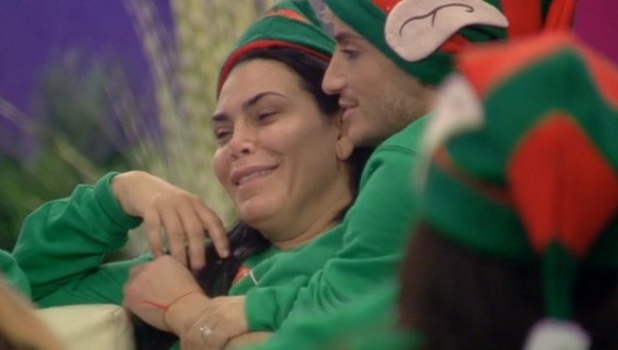 She and Frankie did, however, manage to clear the air.
Giving Renee a hug, Frankie told her that he 'likes it' when she defends him. Renee replied: "I know you do. But tough sh*t, your luck ran out today.
"Good job there's only a week left," he said. "Just please don't be mad at me."
Renee said she wasn't and told Frankie that she was "over it", she said: "You're you. Got to love you for who you are. It is what it is, kid."
Meanwhile, the elves actually won the shopping task and were
rewarded with the chance to nominate TWO of their housemates
, while the rest of the house will only be permitted to choose one.
The latest nominations twist comes ahead of the last eviction, before the
CBB
final later this week.
Bear is eternally nominated and so he will automatically face the public vote. Nominations will be revealed in tonight's show (22 August).
CBB airs nightly on Channel 5.
Follow us on Twitter @RevealMag for all your celeb, fashion and beauty news!
Fancy winning some GREAT prizes? Check out Reveal Competitions here!