Love Island star Alex Bowen has reacted to Zara Holland's grilling on Loose Women over the loss of her Miss GB title, and hit back at critics who have suggested he has got away with not taking his share of the blame.
Zara was stripped of her Miss Great Britain crown for having sex on TV. She had slept with Alex on his first night in the villa on
Love Island
and pageant organisers responded by claiming Zara could no longer be considered a role model for Miss GB.
She was de-throned after winning the 2015/2016 pageant and following the news, some had suggested Alex had got away without any criticism without taking any of the flack.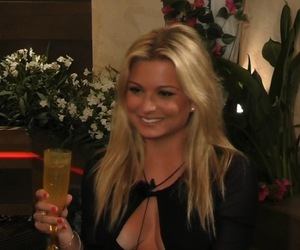 He, however, has now responded to such claims, following
Zara's appearance on Loose Women to discuss Miss GB's decision.
Alex shared a lengthy message with his Twitter followers to have his say on the situation - insisting he didn't hold any responsibility to an organisation, so could choose to act as he wanted.
He said: "For the people which are coming at me because of the Zara situation which is old news now but whatever... Zara had a title as she made clear on many occasions, I didn't hence why I did what I wanted... People say nobody blames the lad, well I wasn't Mr England. If I was, and then she got stripped of her title and I didn't, then yes, you have an argument but that's not the case."
Alex then appeared to take a swipe at Zara, after she mentioned that alcohol had been involved in her decision to sleep with - although,
she did stress that she is not using that as an excuse for her actions.
She had said: ""Alcohol, in the moment. I'm a 20-year-old girl and I made a mistake and hold my hands up. I'm living with the consequences right now. I'm a massive lightweight and I can't drink champagne. I'm not saying that's an excuse."
Alex continued: "I had no responsibilities and don't have any regrets. Difference is someone blaming alcohol rather than just owning up to a mistake."
Alex's post came after he initially tweeted in response to Zara's interview, that had divided Twitter. Some suggested she had been grilled too heavily by the Loose Women panel, while others insisted Zara had broken the rules put in place by Miss GB and had to deal with the consequences of her actions.
He told his followers: "Don't make excuses and don't have regrets live with it yeah."
Don't make excuses and don't have regrets live with it yeah

— Alex Bowen (@ab_bowen07) August 18, 2016
His tweet shared the sentiment as his girlfriend Olivia Buckland's. Olivia had tweeted: "Think before you act." Before adding: "I never have any regrets. Best way to live."
She then denied that she was "throwing shade" at Zara
, following her tweets up with another that read: "Ain't throwing shade, just my opinion on how to hold yourself as a person, live up to your mistakes don't hide behind them. We all make em."
Zara, meanwhile, replied: "I'm not hiding behind them!!! No ones perfect."
When one Twitter user told Olivia it was a "cheap dig" considering she slept with Rykard Jenkins on the show, she replied: "I had no responsibilities and don't have any regrets. Difference is someone blaming alcohol rather than just owning up to a mistake."
Alex too was forced to defend himself, after he was accused of "taking advantage" of Zara on
Love Island
. He replied: "Your sayin I took advantage she put it on me. I didn't watch the show before I went in so I didn't know any of them (sic)."
He then added: "Said sorry you lost your title but it's not my fault it takes two.. It's old news (sic)."
He also responded to a Twitter user that claimed he was "attacking" Zara. Alex responded: "It's about me u idiot I ain't attacking no one it's old news no one cares.. Past is the past (sic)."
Zara hasn't yet responded to Alex.
She did, however, post a generic tweet thanking fans for their support. It read: "No one is perfect, everyone makes mistakes! You live and you learn. Thank you for all your amazing comments and support, means everything."
Follow us on Twitter @RevealMag for all your celeb, fashion and beauty news!
Fancy winning some GREAT prizes? Check out Reveal Competitions here!