Danielle Armstrong has left TOWIE fans stunned after revealing during the series 18 finale that she's "questioning" her romance with James 'Lockie' Lock.
The fan favourite couple have been through a multitude of ups and downs during their time on the show, including a near-engagement in Tenerife and an eight-month break, but when they rekindled their relationship in April, many thought the fairytale was firmly back on track.
But were we wrong?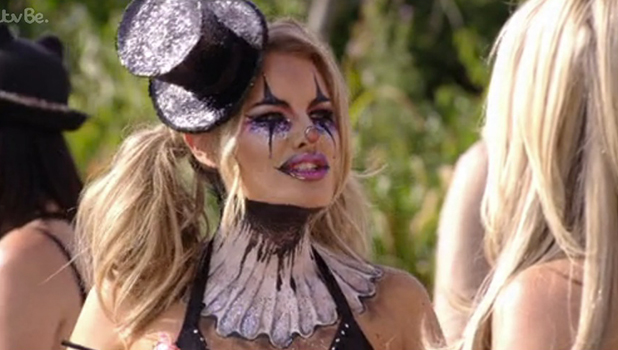 Despite looking totally smitten and loved up in pictures and on the show, Danielle admitted to Kate Wright she's questioning the future of her romance.
"Me and James aren't perfect," she admitted. "Looking back now, I got back with him because it was hard being around him. Why are relationships so hard?"
And she elaborated later on at a circus-themed party for Bobby Cole Norris' 30th birthday, saying she's just not sure if Lockie is really the one.
"When I gave James another chance I thought everything I kind of wanted would be, but it's not," said Danni. "And I don't know if he wants the same sort of things as me still. I do think James sometimes says things to please me. Is he still the one? I'm at the age now where I'm questioning things."
The episode ended with Danielle and Lockie at separate ends on the party, with Lockie looking particularly sad as he sat alone. Fans were pretty stunned by all this and took to Twitter to share their concerns over the couple's future.
Whats happened to Dani and Lockie??? #TOWIE

— Áishling Louise (@LuckySapphire) August 17, 2016
Dani and Lockie better stay together. Their prefect for each other #towie

— Natalie (@NattalieeS) August 17, 2016
If danni and lockie break up one more time im never watching towie again, i cant go through that all again

— Becs (@Bec_Sharpley) August 17, 2016
Swear if Dani breaks up with lockie I will lose all faith in love #TOWIE

— Mairi Sandison (@maaairix) August 17, 2016
What was wrong with Lockie ? #towie

— Emily Parkinson (@Emilyjane1990) August 17, 2016
I'm getting a horrible feeling something is up with Danni and Lockie... #Towie

— Vicki S (@tictoc123) August 17, 2016
Well.. The Danielle and Lockie situation surprised me! #TOWIE

— Vicky (@Vicksy_D) August 17, 2016
Can Danielle and Lockie just stop the ifs and buts are annoying now they're such a cute couple! #TOWIE

— peppa (@HELLitsDanielle) August 17, 2016
Danielle I don't like these talks man you and Lockie are perfect for each other relationships take time. Stop tellin chicks ur issues #towie

— ChezG (@XchezaliciousX) August 17, 2016
Not again! So gutted about @Daniarmstrong88 & @JamesLock__ #TOWIE

— Jay (@xoxJAYJAY86xox) August 18, 2016
I really hope @Daniarmstrong88 and @JamesLock__ don't break up:( #TOWIE

— rosy-may (@imactuallyrosy) August 18, 2016
@Daniarmstrong88 and @JamesLock__ can not break up love them as a couple

— melissa newton (@lissyn24) August 17, 2016
Can't believe that might be the end for @Daniarmstrong88 and @JamesLock__ they are the perfect couple #makeitwork #TOWIE #powercouple

— Jemma Billington (@jemmabills) August 17, 2016